World Of Tanks Pre-Order Packages Unveiled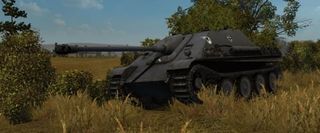 Wargaming.net has begun accepting pre-orders for their vehicular combat MMO World of Tanks. Pre-ordering the game will give you bonus tanks and gold.
It's important to note that you're not really buying the game itself with these pre-order packages. WoT is actually free-to-play. However, gold, the in-game currency, is purchased with real world money. By grabbing one of these three pre-order packages, you're getting that gold at a discount (about 10%):
Heavy Package: 25,000 gold and the unique American tank M6A2E1 for $90 (American), €75 and £63 (European)
Medium Package: 18,700 gold and the unique German tank Pz. Kpfw. V/IV for $67 (American), €56 and £47 (European)
Light Package: 12,500 gold and the unique Soviet tank A-32 for $45 (American), €38 and £32 (European)
All of these packages will be available until April 12th, the game's launch date.
Staff Writer at CinemaBlend.
Your Daily Blend of Entertainment News
Thank you for signing up to CinemaBlend. You will receive a verification email shortly.
There was a problem. Please refresh the page and try again.