WrestleFest Being Re-Released For iOS February 21st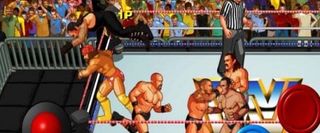 THQ and WWE are digging deep into the roots of wrestling video game history, reviving a fan-favorite arcade title called WWF WrestleFest, only this time it will be called WWE WrestleFest and the roster is getting a bit of an overhaul.
The original WWF WrestleFest was an awesome combination of an arcade brawling game meets the WWF Royal Rumble or six-man scramble. Players could pick between classic Superstar era wrestlers, including Ax and Smash from Demolition, Hulk Hogan, the Big Boss Man, Macho Man Randy Savage and lots more. Gamers who didn't have the privilege of joining friends at the local arcade and partaking in the old-school, over-the-top action will be able to do so with today's technologically advanced mobile devices.
Just like in the original game, the redo will still sport up to six wrestlers in the ring at a time for no-holds-barred Battle Royale matches, tag-team matches as well as one-on-one bouts. What's more is that the game is taking a completely different approach to the multiplayer this time around, sporting both local and online multiplayer modes, so you can battle with or against friends near and afar.
As mentioned, the roster is getting a small overhaul...many of the original superstars from the first WrestleFest will be making a return such as Macho Man and Jake "The Snake" Roberts, but a few other notable additions will be making the cut as well, including Stone Cold Steve Austin, The Rock, Randy Orton and John "Superman" Cena.
You can look for WrestleFest to land on the iPhone and iPad on February 21st this upcoming Tuesday. For more info, be sure to pay a visit to the Official Website.
Staff Writer at CinemaBlend.
Your Daily Blend of Entertainment News
Thank you for signing up to CinemaBlend. You will receive a verification email shortly.
There was a problem. Please refresh the page and try again.