ZOTAC GeForce GTX 460 AMP Edition Beefs Up Gaming Graphics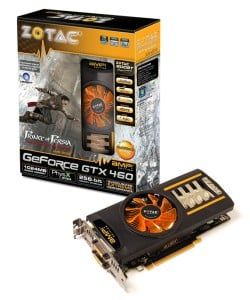 So you're not satisfied with your graphics gaming card? With today's high-end video games, I don't think anyone is truly satisfied with their graphics card. But that's okay…everyone has a right to be dissatisfied with poor performance, and ZOTAC has an answer. They've announced the GeForce GTX 460 AMP! Edition for desktop PCs that literally amps up performance by 20% while providing a cooler working atmosphere for the card, as well as noise-reduction properties so it's as a quiet as a Hollywood celebrity in court for drug abuse.
Carsten Berger, marketing director, ZOTAC International commented in the press release, saying…
Well, enough with all the jibber-jabber…it's time to feed the man-nerds stats and numbers. You can check out the complete list of the card's specifications below. And if I must say so myself, this card really does look badarse. Need more info? Hit up the Official Website.
General details
o New ZOTAC GeForce GTX 460 series graphics cards
o ZOTAC GeForce GTX 460 1GB
- Engine clock: 810 MHz
- 336 Unified Shaders
- Shader clock: 1620 MHz
- 1GB GDDR5 memory
- 256-bit memory interface
- Memory clock: 4000 MHz
- Prince of Persia: The Forgotten Sands game bundle
- HDMI, dual dual-link DVI & DisplayPort outputs
o PCI Express 2.0 interface (Compatible with 1.1)
o Microsoft DirectX 11 with Shader Model 5.0 and DirectCompute support
o OpenGL 4.0 compatible
o NVIDIA 3D VisionTM Surround ready
o NVIDIA CUDATM & PhysX ready
o NVIDIA SLI ready (2-way)
o NVIDIA PureVideoTM HD technology
o HDMI 1.3a compliant (w/Dolby TrueHD & DTS-HD Master Audio bit streaming audio ready)
o xvYCC Color & DeepColor compatible
o Blu-ray 3D ready
o ZOTAC Boost Premium software bundle included
Specifications:
Product Name ZOTAC GeForce GTX 460 AMP! Edition
GPU NVIDIA GeForce GTX 460
Engine Clock speed 810 MHz
Unified Shaders 336
Shader Clock 1620 MHz
Memory Clock speed 4000 MHz
Memory 1GB GDDR5
Memory interface 256-bit
Display Outputs Dual dual-link DVI-I, HDMI, DisplayPort
HDCP Yes
Cooling Active (with fan)
DirectX version DirectX 11 with Shader Model 5.0
Other hardware features 8-channel Digital Surround Sound (LPCM), NVIDIA
Lumenex Engine, Quantum Effects Technology
Software Features nView Multi-Display, NVIDIA PureVideo HD Technology,
NVIDIA CUDA technology, NVIDIA PhysX technology, OpenGL 3.2, NVIDIA3D Vision Surround technology ready,
Windows 7 capability Windows 7 with DirectCompute support
Your Daily Blend of Entertainment News
Staff Writer at CinemaBlend.