Zombie Driver Now Available On Steam And GamersGate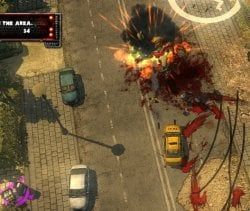 EXOR Studios' brain-mashing, arcade driving simulator is now available on GamersGate and Steam. The game features some weapon-based, vehicular mayhem as players pick up and drop off passengers amidst a world engulfed with the living dead.
The concept isn't entirely original but the execution is a mixture of a typical overhead shooter fused with an arcade racer. What's most impressive about the game are the game physics, which involve more than just turning the living dead into smattered piles of entrails and goo. When players collide with objects, take a hard turn or clip a pile of boxes, it all reacts dynamically.
You can check out the gameplay montage that was released yesterday if you need to check out some actual gameplay footage before making a purchase. If you need more info or want to lay down some cash for the game feel free to visit the Official Website.
Staff Writer at CinemaBlend.
Your Daily Blend of Entertainment News
Thank you for signing up to CinemaBlend. You will receive a verification email shortly.
There was a problem. Please refresh the page and try again.