Alec Baldwin's Wife Hilaria Posts Throwback Amid His Rust Controversy 'We Are Still Standing'
Alec Baldwin's wife posts a throwback reminding everyone they're "still standing" during her husband's Rust controversy.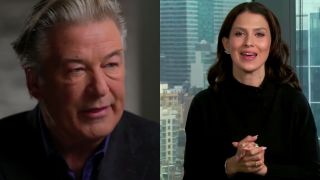 (Image credit: ABC News/Extra TV)
It's been a tough time for Alec Baldwin and his wife Hilaria after a prop gun misfire killed crew member Halyna Hutchins and injured director Joel Souza on the set of his upcoming movie Rust. Since then, the fate of the 30 Rock star has seemingly been hanging in the balance. Despite the ongoing turmoil that has resulted from the Rust controversy, Hilaria reminded everyone with a throwback post, "we are still standing."
After Alec Baldwin was charged with involuntary manslaughter after discharging a prop revolver that killed Halyna Hutchins on the set of Rust, his wife Hilaria has been providing support for her husband during this difficult time. She posted on Instagram a throwback photo of the two of them a "yearish" after they met and a reminder they are "still standing." Take a look at the endearing photo of them cozying up together down below:
The Golden Globe winner and his wife have been together for the past twelve years. He first met yoga instructor Hilaria Thomas in 2011 in a not-so-smooth way after noticing her with friends at Pure Food and Wine. While he was reportedly confident enough about approaching her, what to say to her when that moment came was up in the air. Baldwin instead blurted out, "I must know you." After making small talk, he handed Thomas his business card and went on his way. While that awkward first encounter may have been a hilarious sitcom-y moment, it apparently won over the Yoga Vida co-founder as she called him a few days later with a first date arranged. A year later, Baldwin married Hilaria in a Catholic ceremony on June 30, 2012 in New York City. They have seven children together.
Reports said that armorer Hannah Gutierrez-Reed was meant to load a gun with dummy rounds before handing off the weapon to the Rust star/producer only for a live round to discharge. The 64-year-old actor said he was told the weapon was safe to use and claims he didn't pull the trigger. Since then, he's had to deal with the possibility of facing an extra five years in jail. This was due to a new law in New Mexico that came into fruition in May 2022 of a five-year penalty for "discharge of a firearm in the course of a felony." How Baldwin was reportedly doing after the charge was being prepared for all outcomes and leaning on his wife and children. This married couple has reportedly been doing their best to stay strong for their children with Hilaria being a "rock" to her husband during this entire ordeal.
In a twist of events, good news came to Baldwin when the involuntary manslaughter charges were downgraded after his lawyers argued that he was being incorrectly charged on a new law that was passed months after the shooting. This can mean if the SNL actor is found guilty, he could be facing a maximum of 18 months in prison. Filming will continue for Rust this spring.
Alec Baldwin and Hilaria Thomas have continued to rely on each other for love and support while awaiting the conclusion of the Rust shooting case. Be sure to check in with our 2023 movie releases so you'll know when Rust plans on making its theatrical release.
Your Daily Blend of Entertainment News
Just your average South Floridian cinephile who believes the pen is mightier than the sword.