Knock At The Cabin Cast: What To Watch If You Like The Actors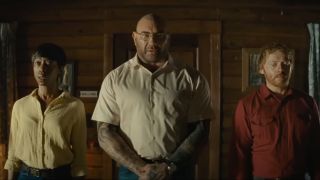 (Image credit: Universal)
There are plenty of amazing horror movies that are coming out in 2023. We've already had the mega-hit that was M3GAN, which is already getting a sequel. And now, in February, we are welcoming the next entry into the world of M. Night Shyamalan – Knock at the Cabin.
The film itself has been highly anticipated since Shyamalan's last feature release, Old, in 2021, and with him working on the final season of the Apple TV+ show, Servant, it makes sense to switch back over into Hollywood horror on the big screen. But with any M. Night Shyamalan movies, the cast is always full of talent. If you were a fan of the Knock at the Cabin cast, here is what you can watch if you want to see them further.
Jonathan Groff (Eric)
Swipe to scroll horizontally
Starting off with one of the stars of Knock at the Cabin, we take a look at Jonathan Groff, who played Eric in the horror movie. There's plenty to watch when it comes to Groff. He started off his career in the world of Broadway, where he performed in several stage shows and became quite well-known for his starring role in Spring Awakening. But it wasn't long until he started to appear in both movies and television shows.
In terms of television, he had a major recurring role in the Ryan Murphy show, Glee, where he had some awesome covers. Besides that, he was a part of the main cast of the HBO hit series, Looking, and was the main star of the popular Netflix series, Mindhunter, which was cancelled after two seasons unfortunately.
In movies, Groff has also done plenty. In 2020, he was a part of the original Hamilton cast when their recorded version of the stage musical premiered on Disney+, which is still on there to watch. He's also been in several other movies including Looking: The Movie (based on the television show of the same name), Taking Woodstock, The Matrix Resurrections, Lost Ollie, and voiced Kristoff in the Frozen film series, so you know there's plenty to check out with him.
Ben Aldridge (Andrew)
Swipe to scroll horizontally
Next up on the list, we have Ben Aldridge, who plays Andrew in Knock at the Cabin. Ben Aldridge is primarily known for his television work, as he has appeared in many TV shows prior to his role in Knock at the Cabin, but he's also had roles in films as well. His most recent movie you can check out is 2022's Spoiler Alert, but he's also been in the films The Titan and The Railway Man.
Aldridge however has been in far more television shows than movies, so there's plenty to watch. He's most known for portraying Thomas Wayne in the popular series, Pennyworth, as well as his main role in Our Girl, but has had a variety of recurring roles as well in shows such as Reign, the Amazon Prime series, Fleabag, The Devil's Whore and more. He also had a starring role in the show Lark Rise to Candleford, and The Long Call.
Kristen Cui (Wen)
Kristen Cui portrayed Wen in Knock at the Cabin, the daughter of both Andrew and Eric, and she is the youngest actress on this list – and she's also a newcomer to the world of Hollywood.
The only thing Cui has gotten to do before was having a small part in a music video, so this was her first major role! It's super exciting for it to be in such a big horror film as this one. While there's nothing else out there right now to watch with her in it, perhaps we'll see her again in a future movie or TV show.
Dave Bautista (Leonard)
Swipe to scroll horizontally
Moving on, we take a look at Leonard, one of the main antagonists of Knock at the Cabin, played by Dave Bautista, who has plenty to watch online if you're a fan. Bautista was mainly known for his time in the WWE, becoming a very popular wrestler, but like many other WWE stars, he ended up heading over to movies and television.
Bautista has been in a variety of movies and television shows since then. In terms of movies, he portrayed Drax the Destroyer in the Guardians of the Galaxy franchise, for which he will play the role for one last time in Guardians of the Galaxy Vol. 3 in May 2023. Both of those movies are available to stream on Disney+.
Besides that, he had a major role as part of the Dune cast, a role he'll reprise in Dune 2, and was a part of the cast of Glass Onion: A Knives Out Mystery. Dune is on HBO Max and Glass Onion is on Netflix.
Other films that he has starred in include Zack Snyder's Army of the Dead on Netflix, Spectre, Riddick, Blade Runner 2049, and The Man With the Iron Fists. Bautista hasn't done that much in television so far, but he did have a main role on Season 2 of See, and was a part of the Guardians of the Galaxy Holiday Special in 2022. To be honest, Bautista has been making a name for himself in the world of movies and television, and much of his stuff is so much fun to watch, so it'll be a fun time regardless.
Nikki Amuka-Bird (Sabrina)
Swipe to scroll horizontally
Moving on, we take a look at Nikki Amuka-Bird, who portrays Sabrina in A Knock at the Cabin. With movies you could check out, Amuka-Bird has had roles in many different genres, with appearances in The Omen, The Laundromat (alongside Meryl Streep), The Personal History of David Copperfield, Persuasion on Netflix, and Denial. She also had a pretty big role in the last M. Night Shyamalan movie, Old. All of these are available to either stream or rent.
Besides that, Amuka-Bird has also had several roles in television as well that you could check out, including main parts in Hard Sun, Avenue 5, and recurring roles in shows such as Luther, Silent Witness, and the miniseries Gold Digger.
Abby Quinn (Adriane)
Swipe to scroll horizontally
Next up on the list is Abby Quinn. Quinn has been in a few movies prior to her role in the horror film that you could check out, including Little Women, Good Girls Get High, After the Wedding and Torn Hearts. However, she's also had a very good run in television as well.
She was a part of the main cast of the Mad About You revival, which is available to stream on Amazon Prime, and guest starred on shows such as the critically acclaimed Better Call Saul, Black Mirror (which is getting a Season 6), and Law and Order: Special Victims Unit.
Rupert Grint (Redmond)
Swipe to scroll horizontally
Last but not least, we take a look at Rupert Grint, who played Redmond in Knock at the Cabin. If you've heard of the name Rupert Grint before, it's because he is primarily known for his role in the legendary fantasy film series, Harry Potter, where he played Ron Weasley. All of those movies are available to stream on Peacock.
Other than those films, he appeared in a few others such as CBGB, Moonwalkers, Thunderpants, Into the White and more, all of which you can rent on Amazon. However, this will be his first major movie role in some time.
Grint has kept himself busy in television for several years. While he had a main role in the series Snatch, and a role in Sick Note, he's been a part of the hit Apple TV+ series, Servant, for it's complete run, and was a part of Guillermo del Toro's Cabinet of Curiosities cast on Netflix, so he's been breaking into horror more and more lately.
While the cast is small, it's full of newcomers and stars alike where there is plenty to watch, and after something like Knock at the Cabin, I'm sure we'll only get to see more of them soon enough.
Your Daily Blend of Entertainment News
Big nerd and lover of Game of Thrones/A Song of Ice and Fire. Will forever hate season eight. Superhero and horror geek. And please don't debate me on The Last of Us 2, it was amazing!