Olivia Wilde And Florence Pugh Were Reportedly At The Same Party, But Did The Don't Worry Darling Alums Link Up?
Did Florence Pugh and Olivia Wilde link up at a party?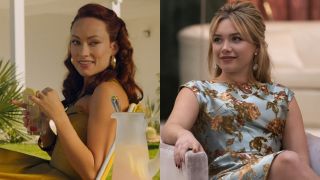 (Image credit: Warner Bros.)
One could argue that Don't Worry Darling's alleged on-set feuds received more attention than Olivia Wilde's tepidly-reviewed movie itself. There were plenty of rumors surrounding the production, some of which involved Wilde's relationship with co-star Harry Styles. However, a lot of emphasis was put on the supposed bad blood between the director and her leading lady, Florence Pugh. Months after the drama, both Pugh and Wilde just happened to be at the same party, but did they actually interact?
Did Olivia Wilde and Florence Pugh Interact at the Pre-Oscars Party?
Few things are more awkward than attending a party, where someone you apparently have a "complex" relationship with is also present. According to Page Six, Don't Worry Darling alums Olivia Wilde and Florence Pugh made appearances at the Creative Artists Agency's star-studded pre-Oscars party at the Sunset Tower Hotel in Los Angeles on Friday. However, according to a source, the former co-stars were not featured in any photos together and weren't spotted schmoozing or having fun in the same orbit. The insiders specifically said that they "definitely did not see them interact."
Rumors of a possible feud between the two started after Olivia Wilde claimed that she fired former leading man, Shia LaBeouf, who later denied her statements. Leaked video of Wilde later showed her trying to ask Labeouf back and mentioning that it would be a "wake-up call for Miss Flo." (Florence Pugh and LaBeouf allegedly didn't get along while prepping for the flick.)
Feud assumptions only heated up after it was alleged that the Midsommar actress was displeased with her director's romance with Harry Styles, which was purportedly affecting production. The internet continued to speculate when the two collaborators released conflicting comments over Don't Worry Darling's sex scenes. The Booksmart director wanted audiences to be fixated on the "female hunger" during the intimacy scenes, while the Black Widow actress responded to people's obsessions over those sequences, saying that the film is "bigger and better than that."
Pugh also participated in limited press for Don't Worry Darling and, at the time, it was said that this was due to her production schedule for Dune 2. But the Oscar-nominated actress still showed up at the Venice Film Festival premiere. Around that time, it was also alleged that the two got into a "screaming match" during filming after the Little Women star grew frustrated over Wilde and Styles' purported on-set disappearances. When Wilde broke her silence on any feud rumors, she said she had "nothing but respect" for the British star. Despite that though, it sounds like she still wasn't keen to chat with her at the recent party.
Olivia Wilde Did Rub Shoulders With A Few Other Stars That Night
So there may not have been any apparent interaction between the Don't Worry Darling co-workers, but Olivia Wilde did have some friendly interactions with other stars at this shindig. On her Instagram, she posted a photo of herself with The Last of Us' Pedro Pascal. In her caption, the actress also hilariously explained that her unusually tall stature is due to her wearing massive heels:
You can also see the Tron: Legacy alum looking very chummy with her two friends -- Conscious Commerce's co-founder Babs Burchfield and the star's frequent screenwriter and producer Katie Silberman. Take a look:
During the night, Olivia Wilde also blew out candles on a very delicious-looking cake, as it was her 39th birthday that night. You can check out the sweet photo down below:
It would've been interesting if Olivia Wilde and Florence Pugh had interacted but, ultimately, it seems that both enjoyed their nights as they played out. One can only speculate as to whether they'll ever speak again, but one thing that seems certain is that they'll continue to be linked by that flurry of drama for some time. If you'd like to see the two show off their star power in Don't Worry Darling, you can stream it using an HBO Max subscription.
Your Daily Blend of Entertainment News
Just your average South Floridian cinephile who believes the pen is mightier than the sword.