Exclusive: The Trailer For Tribeca Film Festival Entry Sexy Baby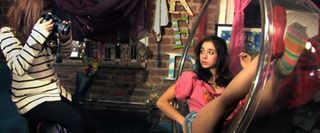 The Tribeca Film Festival is upon us! Earlier today, the names of the first batch of films hitting the big screen for the event were released and amongst the bunch is Jill Bauer and Ronna Gradus' documentary, Sexy Baby, as part of the Viewpoints program.
Sexy Baby focuses on Nakita, a former porn star, and the effect she has on Laura, a plastic surgery patient, and Winnifred, a middle school student, amidst the rise of a new sexual landscape via the cyber age. The piece explores what it's like to be a woman, girl, teenager, parent and more in a world overrun with sexting and hardcore porn available in an instant on the web. Bauer and Gradus conduct dialogues with middle school students, nightclub patrons, young shoppers at malls and more, all of which ultimately lead to a number of conclusions. There's the fact that most kids know someone who's sent naked photos of themselves via text or e-mail and that a number of them had their introduction to sex using online porn, amongst many other realizations.
Catch the Sexy Baby trailer below and, if you're in the New York City area, be sure to check out the full feature when it screens during the Tribeca Film Festival, taking place from April 18th to April 29th.
Your Daily Blend of Entertainment News
Staff Writer for CinemaBlend.