Extremely NSFW Drive Angry 3D Video: Nic Cage Never Disrobes Before A Gunfight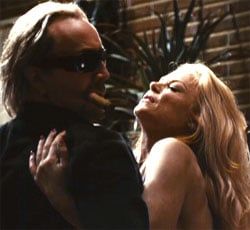 Drive Angry 3D stars Nic Cage as Milton, a felon who breaks out of hell for one last chance at redemption and who, it would seem, never disrobes before a gunfight. Summit Entertainment has just given us a gloriously red band,, adults only clip from the movie which promises to be every bit as rip-roaringly rated-R as we'd hoped. They've also given us a few tamer scenes from the film, but let's start with the NSFW nudity.
Warning: This clip is not suitable for anyone under the age of 18 or adults with serious hangups. Watch:
If you saw the Clive Owen movie Shoot Em' Up the above scene may look familiar. Clive Owen and Monica Belluci pulled off something similar, but the Drive Angry version has its own, seedy twist which I love.
Here's the naked, sex and guns scene from Shoot Em' Up, for comparison. Warning: this is also pretty NSFW:
This next Drive Angry clip's a little tamer, suitable for all audiences, especially those audiences which would enjoy seeing actor William Fitchner playing the Devil's henchman on the trail of Milton. Apparently he's a go big or go home kind of guy, because instead of simply shooting Milton he decides to throw a truck full of hydrogen at him.
If that doesn't have you completely over the top for Drive Angry 3D, then here's our last shot at getting everyone on board with what this movie's all about. Two new Drive Angry TV spots:
Drive Angry hits theaters February 25th. For info, images, and video visit its page in our Blend Film Database.
Your Daily Blend of Entertainment News
Thank you for signing up to CinemaBlend. You will receive a verification email shortly.
There was a problem. Please refresh the page and try again.