Sharon Stone Joins Susan Sarandon And Andie MacDowell In Mother's Day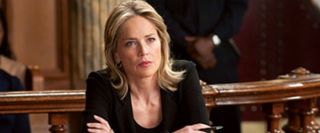 It was just two days ago that Andie MacDowell and Rainey Qualley joined the growing cast of Mother's Day. The pair are an even more fitting addition to the upcoming drama once you know the actresses happen to be mother and daughter in real life, same as the previously cast Susan Sarandon and Eva Amurri Martino. But the film won't be only be filled with actresses who share the female familial bond since Christina Ricci already has a part in the project, as does the newly added Sharon Stone.
Variety reports that Stone has boarded Mother's Day. Stone's sons won't be able to celebrate the holiday on-screen with their mom because the film focuses solely on XX relations. 12 sets of mothers and daughters to be exact, and how their stories play out on that one particular holiday. Even though Stone doesn't have a daughter, she should be well prepped for the part after having just wrapped Lovelace where she played Amanda Seyfried's mom.
With Stone on board, that still only totals three sets in the ensemble so far (although there is no mention that Stone and Ricci's characters match up), meaning a lot of casting remains for writer-director Paul Duddridge. Perhaps we'll see some other celebrity families sign up for the project from the first time feature film director? Duddridge previous credits include writing, directing and producing the British TV series Annually Retentive starring Rob Brydon. No word on when the movie might start shooting but if I were them, I'd plan for a Mother's Day 2013 release. Free advertising!
Your Daily Blend of Entertainment News
Your Daily Blend of Entertainment News
Thank you for signing up to CinemaBlend. You will receive a verification email shortly.
There was a problem. Please refresh the page and try again.