Star Wars: Episode VIII May Be Looking At This Indie Sensation For A New Role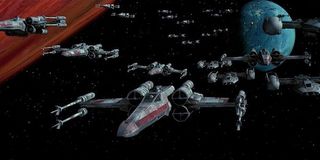 We're now only 503 days away from the release of Star Wars: Episode VIII. Production on the hugely anticipated follow-up to the record-breaking Star Wars: The Force Awakens is due to begin later this year, with Rian Johnson overseeing the shoot. The Brick and Looper filmmaker's script for the blockbuster is now complete and he's currently on the look out for the perfect actors to fill the newest parts. Which is what led him in the direction of Bel Powley, who earlier this year wowed audiences in Diary Of A Teenage Girl.
The latest rumors regarding Star Wars: Episode VIII are that Rian Johnson hasn't quite decided who he wants to play a new female character that will debut in the film, and he's now considering 23-year-old Bel Powley for the role. It's a bit of a he said, she said rumor though, because The Wrap's Jeff Sneider made the revelation of Meet The Movie Press, insisting that he'd heard Powley is now in contention. The last speculation to emerge regarding this mysterious character was that Beyond The Lights' Gugu Mbatha-Raw had been cast, and it was reported that she beat out Orphan Black's Tatiana Maslany, Me, Earl, And The Dying Girl's Olivia Cooke, and Jane The Virgin's Gina Rodriguez.
The fact that Gugu Mbatha-Raw pulled out a play in London was seen as concrete evidence that she was now onboard for Star Wars: Episode VIII. However, that all appears to have a been overly optimistic. In fact, the latest rumors would have you believe that she is no longer in contention at all, and that it's now between Gina Rodriguez and Bel Powley.
Obviously, this chatter should be taken with a big pinch of salt, especially since Jeff Sneider admits that he's not even sure if Bel Powley and Gina Rodriguez are vying for the same part. Whoever gets the role, though, it's good to see that Rian Johnson is eyeing up some top notch talent for Star Wars: Episode VIII.
Bel Powley drew widespread acclaim for her role in Diary Of A Teenage Girl, in which she played a 15-year-old girl who becomes sexually active with her mother's boyfriend. Sure, it's not the type of ground that she'll be covering in Episode 8, but it proved that she can be funny, conniving, and still loveable all within the same part.
Meanwhile, Gina Rodriguez has been charming audiences with her work in Jane The Virgin for two seasons now, and she's already due to make the leap upto the big screen in the next few months with her performances in Sticky Notes and Deepwater Horizon. We should know in the near future which of the actresses has secured the role, since Star Wars: Episode VIII will be with us on May 26, 2017, and production is due to begin in the coming months.
Your Daily Blend of Entertainment News