Watch Sandra Bullock Accept Her Razzie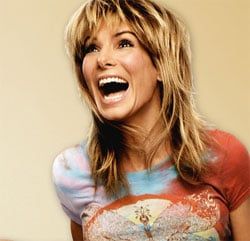 Right now there's a pretty good chance that at some point tonight Sandra Bullock will take the stage to accept the Oscar for Best Actress during the Academy Awards. If she does it, she'll make history as the first ever actress to win a Razzie and an Oscar in the same year. Better still, she'll have given an acceptance speech for both.
The Oscars have nominated her as Best Actress for her work in The Blind Side. The Razzies nominated and awarded her Worst Actress for All About Steve. Sandra, unlike the other nominees, actually showed up to accept it. Her entire speech is below in which she maintains that All About Steve doesn't suck, and promises to return to the Razzies next year to give her Razzie back, if everyone watches it just one more time. Sorry Sandra, I have a feeling you'll be keeping that trophy.
Watch Sandra Bullock's hilarious, good-natured acceptance speech below, and stay tuned to the Oscars tonight. You may see another one.
Your Daily Blend of Entertainment News
Thank you for signing up to CinemaBlend. You will receive a verification email shortly.
There was a problem. Please refresh the page and try again.