Upcoming DC Movies That Are Stuck In Development Limbo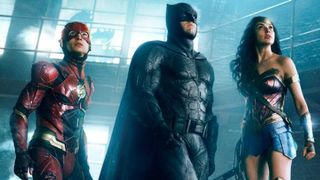 The DCEU has gradually started to find its footing, and the future sudden;y looks bright for this once grim superhero universe. With Justice League and Wonder Woman slated to hit theaters this year, and Aquaman gearing up for release on October 5, 2018, all eyes are on the DC Extended Universe to take its place as one of the strongest franchises in Hollywood. That said, beyond those movies, the entire DC slate is an absolute whirlwind of films that are in various stages of the development process.
To help make sense of it all, we have compiled a list of the DC movies that are currently stuck in various stages of development limbo. Some of these movies have slowly but surely come together over the last few months, while others have pretty much maintained radio silence since they were announced. But all of them have an untold potential for greatness. Now let's kick this list off with one of the most perplexing (and exciting) DC movies currently in development.
Shazam
What We Know
The Shazam movie has become one of the most intriguing aspects of the entire DCEU because there's an entirely different creative team working on it. The group has assured us that it will be a much more fun DC movie, and the charisma of Dwayne Johnson's Black Adam promises to ground the affair. IMDB also confirms that screenwriter Bill Birch is attached to write the film. There seems to be a strong mission statement of fun and optimism at the movie's core, so we can reasonably expect this to be one of the DCEU's most lighthearted films to date.
What We Still Need To Know
While The Rock has remained consistently vocal about his role as Black Adam for quite some time, we still have absolutely no idea who DC plans to cast as the titular hero -- or his younger alter ego, Billy Batson. As of January 2017, Shazam also does not have a director attached to helm the project.
Release Date: April 5, 2019
Gotham City Sirens
What We Know
Despite the fact that Gotham City Sirens is one of the most recently announced films on this list, we have quite a bit of information about its core development and structure. Margot Robbie's Harley Quinn will primarily headline the movie (Robbie is also an executive producer on the project), and it will see the villainess team up with Poison Ivy and Catwoman to face off against the Birds of Prey team. Suicide Squad's David Ayer has signed on to direct the project, and Geneva Robertson-Dworet is currently attached as the film's screenwriter.
What We Still Need To Know
We have some solid information to start with, but Gotham City Sirens still has not revealed the Birds of Prey team lineup, nor has it cast any of its badass women outside of Margot Robbie as Harley Quinn. Beyond that, because the film will take place in Gotham, we currently do not know if Batman (Ben Affleck) or The Joker (Jared Leto) will appear in any capacity. Those are all vital factors that we need to learn more about.
Release Date: N/A
The Flash
What We Know
Arguably, no DC film on the current slate has had a more turbulent existence than The Flash. Now that Seth Grahame-Smith and Rick Famuyiwa have both dropped out of the director's chair, the film is currently sitting in limbo without a strong sense of creative direction. Not all hope is lost, however; Seth Grahame-Smith is still attached as the movie's screenwriter, and the film has assembled a strong cast that includes: Ezra Miller as Barry Allen, Kiersey Clemons as Iris West, Billy Crudup as Henry Allen, and Ray Fisher as Cyborg.
What We Still Need To Know
As we have already mentioned, the film is currently flying blind without a director, so fixing that should be the first order of business for DC. We also don't have a solid understanding of the movie's overall narrative. Barry Allen's cameo in Suicide Squad could suggest the possibility of The Rogue's entering the equation, but nothing has been confirmed at this point. It's also worth noting that the exact scale of Cyborg's possible involvement in the film has not been established yet.
Release Date: March 16, 2018 (though we all expect that to change)
Man Of Steel 2
What We Know
One of the most surprising DC movie announcements came during the summer of 2016, when DC and Warner Bros. announced the development of a sequel to Man of Steel. As of right now, the only things that we definitively know about the film is that it will bring Henry Cavill's Superman back into the fray, it will take place after Justice League, and it will seemingly lighten the hero's demeanor to a more comic book level.
What We Still Need To Know
Beyond the fact that it's currently in development, we know next to nothing about Man of Steel 2. In fact, IMDB now lists the project as Untitled Superman Project, so it might not even be (probably won't be) called Man of Steel 2 when it finally premieres.
Release Date: N/A
The Batman
What We Know
Ben Affleck's solo Batman movie has arguably become the most highly anticipated movie on DC's current slate. The actor is currently attached to star in, write and direct The Dark Knight's latest adventure and, as of right now, Affleck is still in the process of working on the script with Geoff Johns. The film is reportedly going to revolve around a "villain heavy" story that will feature a major Arkham Asylum breakout sequence, with Joe Manganiello's Deathstroke headlining the affair as the movie's central villain. Jeremy Irons' Alfred Pennyworth and J.K. Simmons' Jim Gordon are also expected to appear in supporting roles, as well.
What We Still Need To Know
For starters, we don't even actually know if the movie is even called The Batman. That's just something that fans have started calling it, but it's not an official title. Beyond that, the film's actual story (along with the specific characters that will factor into the "villain heavy" narrative) remains a complete mystery to us.
Release Date: N/A
Cyborg
What We Know
One thing that we definitively know about Cyborg is the fact that Ray Fisher will reprise his role as Victor Stone. There's also a strong possibility that Joe Morton will return as Silas Stone if his character survives the events of the films leading up to Cyborg. Ray Fisher has been quite vocal about the fact that one of Cyborg's biggest themes is his struggle to stay human, so we expect the film to explore his battle not to give in to the technology that runs his body and keeps him alive.
What We Still Need To Know
As it's currently slated to hit theaters sometime in 2020, Cyborg is one of the farthest away releases on the DC slate. The film currently has no screenwriter, no director, and it has become one of the least talked about DC movies currently in development.
Release Date: 2020
Green Lantern Corps
What We Know
After an extended period of radio silence, DC finally dumped quite a bit of information about Green Lantern Corps at the beginning of January. The film will take the form of a buddy cop movie starring Hal Jordan and John Stewart, and it will follow a "Lethal Weapon in Space" formula.
What We Still Need To Know
Although we now have an idea of the basic Green Lantern Corps structure and formula, we still have no confirmation regarding particular talent associated with the project. Neither of the headlining Lanterns has been cast yet, and the project does not have a director (though screenwriters David Goyer and Justin Rhodes recently were hired). Green Lantern Corps has one of the furthest confirmed release dates of any DC movie, so we expect the radio silence to continue for some time (or the movie to move up to a closer release date).
Release Date: July 24, 2020
Suicide Squad 2
What We Know
Following the announcement of Gotham City Sirens towards the end of 2016, DC also let it slip that it's currently working on a sequel to David Ayer's Suicide Squad. This wasn't necessarily surprising, as the original film managed to rake in a ton of money in the face of middling reviews. The project is currently in development at DC, but it doesn't seem to be taking priority at the moment.
What We Still Need To Know
No writers or directors have been signed to Suicide Squad yet. We wouldn't be surprised if DC decides to hand the project over to David Ayer again, but as of right now nothing has been confirmed. The ensemble also remains a mystery, as no major heroes, villains, or anti-heroes have officially been announced for the new version of Task Force X. We are banking on Viola Davis' Amanda Waller returning, but DC has provided no confirmation of anything aside from the fact that the movie will happen.
Release Date: N/A
Deadshot
What We Know
As of right now, the only concrete information that we have about the upcoming Deadshot movie is the fact that it exists. Will Smith will likely return as the badass marksman, and his relationship with his daughter will probably factor into the story. Beyond that, it's a bit of a crapshoot.
What We Still Need To Know
Aside from Will Smith, there doesn't appear to be any other major talent associated with the project. The Deadshot movie is currently in development at DC, but it's in the very earliest stages of its existence. The next major announcements that we need to see from this project would be a screenwriter, a director, and a set release date.
Release Date: N/A
Justice League 2
What We Know
Full disclosure: at this point, we know next to nothing about Justice League 2. However, the fact that Zack Snyder's Justice League was originally conceived as a two-part story leads us to believe that many plot elements from the upcoming superhero team-up movie could potentially carry over into Justice League 2. The film was slated to hit theaters in 2019, but it was recently delayed following Snyder's decision to take a break from the DC universe and focus on other projects.
What We Still Need To Know
Justice League 2 is a big mystery for fans of the DC Extended Universe. We don't know if Zack Snyder will return as the director of the sequel, we don't know the particular heroes who will come back to headline the affair, and we have absolutely no idea who the villain of the story will be once Steppenwolf has been vanquished. Many have suggested the possibility that Darkseid may finally show up during Justice League 2, but it's too early to confirm that.
Release Date: N/A
Originally from Connecticut, Conner grew up in San Diego and graduated from Chapman University in 2014. He now lives in Los Angeles working in and around the entertainment industry and can mostly be found binging horror movies and chugging coffee.
Your Daily Blend of Entertainment News