Logan Red-Band Trailer Includes One New NSFW Scene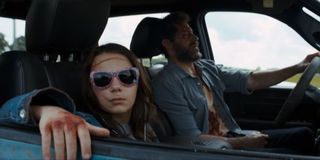 The newest trailer for Logan dropped this morning and the movie looks better than ever. However, there's an additional version of the trailer out there that gives us our first look at why the movie is rated-R. A red-band version of the trailer has been released which adds a single word to the standard version of the trailer, you can probably guess what that word is, and then adds an additional scene at the end. If you skip ahead to the 2:13 point, after the title, you'll be treated to a very cranky Professor X in what we'll call his "I'm too old for this shit" moment. Enjoy.
The one addition to the standard trailer is an f-bomb from Hugh Jackman. After a group of soldiers attempt to abduct the girl named Laura, and she looks to kick the crap out of them, the standard trailer simply has Logan looking shocked and worried. The red-band version adds an "holy fuck" for good measure.
However, at the end of the trailer, we get an entire additional moment with Logan and Professor X where the professor is lamenting everything that they're going through. Xavier is also using words we're not used to hearing.
One thing that's clear from the two trailers we've now seen is that a great deal of the movie seems to take place in a car. Whether they're actually going someplace specific or just trying to get away from those that are chasing the little girl Laura is unknown, but they're certainly in a hurry. The new scene here shows that the experience has been tough for the 90-year-old Charles Xavier, and the young girl as well.
Two uses of the f-word is literally all it takes to get your movie a guaranteed R-rating. We get two of them in this version of the trailer alone. Having said that, we're guessing that there will be more reasons than just these couple of words that justify the R-rating. When the little girl slashes at one of her attackers we see some blood flowing, and odds are there will be plenty more where that came from. Logan is looking to be a "mature" film in every sense of the word. While the new trailer certainly promises as much action as your standard comic book movie, the story itself seems a bit more serious then the X-men series, or really any film in the genre, has ever given us.
We're excited to see what Logan has to offer when the movie arrives March 3.
Your Daily Blend of Entertainment News
Content Producer/Theme Park Beat
CinemaBlend's resident theme park junkie and amateur Disney historian. Armchair Imagineer. Epcot Stan. Future Club 33 Member.
Your Daily Blend of Entertainment News
Thank you for signing up to CinemaBlend. You will receive a verification email shortly.
There was a problem. Please refresh the page and try again.