There's Apparently A Shape Of Water Dildo For Sale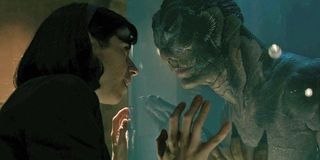 No matter which way that you look at it, Guillermo del Toro's The Shape of Water is a love story -- albeit an odd one. Telling the story of a woman (Sally Hawkins) who falls in love with an Amphibian Man (Doug Jones), the film raises one obvious question: can she have sex with him? Well, the movie very definitively answers that query, and now it looks like in real life you can even get a Shape of Water dildo for yourself. Check out an example of the product by XenoCatArtifacts, below.
This writer is admittedly not an expert on movie-inspired sex toys, but I am willing to bet that's the only dildo that you will find that's inspired by this year's crop of Best Picture nominees -- unless there's some bizarre Dunkirk vibrator out there that we haven't found yet. As you can pretty clearly see, the dildo in question (named "Jewel of the Amazon") mirrors the color and texture of the Amphibian Man's body from the movie. We never actually see his penis at any point during the movie, but that seems like a reasonable approximation, especially since one of these was definitely not a part of Doug Jones' monster suit during the film.
Although one might jump to the assumption that a fish man dildo inspired by The Shape of Water may only appeal to a niche market, it looks like one might be mistaken in that assumption. In fact, the Etsy (opens in new tab) account selling the toys has already sold out. That said, in a recent interview, XenoCat made sure to let io9 now that they will be restocked and ready to sell more of the product by the time the Oscars air.
It was arguably only a matter of time before someone decided to make a dildo inspired by The Shape of Water. Amid all of the praise that the film has received, one of the most consistent pieces of flattery that we have seen has involved the film's emphasis on telling an R-rated fairy tale about a woman falling in love with a monster. The film even directly references the sheer mechanics of Eliza having sex with the creature (a moment that goes on to deliver one of the film's best laughs), so it's something has clearly been thought about by fans and Shape of Water insiders alike.
So if Amphibian Man dildos happen to be your kink, it looks like The Shape of Water-inspired dildo might be right up your alley. As for the movie itself, make sure to watch it fight for 13 different Oscar categories (including a nomination for Best Picture) when the Oscars air on Sunday, March 4 at 8 p.m. ET on ABC.
As for the rest of the movies that are going to debut in theaters this year, you can also hop over to CinemaBlend's movie premiere guide to see what's coming. Who knows? Maybe next year we will be talking about brand new dildos inspired by Avengers: Infinity War or Annihilation.
Originally from Connecticut, Conner grew up in San Diego and graduated from Chapman University in 2014. He now lives in Los Angeles working in and around the entertainment industry and can mostly be found binging horror movies and chugging coffee.
Your Daily Blend of Entertainment News
Thank you for signing up to CinemaBlend. You will receive a verification email shortly.
There was a problem. Please refresh the page and try again.