The 10 Best Margot Robbie Movies, Ranked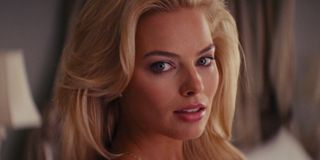 There's a lot to admire about Margot Robbie's exceptional acting talents. This is especially apparent in a number of her movies. The Australian Oscar nominee began her career a little over ten years prior, on the soap opera Neighbours, before the actress made her way onto American TV with the short-lived series Pan AM.
From there, it did not take long before she found herself alongside Leonardo DiCaprio (and arguably stealing the show) in Martin Scorsese's excellent The Wolf of Wall Street. And, in the years since, Robbie has proven herself to be an incredibly talented, versatile actress with a long career ahead of her. It's only a matter of time before Margot Robbie becomes a full-fledged, major A-list talent (if she isn't already one).
While Margot Robbie's acclaimed performance in the otherwise panned Suicide Squad wasn't the blockbuster star-making movie that she deserved, the actress will once again don the make-up and get another chance to shine in her own movie, next year's much-anticipated Birds of Prey, which should hopefully give Robbie the movie she deserves— particularly as Harley Quinn. Robbie is an incredible talent who has already proved herself to many moviegoers with a number of tremendous performances. That's why we are taking this opportunity to look back on Margot Robbie's best movies yet.
Of course, Margot Robbie has a number of highly-anticipated movies in the works, including this winter's Bombshell and an intriguing Barbie movie. Certainly, these films won't be the last time we see the exceptionally talented actress on the big screen. But, with so many noteworthy movies to be found in her early (and growing) resume, we'll take this moment to talk about Robbie's 10 most noteworthy movies to date, including a few of her earliest titles.
Without further ado, here are our favorite Margot Robbie movies so far! Heads up, though. Don't expect Suicide Squad to be found on this list!
10. Suite Francaise (2015)
Though she shares the spotlight with some major acting talents, including the great Michelle Williams and the legendary Kristin Scott Thomas, Margot Robbie gives a standout performance in the romantic drama, Suite Francaise. Based on the 2004 novel of the same name, it follows a romance that blooms between a French villager and a German soldier during Germany's occupation of France. While it didn't get the theatrical rollout that the filmmakers likely anticipated, with its US release once being set for Lifetime at one point, it was nevertheless a pretty well-acclaimed film with another strong supporting turn from Robbie. Not likely to be the film she's remembered for, but if you want to watch her grow as an actor, it's a good one to start with.
9. Dreamland (2019)
Dreamland is a title you might not have heard of yet. It's still on the film festival circuits, and it's looking to be released sometime in the next year or so, but the early reviews note that it's another strong dramatic performance from Margot Robbie. Early reports suggest that it might have a bit of a Bonnie & Clyde feel, with Robbie's character co-existing alongside bank robbers and devastating turns through a poverty-striken Dust Bowl. One can't say for certain when Dreamland is expected to get its official release rollout, but this sounds like it's a Margot Robbie movie to watch for.
8. Goodbye, Christopher Robin (2017)
While 2018's Christopher Robin got more attention and notice of the two movies, Goodbye, Christopher Robin shouldn't be ignored. The dramatic and surprisingly quite bleak film looks at the life of A.A. Milne (Domhnall Gleeson), the introverted, PTSD-afflicted author and creator of the classic children's literary character, Winnie the Pooh, and his cast of friends, including Christopher Robin (named after his real-life son). It's a story that tells audiences how one of our most beloved characters came to be, and the mature troubles that happened in real life, both inside and out of Hundred Acre Wood.
Margot Robbie plays Daphne de Sélincourt, the wife of A. A. Milne. While she doesn't get as much screen-time and dramatic potential as an actress of her talents deserves, she does make the most of it, providing a compelling, fully invested performance as a woman who does what she can to help raise a family, even when the world around them is starting to close in, thanks to the success of her husband's greatest character. As we'll note in a good number of these write-ups, Robbie has a great talent for taking even brief supporting roles and making them into something quite spectacular.
7. The Big Short (2015)
Though Adam McKay's Oscar-winning biographical satire The Big Short might not fall under the typical definition of a "Margot Robbie movie," Margot Robbie does, nevertheless, make one hell of an impression in her admittedly too-short scene (no pun intended). Used in a comedic, yet informative, scene where she lightheartedly explains all the confusing financial terms thrown around by the Wall Street folks in their corrupt money games, deals and discussions. Robbie's scene finds the actress in a bubble bath, accompanied by a gorgeous backdrop and a butler filling a glass of champagne while the actress explains, in layman terms, all the jargon that has likely confused or alluded the viewer.
It's a fun, flirty scene, and one that either directly or indirectly relates back to her star-making role in The Wolf Of Wall Street (which we'll obviously be discussing in just a bit). It's one of a few celebrity cameos found throughout the film, alongside Selena Gomez and the late Anthony Bourdain, but this scene, in particular, is a stand-out early in the movie, and one that proves that even when he she only makes a one scene appearance, Margot Robbie still knows how to steal the show. If you want to check out the clip, or simply revisit the scene from the Oscar-winning movie, check out the link here.
6. Whiskey Tango Foxtrot (2016)
Though Whiskey Tango Foxtrot was a big screen vehicle for multi-talented actress/writer/showrunner Tina Fey, who played real-life war correspondent Kim Barker in the biopic dramedy. Margot Robbie's supporting turn as BBC correspondent Tanya Vanderpoel was also quick to win over critics and general moviegoers alike in this generally under-seen, real-life film. As both a friend and occasional competitor in the multi-year story, it is a good showcase for Margot Robbie's comedic and dramatic talents, which had been used in only a few films at this time.
While Whiskey Tango Foxtrot isn't likely to be the movie that Margot Robbie is remembered for, especially as her career goes on to bigger and better things, but it's a commendable, well-played role in a generally solid and overlooked movie. And, it's yet another showcase of how Robbie can take even supporting roles and turn them into something dynamic, engaging and highly entertaining. That's the gift of a truly great, captivating actress.
5. I, Tonya (2017)
In the role that would ultimately lead to the actress' first — and much deserved — Oscar nomination, Margot Robbie gives audiences a new look at the heavily publicized tale of Tonya Harding, the figure skater-turned-felon, in the dramedy I, Tonya. While the movie itself can often waver in its tone, which doesn't have the smoothest time balancing itself between darkly comedic and intensely dramatic moments, there's no denying Margot Robbie's incredible performance in the title role. She carries the vulnerability, culpability, magnetism and emotional rawness to make her performance extraordinary in many of the same ways that Tonya Harding was an exceptionally gifted figure skater herself — all before the star's life begins to unravel around her.
Although it was Allison Janney's supporting performance as Tonya Harding's abusive mother, LaVona Golden, that received more love at the Oscars than Margot Robbie's, I, Tonya is ultimately Margot Robbie's movie, and she does an incredible job. Even when the movie itself adopts a Goodfellas-lite structure that doesn't play to its favor at times, Robbie's live-wire performance is a radiant one, and it was apparent to many moviegoers that she was a major star on the rise — and one who'll hopefully never have a downfall near the one found by her real-life counterpart. Additionally, for all its faults, Robbie and the movie totally stick the landing at the end.
4. About Time (2013)
Shortly before Margot Robbie was set to become a major scene-stealing star in The Wolf of Wall Street, she was already making a great impression in supporting roles, specifically in her turn in Richard Curtis's highly charming time-travel romantic comedy, About Time. The British rom-com stars Domhnall Gleeson and Rachel McAdams in the lead romantic roles, but Robbie's turn as Charlotte, the friend of Gleeson's on-screen sister, Kit Kat (Lydia Wilson), is certainly one that makes a great impression. It should've been apparent from this movie that she was going to become a star.
As a woman that our lead character grows smitten with over the course of a summer, Domhnall Gleeson's Tim (which I am now realizing might be a play on "time ..."), uses his newly-discovered time-traveling capabilities to try to find the right words to win her heart. At the end of the season, Tim ultimately realizes that some things are just not meant to be — even when you have time travel by your side.
Nevertheless, Margot Robbie turns what could've easily been a rather underwhelming character into someone with a radiant personality, a winning smile and an instantly lovable character. There's no wondering why Tim fell in love with her, and the use of time travel in About Time allows us to see the early acting range of this soon-to-be major talent.
3. Z For Zachariah (2015)
Compared to some of the actress' other movies, Z For Zachariah weirdly — and rather unfortunately — didn't get as much attention and notice as it deserves. Even despite the fact that it starred a trio of high-grade talent, including Margot Robbie, Chiwetel Ejiofor, and Chris Pine. The muted, quietly engaging character piece, centered around a small group of people after a nuclear apocalypse, gives these tremendous actors a lot of room to show off their acting prowess, and that's certainly an opportunity they live up to. But, it's notably Margot Robbie, in the lead, who gives one of her strongest, most underrated performances to date as Ann Burden, a humble, deeply complex and nuanced character.
The movie's opening moments, which are exceptionally subdued and tempered compared to the more dramatic second half, allow us to see how Margot Robbie can light up the screen even with little dialogue and very little known about her character at this point in the film. It takes a captivating and very talented actress to keep the audience's attention and interest like that during the early stages of the movie, and it's ultimately made clear by Z For Zachariah that Margot Robbie has the dramatic talent to pull off such a difficult feat. Thankfully, the Australian actress is obviously capable of holding her own when the tone changes part way through, and the movie adopts a much more dramatic and intense feel, which she also excels with.
2. Once Upon A Time ... In Hollywood (2019)
Though it is the most recent title on Margot Robbie's filmography, it's also certainly one of the actress' strongest performances to date. Playing the role of the legendary Sharon Tate, a woman who was met with a horrible fate, Robbie plays an important role in Quentin Tarantino's latest film. For while the late Tate remains known for her brutal and horrendous death, Tarantino and Robbie use this performance to instead celebrate her short-lived life, and how she was ultimately a charming and talented young woman who was potentially destined for greatness outside of her tragic legacy.
Much like Inglorious Basterds and Django Unchained, Quentin Tarantino's Once Upon A Time ... In Hollywood is meant to be revisionist history. But, until the movie's final gory-friendly moments, Tarantino's ninth film doesn't indulge in the exploitation-heavy leanings that have characterized his last few films. Rather, Tarantino's newest joint takes a casual, breezy tone that makes for an unexpectedly emotional experience, and a lot of that can be credited to Margot Robbie's dynamic performance. She brings the life, warmth, wit and charm of Sharon Tate that few people got to know and see. She had a whole life worth remembering and celebrating, and Tarantino and Robbie give the surprisingly touching honor of not merely seeing her death, but rather championing her life. In that lens, Margot Robbie's sweet and moving performance will hopefully build upon Tate's lost humanity.
1. The Wolf Of Wall Street (2013)
As we have noted throughout the article, The Wolf of Wall Street was a major movie for Margot Robbie. It's never a minor moment in anyone's acting career when they get a chance to work with the great Martin Scorsese, and Robbie certainly took this golden opportunity and ran with it, providing a stunning, captivating and scene-stealing performance as Naomi Lapaglia, the captivating second wife of Leonardo DiCaprio's Jordan Belfort.
Although The Wolf of Wall Street was a vehicle produced by and conceived for Leonardo DiCaprio to once again work with his regular collaborator Martin Scorsese, it's ultimately Margot Robbie's performance that stands out throughout the film, providing a stunning, radiant and very funny performance, which made it no wonder that the actress is now one of the most sought after stars in Hollywood. Everyone gets their Hollywood start somewhere. This is a great one.
These are only a few of the movies starring Margot Robbie in her early career, and we've got quite a few to look forward to in the movies and years ahead of us. We'll hopefully get another chance to look back on Robbie's best performances once she gives us several more worth celebrating. But in the meantime, let us know about your favorite Margot Robbie movies in the comment section. Also, tell us which one you consider to be her very best.
Will is an entertainment writer based in Pittsburgh, PA. His writing can also be found in The Playlist, Cut Print Film, We Got This Covered, The Young Folks, Slate and other outlets. He also co-hosts the weekly film/TV podcast Cinemaholics with Jon Negroni and he likes to think he's a professional Garfield enthusiast.
Your Daily Blend of Entertainment News
Thank you for signing up to CinemaBlend. You will receive a verification email shortly.
There was a problem. Please refresh the page and try again.