13 Marvel Characters The Sons Of Anarchy Cast Would Be Perfect To Play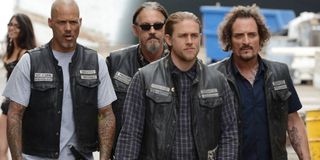 Charlie Hunnam has gone on the record in the past saying that he has never had a desire to play a superhero, but that shouldn't stop anyone from playing around with the idea of having the Sons of Anarchy star, or any other his co-stars from the FX biker series, show up in any number of Marvel movies in the future. With names like Katey Sagal, Ron Perlmen, and countless others on the large ensemble cast over the years, there's a lot to work with.
Just imagine seeing Charlie Hunnam or Ryan Hurst showing up in the Marvel Cinematic Universe (or Sony Pictures Universe of Marvel Characters) as either a hero or villain stealing the show. And in this day and age of multiple comic book movies spanning different universes popping up left and right, there will probably come a time when some of the stars of Sons of Anarchy trading their "colors" for a superhero/supervillain costume.
Wolverine (Charlie Hunnam)
It's only a matter of time before Wolverine and the rest of the X-Men make their long-awaited debut in the Marvel Cinematic Universe, and what better person to usher in the new era than Charlie Hunnam. Despite his classic good looks, Hunnam has proved time and time again that he is both a competent brawler (both in SOA and films like Green Street Hooligans) and a natural-born leader, even if he doesn't feel like he's up to the task. Add his quiet, raspy voice and you have the perfect recipe for the most famous mutant.
Doctor Octopus (Katey Sagal)
Doctor Octopus was traditionally portrayed by male actors in films like Spider-Man 2 and shows like Spider-Man: The Animated Series, but Into The Spider-Verse changed things by having a female Doc Ock by Kathryn Hahn. If the Marvel or Sony universes follow that path when the character is eventually introduced in a live-action film, there's no better person than Katey Sagal. For seven seasons on Sons of Anarchy, Sagal played Gemma Teller Morrow and proved to be one of the most despicable villains on television, but you still liked her despite it all. She could channel that energy to pull off one of the most evil members of the Sinister Six.
Rhino (Ron Perlman)
Ron Perlman has already appeared in a Marvel Comics movie with his portrayal of Reinhardt in Blade II, but that shouldn't stop the talented actor and former Hellboy star from jumping into the MCU. While we don't know if his character will play into the upcoming Blade reboot, it's fun to imagine seeing the man who brought Clay Morrow to life in Sons of Anarchy do the same for Rhino in a future Spider-Man movie. Perlman has the physicality to faithfully pull off such a strong and imposing member of the Sinister Six and could have some fun back-and-forth interactions with Tom Holland's friendly neighborhood Spider-Man. I would have said Perlman would have been great to play Cable, but Josh Brolin has that one covered for now.
Kraven The Hunter (Ryan Hurst)
Since we're still on the topic of Spider-Man's Sinister Six, let's go ahead and keep it going with considering the idea of having Ryan Hurst portray Kraven the Hunter. Though not as well-known as some of the more prominent Spidey villains, Kraven has proven time and time again to be a formidable foe for the web-slinger. And although Hurst portrayed the gentle giant and tragic character Opie in the first few seasons of Sons of Anarchy, the actor has gone on to be one of the most crazed and interesting characters on The Walking Dead. If he were able to channel the energy of Beta with the physical strength of Opie into his portrayal of Kraven, we would have quite a movie on our hands.
Purple Man (Kim Coates)
David Tennant gave one of the best performances of his career with his portrayal of Kilgrave, also known as Purple Man, on the Netflix series Jessica Jones, but if he isn't able to return if the character is brought into a future Marvel film, then Kim Coates would be an ideal replacement. Coates played Tig Trager on Sons of Anarchy for the show's entire run, and proved time and time again to be one of the most manipulative and vicious members of SAMCRO, but it was hard to hate him. With his charisma, cool-as-a-cucumber demeanor (despite being a maniac), and acting resume, Coates could take a different approach to one of Marvel's most sinister puppet-masters.
Ghost Rider (Tommy Flanagan)
We have already seen Tommy Flanagan appear in the Marvel Cinematic Universe with his performance as one of the Ravagers who met a dark and desolate fate after standing up for Yondu in Guardians of the Galaxy Vol. 2, but that shouldn't stop the former Sons of Anarchy actor from showing up as a completely different, and more well-known character. One like Ghost Rider. Best known for playing Chibs Telford in all but a few episodes of Sons of Anarchy, the Scottish actor can handle his own on a motorcycle, looks pretty badass in leather, and has some pretty gnarly facial scars that could be worked into the story.
Lady Deathstrike (Maggie Siff)
Remember how I said that Charlie Hunnam could play a convincing Wolverine if given the chance up above? Well, if he were to be cast in the role, imagine how great it would be to see him square off with Lady Deathstrike portrayed by Maggie Siff who played his love interest Tara Knowles for much of Sons of Anarchy. As we saw on FX's biker show, as well as other performances before and since, Siff is capable of pulling off a capable fighter and exceptional actress that could handle the demands of the role. We haven't seen Lady Deathstrike in a Marvel movie since she was underutilized as a mute henchman for William Stryker in X2 back in 2003, so the character is due another, more fleshed-out appearance.
Gambit (Theo Rossi)
Just like Tommy Flanagan, Sons of Anarchy alum Theo Rossi already appeared in a Marvel property with his portrayal of Shades on the Netflix series Luke Cage, but that shouldn't prevent the actor best known for his turn as Juice from appearing again in some shape or form. And what better role than Gambit when the character eventually makes his debut in the MCU. He doesn't have the star power of some of the other names attached to the character over the years, but what Rossi lacks in name recognition he makes up for it with his quiet intensity and million-dollar smile that just reeks of the Ragin' Cajun (just as long as he doesn't butcher the accent).
Bullseye (David Labrava)
David Labrava's Happy Lowman will go down as one of the most feared and ruthless killers on Sons of Anarchy thanks in part to his habit of getting a smiley face tattooed on his body every time he kills another man. With behaviors like that I can't think of a better person to play the psychopathic assassin Bullseye. The character has shown up from time to time in a number of different movies and television series, but I think Labrava and his ability to portray pure evil would take the character to the next level.
Blob (Mark Boone Junior)
After the way Blob was treated in 2009's X-Men Origins: Wolverine, the character is due for a redemption. You could go with any number of actors here, but Mark Boone Junior who played Robert Munson on Sons of Anarchy could pull it off. I know, I know, he's 65 years old and doesn't have the physical size of Blob from the comics, but with motion-capture technology being what it is today, the veteran actor could add another dimension to the criminally underrated comic book character.
Cyclops (Taylor Sheridan)
Taylor Sheridan doesn't do as much acting as he used to thanks to his successful career behind the camera with movies like Wind River and shows like Yellowstone. If the actor who brought Deputy Chief David Hale to life before being run over in the Season 3 premiere wanted to step in front of the camera again, he could do a great job of pulling off an older Cyclops when the character is brought into the Marvel Cinematic Universe. With the boy scout appearance (even at 50 years old) and sneaky good acting ability, Sheridan could bring a lot to the project. Hey, he could even pull double-duty and serve as the movie's director. I mean, Sheridan does know how to shoot and write explosive action sequences.
Norman Osborn (Ray McKinnon)
Ray McKinnon's portrayal of Assistant U.S. Attorney Lincoln James Potter on Sons of Anarchy (and again later in Mayans M.C.) was one of the most well-written and well-acted performances throughout the show's entire run. At times, it was hard to see where he stood on things and or if he could even be trusted. These qualities would make McKinnon the perfect choice for Norman Osborn, even if the character doesn't turn into the Green Goblin (though that would be pretty cool). McKinnon is recognizable coming off his appearance in Ford v Ferrari, so this could take him from bit player to leading baddie in no time. Plus, he has that smirk that just gives off the evil billionaire's energy.
Emma Frost (Ally Walker)
Sons of Anarchy featured some of the most-hated characters in the history of the cable television and Ally Walker's portrayal of June Stahl is at the top of that list. The vindictive Bureau of Alcohol, Tobacco, Firearms and Explosives agent introduced in Season 2 became the cold as ice thorn in the side of SAMCRO until she was shot down at the end of the following season. Going off her character's actions in SOA, Walker would be ideal to play another ice queen, Emma Frost if the character were ever brought back into the fold. The mutant has telepathic and shape-shifting abilities (much like the psychotic Agent Stahl), which would be a walk in the park for someone known for such a cold and sinister role.
Those are just some of the cast members of Sons of Anarchy that would be able to pull off characters in the Marvel Cinematic Universe. Do you agree with this list or is there another SOA alum that would be better for any one of these roles? Let me know in the comments below and make sure to check back for all the latest Marvel news here on CinemaBlend.
Philip grew up in Louisiana (not New Orleans) before moving to St. Louis after graduating from Louisiana State University-Shreveport. When he's not writing about movies or television, Philip can be found being chased by his three kids, telling his dogs to stop yelling at the mailman, or yelling about professional wrestling to his wife. If the stars properly align, he will talk about For Love Of The Game being the best baseball movie of all time.
Your Daily Blend of Entertainment News
Thank you for signing up to CinemaBlend. You will receive a verification email shortly.
There was a problem. Please refresh the page and try again.