Jamie Lee Curtis Sends Sweet Message To Arnold Schwarzenegger As He Recovers From Surgery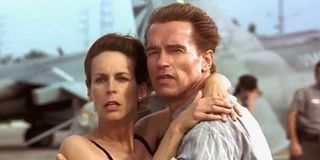 Arnold Schwarzenegger has built an entire career on his ability to put up a good fight. Now, he's facing a real-life fight with some pretty high stakes, as he recovers from his second heart surgery. Luckily, he seems to have a strong support system by his side, including friend and former co-star Jamie Lee Curtis, who sent him an encouraging "get well soon" message on social media.
The Terminator star and former governor of California has suffered health complications related to his heart for the past couple of years. In 2018, he underwent a successful open heart surgery. Earlier this month, he informed his fans and followers on Twitter that he had once again had surgery, this time to replace an aortic valve.
The actor's update seemed optimistic -- he showed his gratitude to the staff at Cleveland Clinic (where the surgery was performed) and made it clear that he was feeling well following the procedure. Still, some extra encouragement from some of his biggest fans probably didn't hurt.
One of those fans just happens to be Jamie Lee Curtis, who shared a supportive message of her own on Twitter:
The photo in the tweet is from 1994's True Lies, the action blockbuster Jamie Lee Curtis and Arnold Schwarzenegger starred in together. Even though they haven't shared the screen in more than two decades, she's shown evidence that their off-screen friendship has remained in tact for more than two decades. Last summer, she shared a photo of herself and Arnold Schwarzenegger hanging out together and celebrated the fact that they were both older and wiser.
Besides hanging out and offering each other support, Jamie Lee Curtis and Arnold Schwarznegger have both spent the last couple of years reminding cinephiles why they are some of the biggest stars of their generation. Arnold Schwarzenegger has starred in numerous projects, including Terminator: Dark Fate -- and he also recently signed on to star in his first TV series.
Jamie Lee Curtis has proven she's still got some tremendous pull at the box office. In the last two years alone, she showcased her enduring comedic talents in Knives Out and reminded everyone why she's an original scream queen in the Halloween reboot. She's set to appear in the upcoming sequel, Halloween Kills, too.
Both actors have also stayed busy doing advocacy work. Jamie Lee Curtis has used her social media platforms to encourage fans to register to vote and stay engaged in this year's election. Arnold Schwarzenegger has spoken about the importance of following safety protocols during the ongoing COVID-19 pandemic and recently donated $1 million toward pandemic relief.
Hopefully, Arnold Schwarzenegger's recovery continues to go well and he's able to return to doing what he loves best as soon as possible.
Your Daily Blend of Entertainment News
Your Daily Blend of Entertainment News
Thank you for signing up to CinemaBlend. You will receive a verification email shortly.
There was a problem. Please refresh the page and try again.