9 2020 Amazon Prime Movies That You Really Need To Be Watching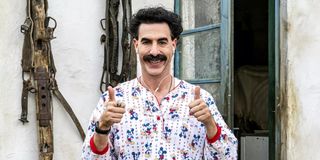 CinemaBlend participates in affiliate programs with various companies. We may earn a commission when you click on or make purchases via links.
It is no secret that 2020 has been a tough year on the film industry, especially for those in the business of presenting them in a public setting. If there is any silver lining to be found (as one should always look out for) with the restrictions of cinema in the wake of Covid-19, streaming platforms such as Amazon Prime Video have been given the chance to become the exclusive digital home for audiences to enjoy some the best new films. I mean, who knows if we would have been able to see Borat 2 (or, by its official abbreviated title, Borat Subsequent Moviefilm) this year without it?
The feature-length reprisal of Sacha Baron Cohen's most uproariously lewd and politically incorrect character is not the only Amazon original movie that made quarantine a little easier for audiences with subscription to Prime Video. In fact, there was enough released on the platform to appeal to viewers of all ages and with all different tastes, including sweeping romances, pulse-racing thrillers, and even a few fascinating non-fiction features to learn from.
I understand if you have not been able to keep up with these latest releases as you may have been trying to get through your Netflix queue for once, or you were making the trip to your area's closest drive-in to keep things traditional, or perhaps you may not be an Amazon Prime member. However, if you do have a subscription, then what the hell are you waiting for? Consider the following 9 original titles the next items on your "to-watch" list, starting with a personal favorite of mine unlike anything else I have seen in 2020.
The Vast Of Night
When a young small town radio DJ (Jake Hororwitz) and his high school classmate, a soundboard operator (Sierra McCormick), intercept an ominous sound through the airwaves, their investigation into what it means and where it may come from leads to a startling discovery. If not for its 1950s setting, eerily quiet atmosphere, and grainy aesthetic, what puts The Vast of Night alongside the finer homages to The Twilight Zone (and secures Andrew Patterson as a first-time director to keep an eye on) is its ingenious commentary on Cold War era injustice through the lens of an otherworldly phenomenon and told expertly in real time.
Stream The Vast of Night on Amazon Prime here.
7500
Also told in real time and without ever leaving the confines of the cockpit on a commercial plane is 7500, the feature-length directorial debut of German filmmaker and co-writer Patrick Vollrath, which is named after the numerical distress code used to report an aircraft hijacking. That is what happens to co-pilot Tobias Ellis (Joseph Gordon-Levitt), who becomes the last hope for a flight from Berlin to Paris when conflict between terrorists and passengers turns deadly in this uniquely immersive, and thoroughly fervid thriller.
Stream 7500 on Amazon Prime here.
Chemical Hearts
When you are a teen, nothing feels more fervid or tragic than your first love, as high school senior Henry Page (Austin Abrams) learns when he falls for transfer student Grace Town (Riverdale star Lili Reinhart) after she is paired with him as co-editors for the student paper. Unfortunately, not everything is as it seems with his dream woman as painful revelations put their relationship to the test in Chemical Hearts - an honest and thoughtful coming of age story based on the novel by Krystal Sutherland.
Stream Chemical Hearts on Amazon Prime here.
Time
The romance at the center of this award-winning feature is a story more tragic, thoughtful, and brutally honest than most can begin to imagine, but for more than two decades, it defined the life of Fox Rich while her husband, Rob, served an initial sentence of 60 years in prison for a robbery he committed out of desperation. Filmmaker Garret Bradley combines Rich's personal video diaries with modern footage converted to grayscale to chronicle Rich's rise to entrepreneurial success, the upbringing of her six children, and her fight for her lover's freedom in Time - a documentary as emotionally gripping and socially relevant as it is visually stunning.
Stream Time on Amazon Prime here.
Get Duked!
In case you need a break from such harsh subject matter, perhaps try this Scottish import that fuses the debauchery of The Hangover with the psychedelia of Fear and Loathing in Las Vegas and the survivalist thrills of The Most Dangerous Game - which already had its fair share of adaptations this year alone, don't you think? Regardless, Get Duked! - the tale of three hip-hop obsessed derelict youths and their new nerdy pal hunted by man rifleman (Eddie Izzard) - is hilarious blast of manic energy from start to finish.
Stream Get Duked! on Amazon Prime here.
My Spy
Speaking of kids in dangerous situations, a life of danger is actually the dream for 9-year-old Sophie (Chloe Coleman), who receives that chance when she discovers a tough CIA agent (Dave Bautista) hired to watch over her family and threatens to blow his cover if she does not teach him the art of espionage. While it may be PG-13, I would still recommend family viewing for My Spy as a fun throwback to action movies that pair kids with adults invigorated by the chemistry of its central duo.
Stream My Spy on Amazon Prime here.
What The Constitution Means To Me
When it is time to put the kids to bed and you still feel the itch for humor but of a more mature and poignant nature, why not this in-depth analysis of the supreme law of the United States from the partially autobiographical perspective of Heidi Schreck? In front of a live audience, the writer of such acclaimed series as Nurse Jackie and Billions presents her Tony and Pulitzer Prize-nominated one woman show What the Constitution Means to Me with a refreshing wit and dignified honesty that makes you think deeper about how America's history may affect its future.
Stream What the Constitution Means to Me on Amazon Prime here (opens in new tab).
Borat Subsequent Moviefilm (Borat 2)
Or, you could just watch a man dismantle the fabric of all things held dear in the U.S. by means of mercilessly lewd satire at the expense of average onlookers and even public figures unaware they are being pranked. That is what we got out of Sacha Baron Cohen's Golden Globe-winning performance in his first film as the infamous Kazakh journalist and you get that a hundred fold in Borat Subsequent Moviefilm, which is not even the full title of this shocking, funny, and shockingly funny sequel.
Stream Borat Subsequent Moviefilm on Amazon Prime here.
Welcome To The Blumhouse (The Lie, Black Box, Evil Eye, Nocturne)
You will find much less to laugh at, but plenty to be shocked by, in each of the chilling stories from this collection of four horror films from the folks at Blumhouse. See a father and daughter endure the consequences of a terrible accident in The Lie, experimental method of memory therapy bringing forth unsettling personal discoveries for an amnesiac single father in Black Box, a woman who finds something horrifying familiar about her daughter's new beau in Evil Eye, and a piano prodigy who goes the extra mile to outdo her talented older sister in Nocturne.
Stream the 2020 collection of Welcome To The Blumhouse on Amazon Prime here (opens in new tab).
What do you think? Have you always trusted the horror maestros at Blumhouse to never let you down, or is Welcome to the Blumhouse on Amazon Prime the first time they have? Let us know in the comments and be sure to check back for additional information and updates on what is available to stream on Amazon Prime, as well as the best new movies you can find on other platforms, here on CinemaBlend.