What's Really Going On With That Bonkers Ryan Gosling Theory In Netflix's Holidate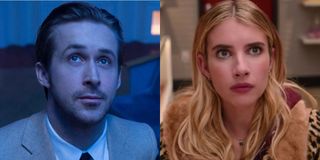 If you've watched Netflix's Holidate already -- and if you haven't but like rom-coms, why not? -- you should know there is a memorable scene in the movie in which leads Emma Roberts and Luke Bracey to bring up Ryan Gosling in a grocery story. Well, fans had a pretty wild theory about the Gosling-oriented moment, and while it's completely bonkers, I absolutely love them for it. Here's what's really going on with the Netflix fan theory.
How Ryan Gosling Comes Up In Netflix's Holidate
In Netflix's raunchy rom-com Holidate, Luke Bracey's Jackson and Emma Roberts' Sloane are two singles who always end up dealing with impossible dating situations around the holidays. Thanks to some help from Sloane's irresponsible Aunt Susan (Kristin Chenoweth), the two devise the "holidate," a pact in which they become each others' go to dates for all major events, ignoring one another otherwise.
Obviously, spoilers need to come into play here, so if you aren't caught up on Holidate what you really need to know is there's a Ryan Gosling reference and skip down. As often happens in rom-coms, there is a hook-up which leads to a reveal that there are real feelings involved. Jackson ultimately decides to confess to Sloane that she "makes him forget his own name" in a grocery store, which doesn't go over as well as you'd probably guess.
So, that's the Ryan Gosling reference, which is pretty innocuous. Or, at least was pretty innocuous until an eagle-eyed fan seemingly "figured out" a theory about the scene that ran around like wildfire.
Netflix Fans' Absolutely Bonkers Ryan Gosling Theory
When Sloane hollers "Ryan Gosling would never do his own shopping" a man who in fact does look like Ryan Gosling is seen grabbing an item from the frozen food display case behind Sloane. This prompted a lot of Netflix viewers to freeze shot the moment and talk about the person in the grocery looking like an actual Ryan Gosling cameo online. This would actually make the dialogue between Sloane and Jackson a whole lot funnier and it caught on, with plenty of comments featuring some variation of this sentiment:
Still, to this day, some people believe there is an actual Ryan Gosling cameo in Holidate. It would be a great joke if true and I see why it caught on.
However, as amusing and fun as internet theories can sometimes be, I'm going to have to go ahead and debunk this one.
Who Is Really Standing Behind Emma Roberts In Holidate (It's A Cameo, Just Not Gosling)
Ryan Gosling does not show up in Netflix's Holidate. It would be awesome if he and Emma Roberts were randomly pals on the side -- I mean, maybe he knows a lot of Emmas in Hollywood, I could see it -- and he agreed to pop up for a quick moment, but alas that is not what happened. And honestly, this doesn't seem like the type of movie that could afford to bring in Ryan Gosling for an actual bit. However, the moment was in fact a cameo from someone who was a part of the production.
Luke Bracey's stand-in, Chad Zigmund, was the man behind the well-timed freezer open in Netflix's Holidate. He confirmed the moment on social media, also showing off his costume in the movie and providing the evidence required to prove it really was him in the film.
The man's not a total Ryan Gosling look-alike, but I honestly see how so many people were duped into believing this is what happened in Holidate. (I'm just saying, it's closer than Gosling's actual wax sculpture.)
Meanwhile, if you haven't caught the fun moment in Holidate yet, give it a watch. Despite what the critics might tell you, I find it rather refreshing and raunchy compared to most of the holiday movies out there. If you're just here for fun Ryan Gosling news, we have you covered as well.
Amazing Race & Top Chef superfan with a pinch of Disney fairy dust thrown in. Theme park junkie. If you've created a rom-com I've probably watched it.
Your Daily Blend of Entertainment News
Thank you for signing up to CinemaBlend. You will receive a verification email shortly.
There was a problem. Please refresh the page and try again.