6 Marvel And DC Characters Outlander's Sam Heughan Would Be Perfect To Play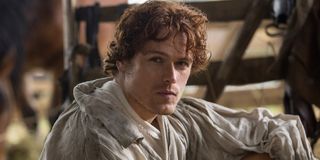 When you think of Sam Heughan, you tend to also picture scenes of war on horseback, sweeping romance, puffy shirts, and all the other things he does on Outlander, the hit Starz original series, as Jamie Fraser. It is less often that people associate the actor with interplanetary conflict, tyrannical celestial beings, spandex, and other things related to superheroes. Perhaps that means it is time for him to star in one of the Marvel movies or even a DC Comics flick.
To be fair, the 40-year-old real-life Scotsman has tried his hand at a comic book movie role once before in 2020's Bloodshot - an adaptation of the popular Valiant title starring Vin Diesel as a soldier brought back from the dead with nanotechnology that makes him indestructible. However, Sam Heughan's role as the mechanized Jimmy Dalton is not even from the original comic, but loosely based on a villainous combat unit sent to eliminate the the titular hero known as Chainsaw. Not to mention, (SPOILER ALERT) his character does not survive by the end so he likely will not be returning to star in the apparent sequel, which was recently announced.
Of course, even if there were not plans for Bloodshot 2, Vin Diesel is still a member of the MCU family as the voice of Groot in Guardians of the Galaxy. Sam Heughan, on the other hand, does not have the advantage of a secondary comic book movie franchise based on either Marvel or DC, but that can all change with a few phone calls. Six notable characters whom he would be ideal to play come to mind, starting with one shares more with the actor than his country of origin.
Mirror Master
I should have been more specific when I said Sam Heughan had tried a comic book role "once before" with Bloodshot because, while it was his first live action superhero movie, his actual debut comic book role was in 2018's LEGO DC Super-Villains video game as the voice of Evan McCulloch - Grant Morrison's iteration of Mirror Master. He played the Scottish-born assassin and frequent enemy of The Flash so well that I recommend bringing him in to fully realize his darker origins for a live action setting on the big screen. In fact, his ability to travel to alternate dimensions through any reflective surface would make him a fitting addition to the Flashpoint-inspired plot of Ezra Miller's upcoming DCEU solo film.
Christopher Chance
However, the more successful DC movies as of late tend to be the ones that establish themselves as separate from the DC Extended Universe, such as the Academy Award-winning Joker or most of their straight-to-video animated features. To me, that sounds like a golden opportunity to finally bring Christopher Chance, the lead character of the Human Target comic, to the big screen after his previous TV adaptations on two Arrow episodes and his own short-lived series on Fox. Sam Heughan also sounds like a shoe-in to play the secret agent who assumes the identities of innocent people wanted for dead after people began considering him to be the next 007 after his performance in The Spy Who Dumped Me.
Anachronism
Of course, playing an established fan-favorite character like James Bond is always going to have its shortcomings, such as someone complaining about Bond having red hair all of the sudden. In that regard, perhaps Sam Heughan should try to go for a character who is actually well-known for being a redhead, such as Aiden Gillespie - a harmless teen from Scotland who became Anachronisim after his soul bonded with a Celtic warlord's spirit, giving him the body of brooding superhero. I am not sure if I really should have to say much more about why this Scottish actor often commended for his muscular physique would be the perfect choice to play this very unique Marvel character.
Wonder Man
While he may not sound particularly unique from the awkward familiarity of his name and his backstory as well, Wonder Man is actually quite different from most other Marvel characters and even more powerful than most at that. Originally a slimy rich dude named Simon Williams, a near-death experience gave him an incredible variety of powers - including teleporting, alteration of his own size, and a weakness to virtually nothing (save a few mental breakdowns and his own extreme pacifism). I believe there's a bright future in the Marvel Cinematic Universe for this character at some point and also think his deeply human qualities (despite otherworldly abilities) would be a fascinating challenge for an actor like Sam Heughan to tackle.
Wolverine
It might be an even greater challenge, however, for Sam Heughan to take over for Hugh Jackman in the beloved comic movie role the Australian actor defined until Logan sealed his retirement in 2017. Fortunately, he has the support of many fans who have already expressed interest in the idea of him playing Wolverine for the MCU, which is possible now thanks to Disney's merger with Fox who previously owned the rights to the X-Men property. Heughan's reaction to the news on Twitter sounds like he would be down take over the role and, quite frankly, I think he has the emotional range and, most importantly, the chiseled look to pull off the clawed, cigar-chomping mutant (with a little extra help from some hair dye, of course).
Banshee
On second thought, there is another mutant whom Sam Heughan could play without making any changes to the color of his hair or barely any alterations to his natural accent either. In fact, him playing an older version of the Irish Sean Cassidy (nicknamed Banshee mainly for his devastating sonic scream) would be a welcome improvement on how 2011's X-Men: First Class depicted him as an American (no offense to Caleb Landry Jones) and, not to mention, killed him off by the end, as well. Casting Heughan sounds like the perfect way to resurrect this extremely vocal superhero for the Marvel Cinematic Universe.
What do you think? Should Kevin Feige get a hold of Sam Heughan now about the X-Men role, or should he go for any of the other Scottish characters I mentioned earlier and save Banshee for an actor who is authentically Irish? Let us know in the comments and be sure to check back for additional information and updates on the star of Outlander, as well as even more hypothetical comic book movie casting sessions, here on CinemaBlend.
Jason has been writing since he was able to pick up a washable marker, with which he wrote his debut illustrated children's story, later transitioning to a short-lived comic book series and (very) amateur filmmaking before finally settling on pursuing a career in writing about movies in lieu of making them. Look for his name in just about any article related to Batman.
Your Daily Blend of Entertainment News
Thank you for signing up to CinemaBlend. You will receive a verification email shortly.
There was a problem. Please refresh the page and try again.