Tessa Thompson: What To Watch Streaming If You Like The Thor Star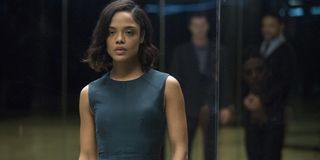 CinemaBlend participates in affiliate programs with various companies. We may earn a commission when you click on or make purchases via links.
Tessa Thompson has appeared in some of your favorite movies, TV shows, and even music videos. Her diverse body of work has made her one to watch. Whether appearing in the Marvel Universe in the Thor movies or being a piece of the heart in Creed, or even playing in a world with robots in Westworld, Thompson commands the screen and makes you want to watch more.
There may be about a thousand streaming services out there, which can be overwhelming, but the beauty of all of them is that you have access to so much content, which is handy when you want to do a marathon of a favorite show, movie franchise, or actor or actress. If you're in the mood for some Tessa Thompson content, here's some streaming options.
Thor: Ragnarok (Disney+)
Thor: Ragnarok is the third film in the Thor universe. It's the film that finds Thor (Chris Hemsworth) on a new planet as he must face a few obstacles, including The Hulk (Mark Ruffalo) to get back to Asgard and face-off against Hela (Cate Blanchett ).
Why It's A Good Option For Tessa Thompson Fans: Thor: Ragnarok is the film that introduces Tessa Thompson to the Marvel Universe as Valkyrie. Valkyrie is a fun character, smart, resourceful, strong, and a warrior and hero in her own right. In Thor: Love and Thunder, we'll see Valkyrie step into more power, and we'll get to see more of her new role as the king of new Asgard. Thor: Ragnarok is the best film to watch to re-familiarize yourself with that character before the next film comes out.
Stream it on Disney+ here.
Creed II (Amazon Prime)
Michael B. Jordan, Sylvester Stallone, and Tessa Thompson return for this Creed sequel. Creed II deals with Donnie (Jordan) embarking on another life-changing fight with an opponent that has ties to his father's past.
Why It's A Good Option For Tessa Thompson Fans: Like with the Rocky movies, a big part of the Creed movies is the heart that comes from the love story. Donnie and Bianca's (Thompson) love story grows much deeper in this film, and it shows a bit more of Bianca's life and her own struggles. It also expands the Creed family and establishes Bianca as an even more important part of Donnie's life and future.
Stream it on Amazon Prime here.
Sorry To Bother You (Hulu)
Sorry to Bother You is is a unique satirical movie that explores corporate greed, racism, slave wages, and various other relevant topics. Lakeith Stanfield stars as Cassius 'Cash' Green. Cash gets seduced by the money, and viewers watch how that has disastrous and monstrous results.
Why It's A Good Option For Tessa Thompson Fans: Thompson plays Cash's girlfriend, Detroit. She has a bit of a whimsical quality to her because she's very certain of her beliefs and morals. She stands out because she's not just Cash's loving girlfriend, instead, she very much has her own identity with and apart from him.
Stream it on Hulu here.
Westworld (HBO Max)
Westworld is an HBO series about an amusement park that allows rich occupants to live out their fantasies without consequences or punishments, that is until the artificial conscious hosts start to understand what's happening.
Why It's A Good Option For Tessa Thompson Fans: Tessa Thompson appears in Westworld at the start as Charlotte Hale. Thompson gets to show off her badassery in various ways throughout Westworld. Partly by showing off her stellar acting skills, through action scenes, compelling story-arcs, and by playing a multifaceted character.
Stream it on HBO Max here.
For Colored Girls (Netflix)
For Colored Girls is Tyler Perry's adaptation of Ntozake Shange's choreopoem For Colored Girls Who Have Considered Suicide When the Rainbow is Enuf. It contains a series of interlocking stories that mainly focus on the struggles that black women face. The film features an ensemble cast that includes Tessa Thompson, Whoopi Goldberg, Phylicia Rashad, Kerry Washington, and Thandie Newton.
Why It's A Good Option For Tessa Thompson Fans: Thompson plays Nyla aka Lady in Purple. Her vignette explores an unwanted and unplanned pregnancy. Her story also ties with her familial issues and dysfunctional relationship with her mother and sister, played by Newton and Goldberg. For Colored Girls is a very dark drama that explores topics of sexual abuse, child endangerment, STDs, murder, domestic violence, and more, so it's not a fun, lighthearted film. However, it's an interesting movie because of the performances by the all-star cast and the poetic style.
Stream it on Netflix here.
Veronica Mars (Hulu)
Veronica Mars is a series that refuses to die. The fans first resurrected the show about a teen detective in the form of a movie. Then Hulu brought it back to life with a Season 4. It may be another ten years until we see Veronica and the gang again, but she'll likely find new life in some form at some point in the future.
Why It's A Good Option For Tessa Thompson Fans: Veronica Mars was Thompson's first major TV role. She played Jackie Cook, Wallace (Percy Daggs III)'s love interest throughout the second season. She only appeared in one season, but she was a vital part of Wallace's growth that season. Veronica Mars also offers a good introduction into Thompson's eventual star power and leading lady potential. She added another dynamic character to the Veronica Mars list.
Stream it on Hulu here.
Men In Black International (Starz)
Men in Black International expands the Men in Black universe. It follows American Molly/Agent M (Thompson) as she uncovers the Men in Black organization, and gets assigned to work in London. She joins Agent H (Chris Hemsworth) as they work to uncover a mole in MIB.
Why It's A Good Option For Tessa Thompson Fans: This film once again pairs Hemsworth and Thompson, who have great on-screen chemistry. Men in Black International didn't fare well with critics, but if you are a huge fan of Thompson or Hemsworth, and/or enjoy funny (semi-silly) action adventures, then this film should suit your needs.
Stream it on Starz here.
Dear White People (Tubi)
Dear White People is a 2014 satirical film about racial tensions that especially exist within the collegiate system. Justin Simien directed and wrote the film that eventually became a Netflix series.
Why It's A Good Option For Tessa Thompson Fans: Thompson plays one of the main characters, Sam. She hosts the radio show Dear White People, where she questions the administration and the white students at Winchester University. Dear White People is a thought-provoking movie that brings some of the issues facing black students at prestigious universities to the surface. It's a film that blends comedy and drama while also trying to start conversations about race, identity, education, and culture.
Stream it on Tubi here.
Little Woods (Hulu)
Little Woods is Nia DaCosta's feature film directorial debut. It follows Ollie (Thompson) as she's a few days away from being off probation. Ollie tries to live a normal, law-abiding life in North Dakota, but when her sister Deb (Lily James) needs some money for her unexpected pregnancy, Ollie rejoins the world of drug dealing.
Why It's A Good Option For Tessa Thompson Fans: Little Woods is a slow-burning drama that deals with these two sisters who both aren't really living happy, successful or exciting lives, but they're put into dangerous--potentially life-ruining-situations to survive. Little Woods draws you in because of Thompson's performance and the relationship between Deb and Olie. They may not be close, but they're there for each other when needed.
Stream it on Hulu here.
Lady And The Tramp (Disney+)
Disney's beloved animated film Lady and the Tramp got a live-action update, just for Disney+. Lady (voiced by Thompson) enjoys her in-door home life with owners Jim (Thomas Mann) and Darling (Kiersey Clemons), but when Darling becomes pregnant, everything changes for Lady. One day, when left with Aunt Sarah (Yvette Nicole Brown), Lady ends up on the street. She reunites with the street dog she met before, Tramp (Justin Theroux), and the two have a wonderful day together.
Why It's A Good Option For Tessa Thompson Fans: Thompson has a great voice for voice-over work, especially those involving house dog characters. Hopefully, she'll lend her voice to more animated or live-action animated characters in the future. Lady and the Tramp is a great Disney remake that is enjoyable to watch from start to finish.
Stream it on Disney+ here.
Furlough (Hulu)
Furlough follows Nicole (Thompson), a part-time corrections officer who wants a full-time job. She's assigned to transport a criminal, Joan (Melissa Leo) to see her mother one final time. In exchange for a successful run, she'l be promoted to a full-time position. Whoopi Goldberg has a small role as Nicole's mother, making this the second time Thompson and Golberg played mother and daughter.
Why It's A Good Option For Tessa Thompson Fans: Furlough is a very funny film. Joan takes Nicole on one misadventure after another as she tries to get the most out of her brief time away from prison. Towards the end of the movie, Furlough takes a more serious tone. The film works so well because Leo and Thompson are both frustrating and charming at different points in Furlough.
Stream it on Hulu here.
If you want more Tessa Thompson content, she has a fictional podcast called The Left Right Game. Amazon bought the rights to it, so it'll be a future series that she stars and produces. The 10-episode audio-series is currently available to stream. You can also stream Thompson's new movie Sylvie's Love on Amazon Prime. on December 23.
Your Daily Blend of Entertainment News
Spent most of my life in various parts of Illinois, including attending college in Evanston. I have been a life long lover of pop culture, especially television, turned that passion into writing about all things entertainment related. When I'm not writing about pop culture, I can be found channeling Gordon Ramsay by kicking people out the kitchen.