What The Joker Cast Is Doing Next, Including Joaquin Phoenix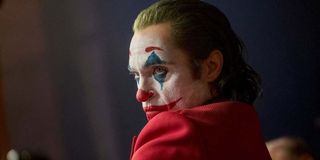 Providing an intensely darker, more brooding take on the famous DC Comics character than we've seen in previous live-action features, Todd Phillips' heavily Martin Scorsese-influenced Joker, a character study exploring the reworked origin story of the titular character, divided critics but became an unlikely worldwide hit. The R-rated dramatic film grossed over a billion dollars worldwide and it received 11 Oscar nominations, including Best Picture and Best Director, with Joaquin Phoenix winning Best Actor for his unhinged portrayal of The Clown Prince of Crime. However you feel about the movie itself, it's hard to deny the visceral power of the lead actor's committed performance.
Now that it's been a little over a year since Joker's controversial cinematic debut, what is the high-profile cast, including Joaquin Phoenix, Zazie Beetz and Robert De Niro, working on now? Let's find out!
Joaquin Phoenix (Arthur Fleck/Joker)
In the role of Arthur Fleck, a mentally ill clown and failing stand-up comedian who eventually adopts the persona of The Joker, Joaquin Phoenix won an Oscar for his titular turn in Todd Phillips' re-imagined origin story for the DC character. Prior to this performance, Phoenix garnered acclaim and accolades for his work in Walk the Line, The Master, Gladiator, Signs, The Village, Hotel Rwanda, You Were Never Really Here, Inherent Vice, Her, Two Lovers, The Immigrant, The Yards, and I'm Still Here.
Most recently, Joaquin Phoenix was seen in the short film, Guardians of Life. Next, Phoenix stars in C'mon C'mon, from writer/director Mike Mills (20th Century Women). The actor is also signed on to play Napoleon Bonaparte in Kitbag, which will reunite him with Gladiator's Ridley Scott. Reportedly, Phoenix is in talks to frontline Beau is Afraid, the newest horror film from writer/director Ari Aster (Midsommar). Additionally, he might return for Joker 2, which has been discussed. Outside of acting, Phoenix produced 2020's documentary Gunda and he's an executive producer on The End of Medicine.
Zazie Beetz (Sophie Dumond)
Playing the part of Sophie Dumond, Arthur's romanticized "love interest," Zazie Beetz plays a prominent part in Todd Phillips' Joker. Outside of this performance, Beetz is best known for Deadpool 2 and her Emmy-nominated role in FX's Atlanta. Also, she can be seen in Netflix's Easy, Geostorm, Slice, Lucy in the Sky, Wolves, Seberg, High Flying Bird, Wounds, The Twilight Zone, and James White.
Most recently, Zazie Beetz appeared in December's Still Here. Next, she'll star in Nine Days, which premiered at last year's Sundance, as well as Netflix's The Harder They Fall and Bullet Train. The actress is also doing voice work for Extinct and Amazon Prime's animated series, Invincible. Additionally, Beetz is signed on to star in Shelter and she's expected to return for Atlanta's delayed third and fourth seasons.
Robert De Niro (Murray Franklin)
As Murray Franklin, a popular talk show host who plays a prominent part in Arthur's downfall, Robert De Niro paid homage to his lead role in Martin Scorsese's excellent The King of Comedy with his supporting turn in Joker. As one of the most revered actors in the world, De Niro has made an indelible impact on cinema, particularly with two Oscars to his famous name. Some of his most famous credits include Raging Bull, Taxi Driver, Goodfellas, Casino, Meet the Parents, The Godfather Part II, Mean Streets, Heat, The Deer Hunter, The Irishman, Once Upon a Time in America, and Brazil.
Most recently, Robert De Niro starred in The War with Grandpa and he made a cameo in Nancy Meyers' Father of the Bride Part 3(ish). Next, he'll frontline The Comeback Trail. Currently, De Niro is working on Wash Me in the River and writer/director David O. Russell's untitled new movie. The actor is also expected to appear in Martin Scorsese's Killers of the Flower Moon, James Gray's Armageddon Time, and Nick Cassavetes' After Exile.
Frances Conroy (Penny Fleck)
In the role of Penny Fleck, Arthur's physically and mentally ill mother, Frances Conroy plays a devastating character in Joker. Outside of this performance, Conroy is known for Six Feet Under, Casual, The Mist, and her two-time Emmy-nominated roles in American Horror Story. She can also be seen in Catwoman, Sleepless in Seattle, The Crucible, The Aviator, Shopgirl, Broken Flowers, The Wicker Man (2006), and The Tale.
Most recently, Frances Conroy was seen in James vs. His Future Self, as well as episodes of Netflix's Dead to Me. She can also be heard in Summer Camp Island. Next, Conroy appears in Jane Campion's The Power of the Dog.
Hannah Gross (Young Penny)
Playing a younger version of Penny, Hannah Gross has a dramatic supporting role in a series of flashbacks in Joker. Most notably, Gross is known for Netflix's Mindhunter. She can also be seen in Her Smell, The Mountain, Marjorie Prime, Unless, and I Used To Be Darker. Additionally, Gross played recurring roles in The Sinner Season 2 and Deadwax. Most recently, the actress was seen in Tesla and Disappearance at Clifton Hill. Next, she'll appear in February's Falling and The Education of Frederick Fitzell.
Brett Cullen (Thomas Wayne)
As Thomas Wayne, an aspiring politician and the ill-fated billionaire father of Bruce Wayne, Brett Cullen played a menacing supporting character in Joker. Outside of this performance, Cullen is a prominent character actor with over 140 credits to his name. Some of his most notable performances are found in Ghost Rider, The Dark Knight Rises, Person of Interest, True Detective Season 3, Narcos, Devious Maids, 42, Lost, Damages, Apollo 13, Wyatt Earp, and The West Wing.
Most recently, Brett Cullen was seen in Amazon Prime's Big Dogs and NBC's The Blacklist. Next, he'll appear in Reminiscence and an untitled Lakers project.
Dante Pereira-Olson (Bruce Wayne)
In the role of Bruce Wayne, Thomas's son who eventually becomes Batman, Dante Pereira-Olson plays a small-but-important part in Joker. Outside of this performance, the child actor notably appeared in You Were Never Really Here as a younger version of Joaquin Phoenix's character. He can also be seen in Jessica Jones, Happy!, Mozart in the Jungle, and The Slap. Most recently, Pereira-Olson was heard in Netflix's The Midnight Gospel. Next, he'll be seen in Porcupine.
Marc Maron (Gene Ufland)
As Gene Ufland, Murray Franklin's producer, Marc Maron has a brief cameo in 2019's Joker. Outside of this film, Maron is a stand-up comedian who's best known for his popular podcast, WTF with Marc Maron. His notable acting credits include Maron, Netflix's GLOW, Sword of Trust, Sleepwalk with Me, Mike and Dave Need Wedding Dates, and Almost Famous.
Most recently, Marc Maron was seen in Spenser Confidential and Stardust. Next, he appears in Worth, Respect, and To Leslie. Also, Maron will be heard in The Bad Guys.
Brian Tyree Henry (Carl)
Playing the part of Carl, Arkham State Hospital's concerned clerk, Brian Tyree Henry makes the most of his brief appearance in Joker. Most notably, he's known for his Emmy-nominated performance in FX's acclaimed Atlanta. Some of his other noteworthy credits include Widows, If Beale Street Could Talk, Spider-Man: Into the Spider-Verse, Child's Play (2019), White Boy Rick, and Hotel Artemis. Additionally, on the stage, Henry received a Tony nomination for his Broadway performance in Lobby Hero. He also appeared in The Book of Mormon and The Fortress of Solitude.
Most recently, Brian Tyree Henry starred in The Outside Story and played a supporting role in Superintelligence. Next, he'll be seen in Godzilla vs. Kong, The Woman in the Window, Red, White, and Water, Cyrano, and Marvel's Eternals. The actor will also lend his voice to The Magician's Elephant. Additionally, Henry will star in the forthcoming third and fourth seasons of Atlanta.
Glenn Fleshler (Randall)
As Randall, one of Arthur Fleck's fellow clowns, Glenn Fleshler plays a prominent supporting character in Joker. Outside of this performance, Fleshler is most well-known for his roles in Boardwalk Empire, Billions, True Detective Season 1, and Barry. He can also be seen in Waco, The Night Of, Watchmen, and Maniac. Additionally, the actor's other film credits include Margaret, Blue Jasmine, A Most Violent Year, Suburbicon, Irreplaceable You, and High Flying Bird. Most recently, Fleshler was seen in For Life. Next, he'll appear in Clean and Werewolves Within.
Leigh Gill (Gary)
In the role of Gary, one of Arthur's former clown co-workers, Leigh Gill plays a notable supporting role in Joker. Outside of this film, Gill is known for his work in Game of Thrones, Fantastic Beasts and Where to Find them, The Witcher, The Most Beautiful Day in the World, Mirrors, and The Scorpion King 4: Quest For Power. Next, Gill will appear in Cranley Gardens and Chi ha Incastrato Babbo Natale?
Bill Camp (Detective Garrity)
Playing the part of Detective Garrity, a vigilant member of the Gotham City Police Department, Bill Camp plays a watchful supporting character in Joker. An acclaimed character actor, Camp is best known for his excellent Emmy-nominated performance in HBO's mini-series, The Night Of. Additionally, he garnered acclaim for his Tony-nominated role in 2016's Broadway revival of The Crucible. Camp can also be seen in Molly's Game, Lincoln, 12 Years a Slave, Love and Mercy, Loving, Vice, Wildlife, Public Enemies, Birdman, The Killing of a Sacred Deer, Red Sparrow, and Dark Waters.
Most recently, Bill Camp was seen in News of the World, HBO's The Outsider, Hulu's Monsterland, and Netflix's The Queen's Gambit. Next, Camp is set to star in Showtime's Rust. He'll also be seen in Passing, which is soon set to premiere at the Sundance Film Festival. He also stars in Sound of Freedom and he'll appear in a segment for the COVID-19 anthology film, With/In, which he also directed.
Shea Whigham (Detective Burke)
As Detective Burke, a member of the Gotham City Police Department, Shea Whigham plays a dutiful supporting role in 2019's Joker. An established character actor of screens big and small, Whigham is known for his work in Boardwalk Empire, True Detective Season 1, Fargo Season 3, Fast & Furious, Fast & Furious 6, Bad Lieutenant: Port of Call - New Orleans, Silver Linings Playbook, The Wolf of Wall Street, Vice, First Man, Kong: Skull Island, and Death Note (2017). His other prominent TV credits include Vice Principals, Narcos, Waco, Homecoming, and a main role in Perry Mason.
Most recently, Shea Whigham was seen in Netflix's Vampires vs. the Bronx and The Quarry. Next, the actor will appear in Small Engine Repair, Till Death, and The Gateway. Currently, Whigham is filming a role in Mission: Impossible 7 and 8.
Josh Pais (Hoyt Vaughn)
In the role of Hoyt Vaughn, Arthur's agent, Josh Pais can be seen in the first half of Joker. His other notable credits include Ray Donovan, Teenage Mutant Ninja Turtles (1990), Music of the Heart, I Saw the Light, Motherless Brooklyn, Mrs. Fletcher, Maniac, Law & Order: SVU, Touchy Feely, The Sopranos, Phone Booth, Rounders, and Law & Order. Most recently, Pais appeared in an episode of HBO's The Plot Against America. Next, Pais will be seen in The Mimic, Two Against Nature, and Checkout. He's also set to star in HBO Max's DMZ.
Douglas Hodge (Alfred Pennyworth)
Playing the part of Alfred Pennyworth, the caretaker of the Wayne family, Douglas Hodge has a brief-but-notable supporting role in Joker. An acclaimed stage performer, Hodge's most notable screen performances include (but don't limit to) The Report, Gemini Man, Red Sparrow, Beirut, Diana, Robin Hood (2010), Serena, Tulip Fever, and The Dancer. Additionally, on television, he can be seen in Penny Dreadful, Catastrophe, and The Night Manager.
Most recently, Douglas Hodge appeared in The Bet, Netflix's The Devil All The Time, HBO's The Undoing, and Hulu's The Great. Next, he'll be seen in A Grand Romantic Gesture and the newest season of Lost in Space.
You can stream Joker on HBO Max here (opens in new tab). And keep an eye out on the latest movie releases on our 2021 New Movie Release Schedule.