Kingsley Ben-Adir: 6 Cool Things To Know About The One Night In Miami Star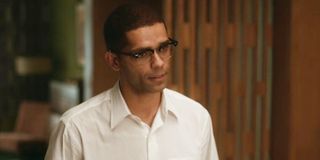 Kingsley Ben-Adir has been steadily building up an impressive resume, which includes roles in popular and critically acclaimed series like The OA, High Fidelity, Soulmates, Peaky Blinders, and The Comey Rule. In 2020, Ben-Adir may have had his biggest role yet in the Regina King directed One Night In Miami.
Kingsley Ben-Adir had big shoes to fill when he took on the role of Malcolm X. The role had previously been played by legendary actors such as Morgan Freeman and Denzel Washington. The portrayal of Malcolm X earned Washington an Oscar nomination, and Ben-Adir's portrayal of the legendary figure should earn him an Oscar nomination, as well. The powerful performance has put Kingsley Ben-Adir in the spotlight, and with that newfound fame, many want to know more about the One Night in Miami star. So, let's look at some cool facts about Kingsley Ben-Adir.
Kingsley Ben-Adir Was Asked To Audition For The Role Of Cassius Clay In One Night In Miami
Eli Goree gave a vibrant, jovial performance as Cassius Clay, a.k.a. the man that would become The People's Champion. However, Ben-Adir's agents were pushing him to go out for the role. In an interview with The Empire Film Podcast, Ben-Adir shared that his agent suggested he put in an audition tape for the role of Cassius Clay, but while reading the script, he immediately felt connected to Malcolm X and the conversation he had with Sam Cooke (Leslie Odom Jr.). Ben-Adir said he didn't connect with this version of Cassius Clay because he felt a bit too old and didn't have the youthful energy that the role needed.
He passed on the part, but told his team that if Malcolm X's role became available, he wanted to go out for it. The main reason Ben-Adir's team wanted him to audition for Clay was because he was cast as Muhammad Ali in Ang Lee's Thrilla in Manila. He shared with TimeOut that he spent three months training in the Philippines for that job, and told AP News that he spent years testing for the role, only for the movie to lose financing.
In a group interview with The Movie Report, Goree revealed that One Night In Miami wasn't the first time that he and Ben-Adir were set to both audition for the role of Cassius. Goree also auditioned for the role of Muhammad Ali but lost out to Ben-Adir. He was told then that he was too young for the role, but Goree decided to keep working on his version of Cassius, in case another opportunity presented itself to play Muhammad Ali.
Kingsley Ben-Adir Appreciates What His Less Privileged Background Taught Him
In an interview with GQ, Kingsley Ben-Adir made sure to inform the interviewer that he was not from Kensington, but from Kentish Town in London. He didn't want people to mistake him for a "posh boy." Ben-Adir disclosed that his mother is black and his father is white and British, and that he grew up in an area where most people were working class.
Ben-Adir said the neighborhoods around him were more wealthy, but his part of town was dangerous at times. He said he "came out on the lucky side." He also shared that his "poor background" made it easier for him to learn to stretch a few hundred dollars and to hustle, which allows him to not rush into roles for the sake of money.
Kingsley Ben-Adir Doesn't Have Social Media Accounts
It's hard to imagine that someone can exist without some form of a social media presence, but it's probably the healthiest decision many can make, especially someone in the public eye. In the same GQ interview, Kingsley Ben-Adir shared why he stays away from social media.
You'll probably need to send carrier pigeons to Kingsley Ben-Adir if you want to send him some admiration, because Twitter and Instagram comments won't be headed his way.
Kingsley Ben-Adir Dedicated An Intense Two Weeks To Learning How To Play Malcolm X
While filming One Night In Miami, Ben-Adir was also filming The Comey Rule, playing Barack Obama. He told the Los Angeles Times that he spent 42 days traveling back and forth from New Orleans to Toronto to film both projects, and got the role of Malcolm X in One Night In Miami only 12 days before filming began, so he took that time to really study up on Malcolm X.
He shared with the Hollywood Reported that he locked himself up for three days to start preparing for the role of Malcolm X (he clarified on Dewey's Movies that the three day isolation period is part of his normal role preparation process). Kingsley Ben-Adir turned learning about Malcolm X into a full-time job on its own.
He shared in an Interview Magazine feature that over his 11-day preparation, he had a guy named Buzzeo come over from 8 a.m. to 9 p.m. to help him with his lines, drill him, and help him find more information on the civil rights leader. They watched a ton of videos and read articles and books about Malcolm X and would then discuss him.
According to Backstage, Adir lost nearly 20 pounds to play both his parts of Malcolm X and Obama. To help him keep in the mindset of Malcolm X, though, Kingsley Ben-Adir told GQ UK that he stuck this quote on his wall and would read it every day: "I felt weak, I felt hollow, no one knows the torments I went through." Ben-Adir shared these thoughts about the quote and its significance:
Kingsley Ben-Adir Did Nine Plays In Three Years
In the his TimeOut interview, Kingsley Ben-Adir revealed that he got into acting because of his friends. He would meet them at the pub and they would share their stories of acting and drama school. The Hollywood Reporter article disclosed that Ben-Adir entered drama school at 21, after working at bars and with special needs students. In the GQ article, he specified that he went to the Guildhall School of Music and Drama in London and graduated in 2011.
After graduating, Ben-Adir appeared in nine consecutive plays over a three and a half year time period. While at Guildhall, he appeared in productions of DNA, Cabaret, Henry VI, Stitching, and Oedipus. Michaela Coel is also one of Guidhall's famous alumni.
Kingsley Ben-Adir Auditioned For The OA Without Having Seen The Series
The OA was one of those unfortunate shows that Netflix decided to cancel. That event came right after Kingsley Ben-Adir made his debut on The OA in Season 2. Ben-Adir told Vulture that he hadn't seen the show when he sent in his initial audition tape, but after filming the series, he became completely immersed in the show. He also made sure to be as secretive as possible about it, not telling anyone he was going to be on it until they saw the trailer. However, he revealed on the BUILD series that he told his girlfriend that he landed the gig and she told her friends, but none of his friends knew. Ben-Adir did finally mention it to them, though, so they weren't completely caught off guard when they saw him in The OA.
He also revealed to Backstage the extremes he went to in order to prepare for the role of Karim in The OA, and noted:
You can catch Kingsley Ben-Adir's Oscar-worthy portrayal of Malcolm X in One Night In Miami, currently streaming on Amazon Prime. Stream it here.
Spent most of my life in various parts of Illinois, including attending college in Evanston. I have been a life long lover of pop culture, especially television, turned that passion into writing about all things entertainment related. When I'm not writing about pop culture, I can be found channeling Gordon Ramsay by kicking people out the kitchen.
Your Daily Blend of Entertainment News
Thank you for signing up to CinemaBlend. You will receive a verification email shortly.
There was a problem. Please refresh the page and try again.