Son Of The South: Where You've Seen The Cast Before, Including Lucy Hale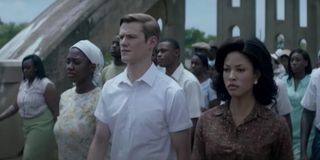 Son of the South is a movie written and directed by Barry Alexander Brown and executive produced by Spike Lee. It stars Lucas Till, Lucy Hale, Lex Scott Davis, Jake Abel, and Cedric the Entertainer. The film is a historical drama about the grandson of a klansman who decides to go against his upbringing and join the Civil Rights Movement. It's based on Bob Zellner's autobiography The Wrong Side of Murder Creek. The Son of the South cast has an impressive mixture of Hollywood vets, mid-career level stars, and newbies.
The cast alone may make this movie worth adding to your to-watch-list. If you've recently seen Son of the South, or plan to, you may be wondering where you've seen the cast before. Let's take a look at where you've seen the Son of the South cast before.
Lucas Till (Bob Zellner)
Lucas Till plays the main protagonist in Son of the South. He sees all the injustice going on around him and decides to join the Civil Rights Movement. In 2009, Lucas Till was Taylor Swift's unrequited crush in the "You Belong with Me" video. Prior to that, Till played a young Jack Cash in Walk the Line. He also played Travis Brody in Hannah Montana: The Movie. In 2011, Lucas Till joined the world of Marvel and the X-Men as Alex Summers in X-Men: First Class. He then reprised that role in X-Men: Days of Future Past and X-Men: Apocalypse.
CBS and MacGyver fans know him best as Angus MacGyver in MacGyver. He also appeared in episodes of House, Medium, and the films Monster Trucks, Bravetown, The Curse of Downers Grove, and The Spy Next Door.
Lucy Hale (Carol Anne)
Lucy Hale plays Bob Zellner's girlfriend Carol Anne. She has some issues with Bob's fight for civil rights. Lucy Hale was caught in a constant loop with A for seven seasons as Aria Montgomery on Pretty Little Liars. She also appeared in episodes of Ned's Declassified School Survival Guide, Drake & Josh, The O.C, Wizards of Waverly Place, and How I Met Your Mother. And she had a main role on the quickly canceled Privileged. After Pretty Little Liars, Lucy Hale had another lead on a canceled-too-fast series, Life Sentence. Then she joined the Riverdale world in a spin-off series Katy Keene. It was canceled after one season.
Hale has dabbled in the horror genre quite a bit. First in Fear Island, then Scream 4, Truth or Dare, and Fantasy Island. Lucy Hale has also appeared in the films: The Sisterhood of the Traveling Pants 2, A Cinderella Story: Once Upon a Song, Dude, The Unicorn, and A Nice Girl Like You.
Lex Scott Davis (Joanne)
Lex Scott Davis plays Joanne. Bob and she become close as they work together during the Civil Rights Movement. Lex Scott Davis has been actively acting in film and television since 2014. In 2018, she appeared in the Joel Silver produced Superfly. Also in 2018, Lex Scott Davis played Nya in The First Purge. In the Lifetime movie Toni Braxton: Unbreak My Heart, she played Toni Braxton. She also had a series regular role on the canceled CBS show Training Day.
Lex Scott Davis had a recurring role on The L Word: Generation Q and appeared on an episode of All Rise.
Cedric The Entertainer (Ralph Abernathy)
Cedric the Entertainer takes on the role of real-life civil rights activist and Baptist minister Ralph Abernathy. He was a close friend and mentor to Martin Luther King Jr. Cedric the Entertainer is one of the most recognizable members of The Son of the South cast. He's one of the original Kings of Comedy, so you may recognize him for his comedy specials. Cedric the Entertainer has also had many well-known roles, like being Steve Harvey's sidekick Cedric Jackie Robinson in The Steve Harvey Show. He had a recurring role as Bobby Proud on The Proud Family and as Coop on Starz's Power.
Cedric the Entertainer appeared in cult favorites and popular movies like Big Momma's House, the Barbershop franchise, The Madagascar films, The Haunted House movies, and First Reformed. He currently stars opposite Max Greenfield, Tichina Arnold, and Beth Behrs in The Neighborhood.
Brian Dennehy (Grandfather)
The late Brian Dennehy plays grandfather, a klansman who is not happy with Bob's decision. Brian Dennehy is another screen legend appearing in The Son of the South. The actor appeared in films and television series starting in the 1970s until his death in 2020. He appeared in Ron Howard's sci-fi dramedy Cocoon. He also had roles in First Blood, Gorky Park, F/X, Presumed Innocent, Tommy Boy, and Baz Luhrmann's Romeo + Juliet.
Brian Dennehy's final works included voicing Django in Ratatouille, and appearing in the movie The Seagull, Tag, Every Day, and The Song of Sway Lake. He also appeared in the TV films To Catch a Killer, The Burden of Proof, Murder in the Heartland, Shadow of a Doubt, Our Fathers, and Death of a Salesman. Brian Dennehy also had recurring roles on the series Just Shoot Me, Dynasty, The Blacklist, and Hap and Leonard.
Julia Ormond (Virginia Durr)
Julia Ormond plays real-life civil rights activist Virginia Durr. She was a close friend of Rosa Parks and Eleanor Roosevelt. Julia Ormond has appeared in some of your favorite movies of the '90s and 2000s, like Legends of the Fall, Sabrina, First Knight, and The Curious Case of Benjamin Button. She also appeared in Kit Kittredge: An American Girl, My Week with Marilyn -- where she played Vivien Leigh.
Julia Ormond appeared in the series Nurse Jackie, Law & Order: Criminal Intent, Mad Men, and Witches of East End. In 2020, she joined the cast of The Walking Dead: World Beyond as Elizabeth Kubiek.
Jake Abel (Doc)
Jake Abel plays a klansman named Doc who fights civil rights at every turn. He's one of the main characters that clashes with Bob. Jake Abel appeared in The Lovely Bones as Brian Nelson. The following year he joined the world of Percy Jackson as Luke Castellan in Percy Jackson & the Olympians: The Lightning Thief and Percy Jackson: Sea-of Monsters. He then appeared in the movies I Am Number Four, The Host, and Love and Mercy, where he played Mike Love.
Jake Abel also appeared in episodes of The Suite Life of Zack & Cody, Cold Case, CSI: Miami, and Grey's Anatomy. He also had recurring roles on Supernatural (he played Adam Milligan) and Dirty John. He plays Sasha Harrison on Another Life.
Shamier Anderson (Reggie)
Shamier Anderson plays Reggie in Son of the South. Shamier Anderson is a Canadian actor who like most Canadian actors appeared on an episode of Degrassi: The Next Generation. He also appeared on episodes of MTV's attempt at making Skins, Lost Girl, Rookie Blue, The Tomorrow People, Constantine, and Pitch. From 2016-2018, Shamier Anderson had a main role on another cult-loved Canadian show Wynonna Earp. He played Xavier Dolls. Shamier Anderson also appeared in episodes of Dear White People, Goliath, and Soulmates.
He also played Malcolm in the film Love Jacked, and the movies Destroyer, City of Lies, and Endings, Beginnings.
Dexter Darden (John Lewis)
Dexter Darden plays civil rights activist and leader of the United States House of Representatives for Georgia's 5th congressional district. Dexter Darden made his film debut in My Brother, a 2006 film starring Vanessa Williams, Tatum O'Neal and Fredro Starr. He then appeared in the films Cadillac Records, Standing Ovation, and Joyful Noise. In 2014, Dexter Darden became part of the Maze Runner franchise as Frypan. He appeared in The Maze Runner, Maze Runner: The Scorch Trials, and Maze Runner: The Death Cure. In 2020, he appeared in the Hulu original film The Binge.
Dexter Darden has appeared in episodes of Cougar Town and Victorious. In 2020, he joined the main cast of the Saved by the Bell revival. He plays Devante.
Mike Manning (Townsend Ellis)
Mike Manning plays Townsend Ellis in Son of the South. Mike Manning made his introduction to the TV world as a cast member on The Real World: D.C. He appeared in 2009 when he was just 22. Mike Manning then appeared on episodes of Hawaii Five-0, Major Crimes, Teen Wolf, and The Haves and the Have Nots. In 2020, Mike Manning joined the cast of that daytime soap opera Days of Our Lives. He plays Charlie Dale.
Mike Manning has appeared in several films, including
Cloud 9, eCupid, Gingerdead Man 3: Saturday Night Cleaver, Love is All You Need?, M.F.A, Delirium, God's Not Dead: A Light in Darkness, Lost in America, Jin, and The Call.
Sienna Guillory (Jessica Mitford)
Sienna Guillory plays Jessica Mitford in Son of the South. Sienna Guillory has had a consistent acting career since the mid-'90s, so she's appeared in over 60 movies and television projects. She may be best known for her role as Jill Valentine in the Resident Evil films. Sienna Guillory has appeared in three Resident Evil movies: Resident Evil: Apocalypse, Resident Evil: Afterlife, and Resident Evil: Retribution. She also appeared in the films Kiss Kiss (Bang Bang), Love Actually, The Time Machine, Eragon, and High-Rise.
Sienna Guillory has also appeared in episodes of Criminal Minds, Covert Affairs, Raised by Wolves, and CSI: Crime Scene Investigation. She also played Mary Day in Luther, Natalie Yelburton in Fortitude, and Eve in Stan Lee's Lucky Man.
Ludi Lin (Derek Ang)
Ludi Lin plays Derek Ang in Son of the South. Ludi Lin is best known for playing Zack Taylor/The Black Ranger in the 2017 Power Rangers reboot movie. He also played Captain Murk in Aquaman. Ludi Lin appeared in the Black Mirror episode "Striking Vipers'' as Lance. He also appeared in Netflix's original series The Ghost Bride. In 2021, he'll play Liu Kang in Moral Kombat.
Ludi Lin has also appeared in Marco Polo, Monster Hunt, In a New York Minute, and Lost in Hong Kong.
You can see Lucas Till, Lucy Hale, Cedric the Entertainer, and the rest of the Son of the South cast when the film is released in theaters and VOD on February 5.
Spent most of my life in various parts of Illinois, including attending college in Evanston. I have been a life long lover of pop culture, especially television, turned that passion into writing about all things entertainment related. When I'm not writing about pop culture, I can be found channeling Gordon Ramsay by kicking people out the kitchen.
Your Daily Blend of Entertainment News
Thank you for signing up to CinemaBlend. You will receive a verification email shortly.
There was a problem. Please refresh the page and try again.