What The Pretty Little Liars Cast Is Up To Now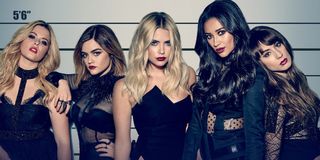 Pretty Little Liars was a Freeform hit series from 2010 to 2017, back when the network was still called ABC Family. The series followed four best friends as they dealt with the mysterious disappearance and possible death of their other best friend. While trying to figure out what happened to Alison (Sasha Pieterse), the friends started to receive text messages from the mysterious A figure. She or he wanted to expose all of their secrets. What's a little blackmail among friends, right? The Liars were in for a whirlwind as A tormented them for seven seasons.
Pretty Little Liars had two official spin-off series Ravenswood and the recently canceled The Perfectionists. It's only been a few years since Pretty Little Liars ended, but there is already a reboot in the works. Before a new set of Liars hit the small screen, let's check in with the actors who brought the original Liars and their friends and family to teen drama fame
Lucy Hale (Aria Montgomery)
Lucy Hale played Aria Montgomery, one of the Liars from 2010 to 2017. Aria had one of the series' most complicated romantic entanglements, as she spent much of her teen years in a relationship with her English teacher, Ezra Fitz (Ian Harding). Hale has been quite busy since Pretty Little Liars ended.
She appeared in a couple of horror films, Truth or Dare and Fantasy Island. She appeared in the films Dude, The Unicorn, and A Nice Girl Like You. Hale also had a role in an animated movie called Trouble. In 2020, she appeared in the movie Son of The South and has an upcoming movie called Big Gold Brick in production. It's a dark comedy where she'll star opposite Emory Cohen, Andy Garcia, Megan Fox, and Oscar Isaac.
In 2018, Hale had the leading role in the short-lived CW series Life Sentence. She then returned to the world of the CW in the Riverdale spin-off Katy Keene. It was also canceled after one season. In July 2020, she signed on to join the cast of survival thriller Borrego.
Ashley Benson (Hanna Marin)
All seven seasons, Ashley Benson played Hanna Marin, the insecure member of the Pretty Little Liars club who eventually found her voice and attitude. In 2018, Benson appeared in a film called Her Smell that had an ensemble cast that included Elisabeth Moss, Cara Delevingne, Dan Stevens, and Amber Heard. The film was about a fictional rock star and her band.
Benson has one feature film in production, The Birthday Cake. It is a movie about a young Italian man who must travel to bring his uncle a cake to celebrate the tenth anniversary of his father's passing. He witnesses a murder on the way to his uncle's house, which leads to him investigating the real story behind his father's death. In collaboration with eyewear company Prive Revaux, Benson teamed up with Matt Bomer to make their own collection of eyewear called Bomer X Benzo (opens in new tab).
Shay Mitchell (Emily Fields)
Shay Mitchell played Emily Fields, a teen who started the series coming to terms with her sexuality and sexual identity as a lesbian. In 2018, Mitchell starred in the horror film The Possession of Hannah Grace.The film followed a former policewoman who encounters supernatural beings while working in a morgue.
Mitchell appeared in the first season of Netflix's hit-series You as Peach Salinger. In 2019, she appeared as one of the stars of Hulu's series Dollface. The series also stars Kat Dennings, Brenda Song, and Esther Povitsky. Dollface is about a woman who gets dumped by her boyfriend and now must take a look at her life and choices as she reenters the world of female friendships. Hulu recently renewed it for a second season. In 2018, Shay Mitchell appeared in Drake's video for "In My Feelings."
Troian Bellisario (Spencer Hastings)
Troian Bellisario played a-typical Spencer Hasting throughout Pretty Little Liars. She was the tightly wound one who had a thing for her sister's boyfriends. She often found herself spinning out of control when things got too complicated. In 2017, Bellisario wrote and produced a film called Feed. She co-starred in it with Tom Felton. Troian Bellisario also appeared in a science fiction film called Clara with her husband Patrick J. Adams.
In 2019, she appeared in the film adaptation of Where'd You Go, Bernadette. The film was directed by Richard Linklater and starred Cate Blanchett, Billy Crudup, Kristen Wiig, and Laurence Fishburne. She appeared on an episode of Stumptown and directed episodes for other Freeform shows. She directed an episode of Famous in Love and two episodes of Good Trouble.
Sasha Pieterse (Alison DiLaurentis)
Pretty Little Liars began with the disappearance of Alison DiLaurentis and became so much more complicated. The Liars spent much of the first few seasons trying to figure out if Ali was still alive. In 2018, Sasha Pieterse appeared in a drama called Coin Heist, which was released by Netflix. It was based on the young adult novel of the same name. Pieterse also appeared in the film The Honor List.
In 2017, she was a contestant on Dancing with the Stars. She appeared in the same season that Jordan Fisher won. In 2019, Pieterse reprised her role as Alison to appear on the Pretty Little Liars spinoff series The Perfectionists. She also appeared in an interactive series called Epic Night.
Janel Parrish (Mona Vanderwaal)
Mona Vanderwaal was just someone you could not trust in the Pretty Little Liars world. Janel Parrish played the insane, but fun Mona very well. Parrish appeared in the To All the Boys I've Loved Before franchise as Margot Covey, the older sister of lead Lara Jean (Lana Condor). She also appeared in the films Mighty Oak, I'll Be Watching, Trespassers, and Until We Meet Again.
Parrish co-starred with Sasha Pieterse in The Perfectionists, where she once again became Mona. She also appeared in an episode of Magnum P.I. Parrish has a theater background and in 2017 appeared in A Walk to Remember: The Musical and Cruel Intentions: The Musical. From 2017-2018, she took on the role of Sandy in a production of Grease.
Ian Harding (Ezra Fitz)
Ian Harding played Ezra Fitzgerald, Fitz for short. He was the hot new English teacher who risked prison time to be with Aria. Harding appeared in several films since Pretty Little Liars ended: People You May Know, Office Uprising, and the Oscar-nominated Ford v Ferrari.
Harding also had a recurring role on Chicago Med, reuniting him with his former Pretty Little Liars co-star Torrey DeVitto. He also had a recurring role on the DreamWorks animated series Kipo and the Age of the Wonderbeasts. In 2019, Harding signed on for the Amazon Comedy Pilot Good People. It's a series about three generations of women working in a college as they try to navigate feminism during the current climax. Lisa Kudrow, Whitney Cummings, Tasha Smith, Greg Kinnear, and Josie Totah signed on for the pilot. It's written and created by Cummings and Lee Daniels.
Tyler Blackburn (Caleb Rivers)
Tyler Blackburn played Caleb Rivers from Season 1 to Season 7. He appeared towards the end of Pretty Little Liars Season 1, and Hanna and he had instant chemistry. They then had a rollercoaster relationship that at one point had Caleb moving to Ravenswood, to appear on the spinoff series. In 2017, Blackburn appeared in the musical Hello Again. His biggest role since Pretty Little Liars has been as Alex Manes on Roswell, New Mexico.
Blackburn also appeared in an episode of Charmed and in the Discovery channel film Capsized: Blood in the Water.
Keegan Allen (Toby Cavanaugh)
Toby Cavanaugh started Pretty Little Liars as the strange kid who is forced into a secret affair with his blind stepsister. He eventually began an on-again/off-again romance with Spencer. Keegan Allen appeared in the series Major Crimes and What/If. He also voiced a Slut Dragon in Rick and Morty.
Recently, Allen signed on to appear in the Walker: Texas Ranger reboot starring Jared Padalecki. He plays Walker's brother. He appeared in the films Actors Anonymous and James Franco directed Zeroville. In 2020, he appeared in the horror film No Escape with Holland Roden.
Holly Marie Combs (Ella Montgomery)
Holly Marie Combs played Aria's mother Ella Montgomery on Pretty Little Liars. In 2019, Combs appeared in an episode of Grey's Anatomy. It also featured her former Charmed co-star Alyssa Milano. In US Weekly, Combs teased that she may launch a podcast devoted to her hit-series Charmed.
In May 2020, she also launched the Pretty Little Wine Moms podcast, which reunites her with former Liars co-stars Lesley Fera and Nina Peeples as they drink wine and rewatch Pretty Little Liars episodes. It also includes guest appearances by other Pretty Little Liars actors and actresses.
Laura Leighton (Ashley Marin)
Laura Leighton played Hannah's mom Ashley Marin. Leighton appeared on the series Code Black and L.A's Finest. She also appeared in the Hallmark holiday movie Christmas on Honeysuckle Lane. She also guested on Holly Marie Combs' podcast Pretty Little Wine Moms.
Chad Lowe (Byron Montgomery)
Chad Lowe played Aria's dad Byron Montgomery. In 2018, Lowe appeared in the comedy 7 Days to Vegas. From 2017-2018, he appeared on several episodes of Supergirl as Thomas Coville. He also appeared in the Hallmark Hailey Dean Mystery movie series.
Lowe directed a couple of episodes of Life in Pieces, Supergirl, Light as a Feather, 9-1-1, The Flash, and the High School Musical TV series.
If you're now feeling nostalgic about Pretty Little Liars, you can stream the entire series on HBO Max. Stream it here (opens in new tab).
Your Daily Blend of Entertainment News
Spent most of my life in various parts of Illinois, including attending college in Evanston. I have been a life long lover of pop culture, especially television, turned that passion into writing about all things entertainment related. When I'm not writing about pop culture, I can be found channeling Gordon Ramsay by kicking people out the kitchen.