After Challenging Depp To A 'Cage Fight' Looks Like Elon Musk Has Been Roped Into Upcoming Suit With Amber Heard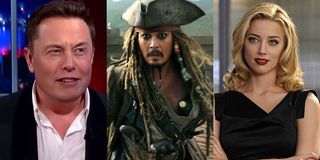 There hasn't been as much forward momentum on the upcoming Johnny Depp and Amber Heard suit and countersuit in recent weeks, though there have been moves made by both actors' legal teams. While we wait for various people involved to be deposed, one new piece of information that has seemingly come down the pipeline is a new report that indicates Elon Musk may be roped back into the Johnny Depp and Amber Heard court drama. The news comes just a few months after Musk jokingly challenged Depp to a "cage fight" related to his U.K. libel case.
Now, Johnny Depp's lawyers in the U.S. have subpoenaed Elon Musk related to the Virgina-based defamation lawsuit that has Depp suing for $50 million and Amber Heard suing for $100 million. Elon Musk isn't the only person or persons Depp's lawyers are attempting to have sit down and be deposed in relation to the case. The ACLU's First Amendment group and its Foundation have also been subpoenaed.
Per documentation Deadline encountered, Depp's lawyers want all relevant documentation to be turned over to the court and also want all parties to be deposed as part of the new lawsuit. In particular, there are reportedly 24 requests in the subpeona for Elon Musk to divulge any information he may have about the relationship between Johnny Depp and Amber Heard.
How Are The Nonprofit And Elon Musk Connected And How Does Johnny Depp Factor In?
In short, these things really aren't connected. Elon Musk has only been brought up time and time again in Johnny Depp's legal matters this year because he dated Amber Heard following the demise of her marriage to the Pirates of the Caribbean actor. For his part, Depp has maintained that Heard was cheating on him during their marriage and thereby wants Elon Musk to be deposed to get to the bottom of that matter.
These allegations came up time and time again during the libel case, causing Elon Musk to become one of the famous names connected to the case. He never seems to have taken any of it particularly seriously, however, as back as the summer of 2020, Elon Musk publicly denied the allegations he ever had an affair with Amber Heard and even went so far as to joke about a "cage fight" after learning Depp may have made threatening remarks in a text. Following his relationship with Heard, Musk is now with singer Grimes and they have a child, X AE A-XII, together.
The nonprofit organization has seemingly been drawn in after actions on Amber Heard's end. She had declared years ago that she would donate the money from her divorce settlement with Johnny Depp, but it was recently revealed that she had only donated a portion of the funds she had said would be going to charity. A representative later cited money woes from ongoing court cases as the issue behind why the full amount of monetary donations had failed to materialize. Depp's team seemingly wants more information about this as well.
These are not the only deposition requests recently, as Amber Heard's own legal team has requested that various documentation related to the last few years of correspondence between Johnny Depp and the House of Mouse be released. Her team has also requested someone from Disney be deposed on the matter. One of the incidents that came up during the libel case was Amber Heard claiming she had been held "hostage" by Depp during a weekend he'd had off from playing Captain Jack Sparrow, so that may be the connection.
We'll have to wait and see what happens in regards to each of these subpoenas as the suit continues forward. Meanwhile, Johnny Depp's most recent movie Minamata has been delayed. Amber Heard can next be seen in Zack Snyder's Justice League on HBO Max, which streams on March 18.
Amazing Race & Top Chef superfan with a pinch of Disney fairy dust thrown in. Theme park junkie. If you've created a rom-com I've probably watched it.
Your Daily Blend of Entertainment News
Thank you for signing up to CinemaBlend. You will receive a verification email shortly.
There was a problem. Please refresh the page and try again.