Netflix's Metal Lords: 7 Quick Things We Know About The Heavy Metal Movie From D.B. Weiss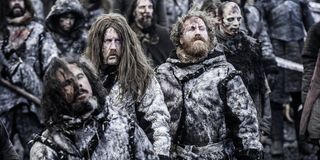 It has been nearly two years since D.B Weiss (and David Benioff) became persona non grata in the eyes of millions of diehard Game of Thrones fans, but the Primetime Emmy Award-winning writer and television producer will soon enter a new area with a smaller, yet extremely vocal fandom. At some point in the near future we'll be able to see Weiss' Netflix original film, titled Metal Lords, which follows a group of high school students with one love and one love only: heavy metal.
Not to be confused with Jonas Åkerlund's 2019 thriller about the Norwegian black metal scene, Lords of Chaos, or the actual lord of metal, the late Christopher Lee, Metal Lords sounds like it will be a little less dark than most movies that focus on the metal subculture. But, with a group of producers that includes one of the most influential guitarists of the past 30 years and a young cast led by one of Hollywood's brightest up-and-comers, Metal Lords could very well earn a spot on the list of best metal movies. Here's what we know about it so far…
Metal Lords Is A Coming-Of-Age Story Centering On Two Kids Who Start A Heavy Metal Band
Metalheads are rarely, if ever, portrayed as the cool kids on campus, and that appears to be the case for the main characters in Metal Lords. The official logline of the upcoming Netflix coming-of-age story: "Two kids want to start a heavy metal band in a high school where exactly two kids care about heavy metal." An extended version of the synopsis, which was found in a 2020 casting call from Project Casting, includes a line about the two metalheads turning to a young cellist when their attempts at finding a bass player before their school's battle of the bands don't pan out.
Knives Out's Jaeden Martell Leads The Young Metal Lords Cast
In February 2021, Netflix revealed that Knives Out, It, and Defending Jacob actor Jaeden Martell would take on one of the lead roles in Metal Lords but didn't disclose which character he will be playing. Martell will be joined Isis Hainsworth, who appeared in the 2020 period comedy Emma, and newcomer Adrian Greensmith, who will be taking on his first main acting role in the Netflix original. The supporting cast for Metal Lords has not yet been revealed.
The Metal Lords Script Was Penned By Game Of Thrones' D.B. Weiss
D.B. Weiss traditionally pens his scripts with his longtime writing partner David Benioff, but the Game of Thrones creator wrote the Metal Lords screenplay on his own. Even though Benioff didn't write the story or any of the dialogue, the man behind the 2002 Spike Lee joint 25th Hour and 2019's Gemini Man will be serving as one of the film's producers through the Netflix agreement he and Weiss signed back in 2019 (more on that here in a bit).
Nick & Norah's Infinite Playlist Helmer Peter Sollett Is Directing Metal Lords
Netflix has announced that leading the charge behind the camera on Metal Lords will be Peter Sollett, who is no stranger to filming music-centric movies. Sollett, who is also serving as the writer and director of the upcoming Minecraft movie, is perhaps best known for directing the 2008 romantic comedy Nick & Norah's Infinite Playlist, starring Michael Cera and Wandavision's Kat Dennings. Sollett was also attached to direct Marvel's Runaways more than a decade ago, but the project was put on hold until it was eventually resurrected as a television series, which ran for three seasons on Hulu before getting the axe in 2019.
Peter Sollett also has a fairly long history in television, as he has directed episodes of everything from Martin Scorsese's HBO drama Vinyl to the Hulu cult series The Path, with multiple credits in addition to those.
Rage Against The Machine's Tom Morello Is Serving As Executive Music Director
The list of producers and executive producers for Metal Lords announced by Netflix is a who's who, with names like Oscar winner Greg Shapiro (The Hurt Locker), the duo of D.B. Weiss and David Benioff, and several others, but one of the most interesting names on the list is Rage Against the Machine guitarist Tom Morello.
Tom Morello, who has appeared in music documentaries like Metal: A Headbanger's Journey (a must-watch), Iron Maiden: Flight 666, and Bruce Springsteen's High Hopes, as well as in the Marvel Cinematic Universe in Iron Man, will be serving as the music director. This should help quell any fears by metalheads that the movie is going to make a mockery of the culture.
Metal Lords Will Premiere On Netflix At Some Point In 2021
Netflix has yet to provide an official release date for Metal Lords, but the streaming giant has said the coming-of-age story will debut at some point in 2021. That status of the film's current state of production also remains unclear, but cameras did reportedly start rolling back in November 2020, per Spin. Be on the lookout for more information on this in the coming months.
Metal Lords Is the First Film To Come From D.B. Weiss And David Benioff's Netflix Deal
It has been nearly two years since D.B. Weiss and David Benioff decided to leave Game of Thrones (and the prospect of crafting Star Wars stories) behind and signed a landmark deal with Netflix. While a couple of television projects have been announced, Metal Lords will be the first movie to come as part of the agreement.
On the television side of things, the former Game of Thrones showrunners will soon be teaming up with Hugh Jackman for an adaptation of Richard Powers' 2019 Pulitzer Prize winning novel The Overstory. Like the book on which it was based, the recently announced Netflix series will explore the temporal effects humans have on the environment. D.B. Weiss and David Benioff are also adapting The Three-Body Problem for the streamer, which has been marred by controversy.
Well, that catches us up with everything we know about Metal Lords and other things that will come from the partnership shared by Netflix and the team of D.B. Weiss and David Benioff. To see what else is coming to Netflix this year, check out CinemaBlend's Movie and TV schedules for the streaming giant.
Philip grew up in Louisiana (not New Orleans) before moving to St. Louis after graduating from Louisiana State University-Shreveport. When he's not writing about movies or television, Philip can be found being chased by his three kids, telling his dogs to stop yelling at the mailman, or yelling about professional wrestling to his wife. If the stars properly align, he will talk about For Love Of The Game being the best baseball movie of all time.
Your Daily Blend of Entertainment News
Thank you for signing up to CinemaBlend. You will receive a verification email shortly.
There was a problem. Please refresh the page and try again.