The Marvels: Release Date, Cast And 7 Quick Things We Know About Captain Marvel 2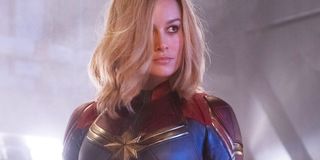 (Image credit: (Marvel))
Warning: SPOILERS are ahead for the MCU through to the season finale of WandaVision on Disney+.
And just like that Marvel's Phase Four is underway. For the past couple months, fans have been glued to Disney+'s first MCU series, WandaVision. Along with offering a layered story for Elizabeth Olsen's Scarlet Witch and Paul Bettany's Vision, the series offered a wink and nod to what's to come for Brie Larson's Carol Danvers in The Marvels, aka Captain Marvel 2. The sequel is going higher, further, faster on our radar after the events of the season, especially in regards to Teyonah Parris' Monica Rambeau. It's a great time to check in and talk about what we know about the second solo outing of the Marvel hero.
Marvel fans have even more to be excited about following the May 2021 reveal of Marvel Studios' "Back to the Movies" teaser hyping everything coming in Phase 4. As far as Marvel projects go, The Marvels is some time away. The movie has not started filming yet and a solid round of movie and television projects are going to be released well before the sequel heads to theaters. Even so, we've learned quite a bit about what to expect about the sequel. Here's a few quick things to know about Captain Marvel 2.
Captain Marvel 2 Release Date Is Set For November 2022
The release date set for The Marvels is November 11, 2022. Captain Marvel 2 has had this release date for some time now, but it was further stressed in Marvel Studios' May 2021 "Back to the Movies" video hyping up the entire MCU Phase roster. Assuming the current lineup for Marvel premieres remains the same, it makes The Marvels the final Marvel movie to arrive in 2022, following the releases of Doctor Strange In The Multiverse Of Madness, Thor: Love And Thunder and Black Panther: Wakanda Forever.
The Captain Marvel 2 Cast Includes Brie Larson, Teyonah Parris, Iman Vellani And More
Captain Marvel will of course see the return of Brie Larson as Carol Danvers in a story that is expected to follow the current timeline of the MCU, as opposed to staying in the '90s, where the original told her origins. Joining the cast so far are three other women: Teyonah Parris, Iman Vellani, and Zawe Ashton.
Teyonah Parris will reprise her role as Monica Rambeau after her character was recently re-introduced in WandaVision. The actress portrays a grownup version of the young daughter of Carol's fighter best friend, Maria. Parris has previously been in Dear White People, Chi-Raq and If Beale Street Could Talk.
Iman Vellani will be taking on the role of Kamala Khan, aka Ms. Marvel following the actor and character's MCU debut with the upcoming Disney+ series Ms. Marvel. How Vellani's character will be integrated into the story remains a mystery at this time, but we should have more answers after the show launches at some point near the end of 2021.
Zawe Ashton will serve as a villain in The Marvels' but her character's identity has yet to be revealed and was only made official in February 2021, per Deadline. Ashton previously appeared in movies like Nocturnal Animals and Velvet Buzzsaw, as well as The Handmaid's Tale Season 4.
The Marvels Will Be Directed By Nia DaCosta
The first Captain Marvel movie was directed/written by Anna Boden and Ryan Fleck, the filmmaking team behind It's Kind of A Funny Story and Half Nelson. For the sequel, Marvel is switching up its talent by handing over the keys to impressive young filmmaker, Nia DaCosta. She will be the first Black woman to helm a Marvel film. DaCosta's directorial debut was 2018's Little Woods and she also helmed/co-wrote the upcoming version of Candyman with Jordan Peele, which is slated to open in theaters August 27, 2021.
When it was announced that Nia DaCosta would be taking over the reins of The Marvels in August 2020, Deadline speculated that even though the film's budget had yet to be announced, it would be the biggest-budgeted movie led by a Black female director. Ava DuVernay currently holds that honor with A Wrinkle in Time's $115 million budget. The first Captain Marvel movie had a reported budget of $175 million, per the Los Angeles Times.
The Marvels Script Is Being Written By WandaVision's Megan McDonnell
The Marvels script is being written by Megan McDonnell, who previously served as staff writer on all nine episodes of WandaVision and the writer on the fan-favorite "We Interrupt This Program" episode. McDonnell was hired to take on The Marvels script (when it was still called Captain Marvel 2) back in January 2020, nearly a year to the day of the WandaVision series debut on Disney+. The Marvel streaming series was McDonnell's first professional writing credit, but you can expect that to change in the years to come following the hit series and Captain Marvel sequel with all its potential.
The Marvels Is Scheduled To Start Principal Photography In May 2021
While we don't know much of anything about The Marvels' plot, we do know the Captain Marvel sequel is scheduled to start principal photography on May 31, 2021, per the Film and Television Industry Alliance, which has shooting taking place in both Los Angeles and London. If that start date sticks remain to be seen, but it appears second unit shooting started back in New Jersey back in April 2021, per Comicbook.com. Expect to hear more on The Marvels' production throughout the year, and who knows, maybe we'll get some fun behind-the-scenes photos like we've been seeing from the Thor: Love and Thunder set.
Captain Marvel 2 Will Continue An Origin Story WandaVision Started
Naturally, The Marvels was teased at the end of WandaVision when Teyonah Parris' character was approached by a S.W.O.R.D. agent turned Skrull, who informed her that one of her mother's friends would like to see her in space. There's a few options here about who the Skrull was referring to, whether it be Nick Fury, Talos or Captain Marvel herself. Either way, Monica Rambeau is getting an expanded role in the upcoming movie.
As WandaVision told it, Rambeau now has powers of her own, created by the Scarlet Witch's TV reality, but we didn't get to experience the full extent of it or find out what alias she'll be using as a hero. We also don't know much about Monica's past before the Snap, especially in terms of what she thinks of her old pal, Carol Danvers. That leaves a lot to be explored in Captain Marvel 2 that Parris herself has teased.
Disney+'s Ms. Marvel Series Will Also Set Up Captain Marvel 2
The Marvels will additionally be referenced on Disney+ later this year with the Ms. Marvel series. The studio has not yet released an official date, but the TV show has been filmed and is expected to come toward the end of 2021. The TV show will star Iman Vellani as Kamala Khan, a teen superhero from New Jersey and the first Pakistani Muslim hero in the universe.
In the comic books, Kamala Khan idolizes Captain Marvel before she gets her own fantastic powers that include the ability to extend her limbs, alter her appearance and shapeshift. We don't know yet how Ms. Marvel's story will collide with The Marvels, but the series will certainly set that up.
Skrulls And Nick Fury Are Still Very Much In Play In The MCU
While we don't know for sure if Samuel L. Jackson's Nick Fury and Ben Mendelsohn's Skrull Talos will be in Captain Marvel 2 just yet, we do know that the characters still have a major role to play within the MCU. As just mentioned, a Skrull specifically called to Monica to set up Captain Marvel 2 and then there's a couple other factors. For one, Fury's placement on a Skrull base in space was revealed at the end of Spider-Man: Far From Home. Second, Jackson and Mendelsohn will reprise their roles for a Disney+ show called Secret Invasion.
All of these clues seem to be connected to The Marvels. We'll have to watch the production more closely before knowing for sure how it all fits together.
Lashana Lynch's Maria Rambeau Will Not Be Alive In Captain Marvel 2
One sad revelation in WandaVision that will certainly continue to be addressed in Captain Marvel 2 is the death of Lashana Lynch's Maria Rambeau. As we learned in the Disney+ series, Monica's mother and Carol's BFF died of cancer in between the Snap and Blip. Monica was snapped away, which meant she missed her mother's death and Carol was busy with the other Avengers and Skrulls attempting to help the galaxy from the fallout.
Following this death, we now know Lashana Lynch's Maria Rambeau will be dead in Captain Marvel 2's present day storyline, but the actress (soon-to-be in 007 film No Time To Die) could perhaps be involved in the movie for flashbacks.
There are plenty of other upcoming Marvel movies to look forward to as well scores of other 2021 movie premiere dates worth checking out.
Up next: Teyonah Parris On WandaVision, Captain Marvel 2 And More
YA genre tribute. Horror May Queen. Word webslinger. All her writing should be read in Sarah Connor's Terminator 2 voice over.
Your Daily Blend of Entertainment News
Thank you for signing up to CinemaBlend. You will receive a verification email shortly.
There was a problem. Please refresh the page and try again.