Looks Like The Rookie's Nathan Fillion Had The Best Time Filming On James Gunn's Suicide Squad Set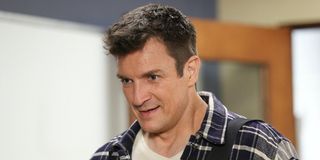 If directors cast movies only with actors who are fun to work with and hilarious on set, movies would probably look a whole lot different. For one thing, Nathan Fillion would probably be one of the most in-demand actors in Hollywood and in a lot more big screen productions. Fillion is known for being an all around joy to work with and just a funny guy in general, and his personality is one that translates well on screen. Now, The Rookie star's latest shenanigans on the set of James Gunn's The Suicide Squad have been caught on camera and it looks like he's having the best time.
James Gunn used Nathan Fillion's birthday a few days ago as an excuse to share pretty hilarious story about how Fillion showed up to work on set of The Suicide Squad. Gunn posted a photo of Fillion dressed in a shirt that showcased Gunn's own face to his Twitter in a "Happy Birthday, you crazy creature of a person" tribute to the Castle actor. You can check out Fillion in all his James-Gunn-face-wearing glory below:
According to the caption, Nathan Fillion may be the first to have played this joke on Gunn, but this photo was not an isolated event. Apparently Fillion has more than one t-shirt with James Gunn plastered on the front. It's news like this that makes me wonder what the inside of a man's closet looks like - does Fillion just have a rack of t-shirts with directors faces on them? Does he show up to all his sets with one, or is James Gunn just that special? If MTV's Cribs was still a thing, I would totally nominate Fillion for his own episode, because who knows what other kind of weird stuff he has hidden in his house? I'm sure there are some Firefly props at least.
It's not surprising that Nathan Fillion feels so comfortable messing around on one of James Gunn's sets, because the two have worked together a number of times. Fillion has had parts in Super, Slither, and even made a little cameo in Guardians of the Galaxy, all of which are Gunn films.
This time, though, the extent of Nathan Fillion's involvement was kept under wraps at the beginning, with Fillion even joking about his "super duper secret" part in the film. Now that it's been announced that Fillion is playing T.D.K in the reboot film of DC's Suicide Squad, it's hard not to see how utterly perfect the role is for the actor.
Fillion has played villains before, but can also be very much a heroic actor in both appearance and demeanor. His addition to The Suicide Squad, which features a bunch of villains acting the hero, should mesh those two sides perfectly. In fact, his character T.D.K has been described as having a cartoonish cheesiness to him, which (sorry not sorry) honestly could be a pretty good description for Fillion himself.
If you're even more pumped for James Gunn's The Suicide Squad after seeing Nathan Fillion goofing off on set, you really don't have that long to wait. The film is marked as completed and is set to release to theaters and streaming on HBO Max August 6th of this year. Let's hope some of the fun that was had on set translate to the screen!
Your Daily Blend of Entertainment News
Constantly thinking about books, coffee, and the existential dread I feel from Bo Burnham's Inside. While writing I'm also raising a chaotic toddler, who may or may not have picked up personality traits from watching one too many episodes of Trailer Park Boys.