Red Solo Cup Story Reveals Why Ben Affleck Is Just As Good For JLo As She Is For Him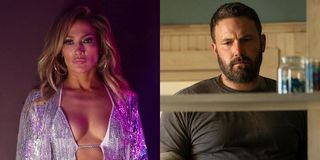 (Image credit: CBS Sunday Morning)
The early 2000s relationship between Ben Affleck and Jennifer Lopez, aka Bennifer, harkens back to simpler times filled with velour tracksuits and C-grade dramas. Nearly 20 years later, the two stars are reportedly back together following their recent splits from previous partners A-Rod and Ana de Armas and many seem to be ecstatic about the potential. Now, this red Solo cup story might help explain why Affleck is just as good for JLo as she is for him.
Jennifer Lopez's old publicist from the Bennifer 1.0 days, Rob Shuter, recently detailed how Ben Affleck has always been good for JLo. Apparently, it has to do with making the triple threat superstar feel somewhat normal. What's more normal than a folding chair and a red Solo cup, eh? As Shuter told The New York Post about the last time the couple dated:
In other words, Ben Affleck knows the way to go about grounding a Grammy-nominated and Golden Globe-nominated star. JLo is, indeed, a nonstop entertainer who manages to juggle new movies and performing in some capacity all year long (and has new movie Shotgun Wedding coming up) so she must have her own grounding effect on Affleck's tendencies as well. On the surface of things, it seems it is Jenny and Benny on the block again.
So, if things are truly serious for Bennifer 2.0, then I guess Ben Affleck just needs to whip out those red Solo cups again. Reportedly, though, the two are trading in backyard parties this time around for a Montana getaway at the exclusive Yellowstone Club. A source told Page Six that Affleck planned the trip so "they could spend time alone."
They're certainly used to the fanfare around their love lives, but both Ben Affleck and Jennifer Lopez have been having a seemingly tumultuous romantic time of late. JLo just broke off her engagement to A-Rod last month, following weeks of rumors that the former MLB player was unfaithful. A-Rod seemed to throw a little shade when asked about Bennifer 2.0, saying only, "Go Yankees."
Ben Affleck, a huge Red Sox fan, has been been on the market since his split with Ana de Armas. Her life-size cardboard cut-out was seen being put out to his trash, and then Affleck took up finding love on the Raya dating app. He didn't have much success, given how one woman unmatched him, thinking it was a catfish, and joked about it on TikTok. But as seen through his response to her, Affleck remained a good sport about his public persona complicating his love life.
However, the resurgence of Bennifer has seemed to help sweep most of this recent history under the rug. For the most part, the potential relationship between JLo and Ben Affleck has felt like a fan return on investment, and I'm not the only one feeling that way. Their former Jersey Girl director Kevin Smith has weighed in and claimed rights to "Bennifer." Ever-the-fan Jennifer Lawrence has even expressed her delight in the renewed relationship.
It seems the Internet might've been wrong this whole time. The true celeb mom and dad have returned, and this time they are trading catamarans for seclusion.
Freelance writer. Favs: film history, reality TV, astronomy, French fries.
Your Daily Blend of Entertainment News
Thank you for signing up to CinemaBlend. You will receive a verification email shortly.
There was a problem. Please refresh the page and try again.