Cruella: What Fans Are Saying About Disney's Live-Action Villain Origin Story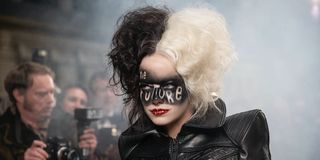 Disney latest live-action adaptation of an animated classic isn't a remake but rather a full-fledged origin story for one of Disney's most unique villains. She's not a witch or wizard on a quest for power. she's just a woman who wanted to skin some dogs to make coats, which sort of makes Cruella de Vil the worst Disney villain ever. While the live-action adaptation business has been big for Disney, with massive hits like Aladdin and The Lion King, there has also been the occasional miss like Tim Burton's Dumbo, so which of the two is Cruella?
That answer is somewhat difficult to gauge, since box office receipts aren't expected to be anywhere near what we would expect from a big Disney movie like this at the beginning of the summer movie season. Between the little thing called the global pandemic, and the resulting fact that the movie was released both in theaters and on Disney+, box office numbers aren't really going to tell the whole story. So instead we turn to the fans. For those that saw Cruella, however they did so, did they get their money's worth?
Emma Stone Is The Perfect Cruella
Certainly, with the movie literally called Cruella, the entire movie was going to hinge on the performance of the main character, and most fans are in agreement that Cruella scored big time here. Emma Stone is being give rave reviews for her performance as Cruella de Vil. She is able to balance her sympathetic elements with her more wild side. She's able to make Cruella dark without being depressing, fun without being too campy. In fact she's just the right amount of everything.
There are some crimes from which there is no redemption, and killing puppies is one of them. Cruella would appear to be irredeemably evil in 101 Dalmatians, and yet Emma Stone's version of the character, while she's capable of extreme acts, really isn't bad. Unless you cross her, in which case she'll bring down a world of hurt. You can't help but root for this outcast, and that's all thanks to Stone's performance.
Emma Stone is clearly enjoying herself, and playing someone so over the top has to be a blast. But there's just enough grounding Cruella, the movie and the character, that audiences can stay invested. When Cruella needs a heartfelt, emotional moment, Cruella is able to deliver that as well. And that, again, is thanks to Emma Stone's remarkable abilities.
What seems clear from a lot of the responses is that a lot of people weren't necessarily expecting a lot from Cruella. Due to the movie not getting a traditional theatrical release, it seems to have flown under the radar, giving people the impression that perhaps the studio did not have faith in it. But fans should have trusted in Emma Stone. She's nearly always great, and Cruella doesn't break her streak.
Cruella Is Visually Stunning
Emma Stone may give a stunning performance, but she might still be playing second fiddle to the incredible fashion on display in the film. Cruella is set in the world of European fashion in the 1970s and part of what makes Emma Stone's character so incredible is the stuff she gets to wear during the film. So much of the clothing, not only by Emma Stone but by Emma Thompson, is incredible, and each piece feels distinct from all others.
There's a punk aesthetic that we don't necessarily see in many mainstream movies, much less one from Disney, and it really works for Cruella. Everything in the film is done with style, from the performances of both Emmas, Stone and Thompson, to the music, and the look. There's a rough edge that feels just right for this character, even if the live-action movie is taking place a decade after the movie that inspired it.
Even if, somehow, the story of Cruella really didn't work for you, it seems there's a possibility that the style and fashion will speak to you. It's like the film's visual design is a character all its own. Some fans are already expecting Oscar nominations to come in areas like costume and production design, and while it's certainly early to know for sure, there's at the very least an argument to be made.
Who Doesn't Love A Good Dog?
As a prequel to 101 Dalmatians, or at least an alleged one, it seemed likely that dogs would play a significant part in the film. They certainly did. While there were Dalmatians in the film, they were, perhaps understandably, villains. Most fans are fawning over a dog, just a different one. Wink, the dog owned by Horace, played by Paul Walter Hauser, with his little eyepatch and all, stole many hearts among fans.
Wink isn't the only dog in Cruella. The main character has one of her own, but that pup was clearly overshadowed by little Wink. While it's unclear at this point if Cruella could see a sequel, it's a safe bet that if one does happen, and Wink doesn't appear, a lot of people will be upset.
Having said that, the Dalmatians are getting some attention from fans as well. Almost as soon as Cruella went live on Disney+, fans attached themselves to the sequence where Cruella's mother is killed. Out of context, the scene looked completely off the rails and a tad ridiculous. Truth be told, in context it isn't necessarily that much less insane. But in the end, people are going to have their fun, and they certainly did.
Cruella isn't getting stunning rave reviews by critics, and to be sure not every viewer loves the movie, but it's the positive buzz that is getting the most traction online, which is something of a shock in general. If nothing else, Cruella seems to score points simply for not being a "by the numbers" remake of a beloved animated classic. Cruella is something different and a lot of people are clearly appreciating that. If you haven't yet, see Cruella in a theater or rent it to stream on Disney+ tonight.
Content Producer/Theme Park Beat
CinemaBlend's resident theme park junkie and amateur Disney historian. Armchair Imagineer. Epcot Stan. Future Club 33 Member.
Your Daily Blend of Entertainment News
Thank you for signing up to CinemaBlend. You will receive a verification email shortly.
There was a problem. Please refresh the page and try again.