Dear Evan Hansen Movie: Release Date, Cast And Other Quick Things We Know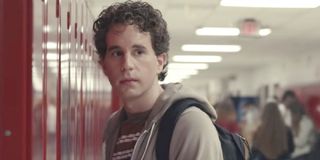 Broadway, as of late, has been making a heavy transition into the world of the movies, and has been gaining more traction than ever. With smash-hits like the stage-recorded Hamilton, to the upcoming film adaptation of Lin-Manuel Miranda's In The Heights, it's a great time to see a musical in movie theaters. Yet another new musical is being brought to cinema screens soon for people to enjoy, and that's the Dear Evan Hansen movie.
The Tony-award-winning musical has plenty of big screen appeal, mainly focusing around an anxious, isolated high schooler who is looking for some understanding and belonging in the chaos of the world, especially with the cruelty of the social-media age. With amazing songs, a great cast, including Ben Platt, and so much more, here is what we know about the upcoming adaptation of Dear Evan Hansen.
Dear Evan Hansen's Release Date Is Set For September 2021
Since the trailer only came out in May 2021 for Dear Evan Hansen, a few fans may have expected the new movie to release at some point in 2022. But, we are happy to say that Dear Evan Hansen will be a part of the 2021 movies this year, premiering on September 24, 2021. We won't have to wait long for this awesome musical to come to our screens soon.
Ben Platt Will Be Reprising His Starring Role For The Movie
I'm sure that plenty of you have already heard of the name Ben Platt when talking about movies or TV. For me, I first saw him in Pitch Perfect, or, you might have seen him in the Netflix series, The Politician. However, what really brought Ben Platt to fame was portraying the titular character in Dear Evan Hansen for the original Broadway cast, for which he won a Tony award, becoming the youngest actor to ever win Best Actor in a Leading Role in a Musical.
However, fans have taken issue with Platt's age. The actor is 27 – turning 28 on the day of the film's release, so him playing a high schooler feels a little bit strange to many of them. However, the director of the upcoming film, Stephen Chbosky, defended his decision to have Platt play the role in an interview with Vanity Fair.
Since Platt did win the Tony for this portrayal, I'm looking forward to seeing him perform it one last time on the big screen.
The Dear Evan Hansen Cast Has Plenty Of Other Great Stars As Well
Besides the return of Ben Platt, the cast of Dear Evan Hansen has so many other stars attached to it who will surely make this one of the best films of the year.
Six-time Academy-Award nominee Amy Adams is in the film, as well as Oscar-winner Julianne Moore, so it's clear that we already have some amazing talent here. Adding onto that, Kaitlyn Dever of Booksmart fame, Amandla Stenberg from The Hate U Give, DeMarius Copes from Broadway's Mean Girls, and so many more have jumped into this adaption, creating a cast that already has me eager for this film to release. With an ensemble like this, how can you not be excited?
Stephen Chbosky Will Be Directing Dear Evan Hansen
If you wanted a coming-of-age drama to be done well, look no further than Stephen Chbosky, at least in my opinion. For those who don't know, Chbosky is the bestselling author of the classic coming-of-age novel, The Perks of Being A Wallflower, and also directed the feature film based on it with Logan Lerman, Emma Watson, and Ezra Miller.
Chbosky has also written a couple of screenplays in the past, like the 2005 film adaptation of Rent as well as co-writing Disney's live-action remake of Beauty and the Beast. He also recently directed the drama Wonder, starring Julia Roberts, Owen Wilson, and Jacob Tremblay. There's no denying that he's had plenty of practice in the film industry, and I can't wait to see what he brings to this version of Dear Evan Hansen, with the resume of projects he has behind him.
Dear Evan Hansen Will Have An "Extended Third Act"
In the same Vanity Fair article mentioned before, Ben Platt said how the film adaptation of Dear Evan Hansen expands on the original story and dives deeper into the character than ever before:
When it comes to film, there's always the opportunity to expand on a character and really grow them into a new version of themselves, I believe that with the same team as the musical and a great director behind it, Dear Evan Hansen will open a new chapter on the story of Evan as a whole.
There Will Be Two New Songs In Dear Evan Hansen
What's even better about this new adaptation is that the original team behind the award-winning musical, Benj Pasek and Justin Paul, returned to not only do the music in Dear Evan Hansen, but also wrote two new songs. The songwriting duo has gone on to produce music for some of the biggest musicals in Hollywood today, like the award-winning La La Land and the showstopping The Greatest Showman, but now they've returned to their roots with Dear Evan Hansen.
Adding two new songs to the already stellar soundtrack (including hits such as "You Will Be Found," "Waving Through a Window," "For Forever," and "Words Fail") is what makes this even more exciting.
Ben Platt told Vanity Fair that fans of the original Broadway musical should expect changes like this.
I'm always down for some new music in any musical, and if the same team is behind it, I'm pretty sure it'll be awesome. Even so, only time will tell.
Check Out The Dear Evan Hansen Trailer Here
If you haven't seen the trailer yet for the new Dear Evan Hansen film, check it out here.
What are you excited for the most about this upcoming film adaptation? Do you think Ben Platt will pull off playing a high schooler for the last time? I already want September to come as soon as possible.
Your Daily Blend of Entertainment News
Big nerd and lover of Game of Thrones/A Song of Ice and Fire. Will forever hate season eight. Superhero and horror geek. And please don't debate me on The Last of Us 2, it was amazing!
Your Daily Blend of Entertainment News
Thank you for signing up to CinemaBlend. You will receive a verification email shortly.
There was a problem. Please refresh the page and try again.