No Sudden Move Cast: Where You've Seen The Actors Before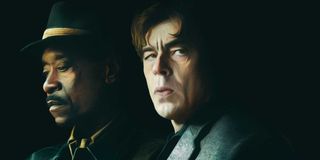 This week, Steven Soderbergh returns to the crime thriller genre with HBO Max's No Sudden Move, another snappy, stylish, star-studded affair that features the acting talents of Don Cheadle, Benicio Del Toro, David Harbour, Brendan Fraser, Jon Hamm, Ray Liotta, and Amy Seimetz, to name only a few famous faces attached. If you're wondering where you've seen this prominent ensemble before, we're here to help!
Don Cheadle (Curt Goynes)
As Curt Goynes, a small-time criminal looking to get his life together following a stint in prison, Don Cheadle plays the main character in No Sudden Move. Previously, Cheadle was Basher Tarr in Steven Soderbergh's Ocean's trilogy. He also appeared in Traffic and Out of Sight. Additionally, Cheadle gave an Oscar-nominated lead performance in Hotel Rwanda. He also plays James Rhodes/War Machine in several Marvel movies, starting with Iron Man 2. Furthermore, Cheadle's other film credits include Crash, Boogie Nights, Rush Hour 2, Devil in a Blue Dress, Bulworth, Flight, Traitor, Reign Over Me, and The Guard. He also wrote, produced, directed, and played Miles Davis in Miles Ahead.
Outside of film, Don Cheadle starred in Showtime's House of Lies. Currently, he leads Showtime's Black Monday. Additionally, Cheadle was in the main cast of CBS's Picket Fences. Next, Cheadle will appear in Space Jam: A New Legacy. He'll also reprise his role as War Machine in Disney+'s Armor Wars.
Benicio Del Toro (Ronald Russo)
In the role of Ronald Russo, a petty criminal hired to "babysit" the Wertz family, Benicio Del Toro robs the spotlight in Steven Soderbergh's No Sudden Move. Most notably, Del Toro won an Oscar for his portrayal of Javier Rodriguez in Soderbergh's Traffic. He was also Oscar-nominated for his supporting turn in 21 Grams. Additionally, Del Toro starred in Soderbergh's Che and he appeared in The Wolfman, The Usual Suspects, Fear and Loathing in Las Vegas, Basquiat, Sin City, Swimming with Sharks, Inherent Vice, Star Wars: The Last Jedi, Savages, The Hunted, The Way of the Gun, Snatch, Escobar: Paradise Lost, Fearless, and the Sicario movies. Furthermore, Del Toro plays The Collector in Guardians of the Galaxy, Thor: The Dark World, and Avengers: Infinity War.
Away from film, Benicio Del Toro was Emmy-nominated for his starring role in Showtime's Escape at Dannemora. He also starred in NBC's mini-series, Drug Wars: The Camarena Story. Next, he'll appear in The French Dispatch and All-Star Weekend.
David Harbour (Matt Wertz)
Playing the part of Matt Wertz, a mid-level General Motors executive, David Harbour is a man who's in over his head in HBO Max's No Sudden Move. Most notably, the television actor is known for his Emmy-nominated performance as Jim Hopper in the cast of Netflix's Stranger Things. He also played recurring roles in The Newsroom, Manhattan, and State of Affairs. Additionally, Harbour's other TV credits include Banshee, Law & Order, Lie to Me, The Unit, Elementary, Drunk History, Law & Order: SVU, and Crisis in Six Scenes.
Away from television, David Harbour played the titular hellspawn in 2019's Hellboy. He also starred in Netflix's Frankenstein's Monster's Monster, Frankenstein. Additionally, Harbour is seen in Brokeback Mountain, Quantum of Solace, Black Mass, Suicide Squad, The Green Hornet, State of Play, Kinsey, War of the Worlds, Revolutionary Road, End of Watch, The Equalizer, and A Walk Among The Tombstones. Most recently, the prominent actor appeared in Extraction. Next, Harbour can be seen in Black Widow.
Jon Hamm (Detective Joe Finney)
As Detective Joe Finney, a determined gumshoe for the organized crime division, Jon Hamm plays a looming private eye in Steven Soderbergh's No Sudden Move. Most notably, Hamm is an Emmy-winner thanks to his mesmerizing performance as Don Draper in AMC's Mad Men. Additionally, the television actor starred in Sky Arts' A Young Doctors' Notebook and Lifetime's The Division. Hamm played recurring roles in 30 Rock, Unbreakable Kimmy Schmidt, Wet Hot American Summer: First Day of Camp, Children's Hospital, The Unit, and Good Omens.
Meanwhile, away from the tube, Jon Hamm was the star of Million Dollar Arm, Beirut, Aardvark, Tag, Marjorie Prime, and Keeping Up with the Joneses. Additionally, the actor provided notable supporting turns in Bridesmaids, Baby Driver, The Town, Bad Times at the El Royale, Richard Jewell, Lucy in the Sky, Sucker Punch, Space Cowboys, Kissing Jessica Stein, We Were Soldiers, and The Day the Earth Stood Still. Last year, Hamm appeared in The Jesus Rolls and Wild Mountain Thyme. Next, he'll be seen in Top Gun: Maverick and Corner Office.
Amy Seimetz (Mary Wertz)
In the role of Mary Wertz, Matt's wife, Amy Seimetz plays a notable supporting part in HBO Max's No Sudden Move. As an actress, Seimetz starred in The Off Hours, Upstream Color, Pet Sematary (2019), Alexander the Last, and A Horrible Way to Die. She can also be seen in Alien Covenant, You're Next, My Days of Mercy, Entertainment, Lucky Them, The Sacrament, Tiny Furniture, and Wristercutters: A Love Story. Additionally, on television, Seimetz played Danette Leeds in AMC's The Killing. She also provided a recurring role in Epix's Get Shorty. Seimetz can also be seen in Family Tree, Junior, Stranger Things, and Halt and Catch Fire, as well as Showtime's The Comey Rule. Most recently, Seimetz appeared in Netflix's Sweet Tooth.
Outside of acting, Amy Seimetz is the co-creator, co-writer, and co-director of Starz's The Girlfriend Experience, based on Steven Soderbergh's film of the same name. She also directed episodes of Atlanta. Additionally, Seimetz wrote, produced, and directed Sun Don't Shine and 2020's She Dies Tomorrow.
Brendan Fraser (Jones)
Playing the part of Jones, a gangland middleman, Brendan Fraser is a suited-up, buttoned-down go-between in Steven Soderbergh's No Sudden Move. Most notably, Fraser starred in The Mummy trilogy and played the title character in George of the Jungle. His other notable starring roles include Looney Tunes: Back in Action, Bedazzled, Journey to the Center of the Earth, Encino Man, Blast from the Past, Dudley Do-Right, and Monkeybone. He also starred in School Ties, The Scout, The Quiet American, Furry Vengeance, Extraordinary Measures, and Airheads. Additionally, Fraser can be seen in Gods and Monsters, Crash, With Honors, Gimme Shelter, and G.I. Joe: The Rise of Cobra.
Additionally, on TV, Brendan Fraser stars in HBO Max's Doom Patrol. Also, in 2020, the actor appeared in Professionals. Over the years, Fraser provided recurring roles in The Affair, Texas Rising, Trust, Condor, and Scrubs. He can also be seen in Fallen Angels and Nightcap. Next, he'll star in The Whale and Behind the Curtain of Night.
Kieran Culkin (Charley)
As Charley, a spunky cohort, Kieran Culkin plays a spirited supporting character in No Sudden Move. Most notably, Culkin plays Roman Roy in HBO's Succession, for which he was Emmy-nominated. Previously, the television actor played Rye Gerhardt in FX's Fargo Season 2. Additionally, Culkin led NBC's short-lived Go Fish, and he appeared in NBC's The Magical Legend of the Leprechauns.
Outside of television, Kieran Culkin played Jason "Igby" Slocumb, Jr. in Igby Goes Down. He also played Wallace Wells in Scott Pilgrim vs. The World, Fuller McCallister in the Home Alone films, and Matty Banks in the Father of the Bride movies. His other film credits include It Runs in the Family, The Dangerous Lives of Altar Boys, She's All That, Lymelife, Wiener-Dog, Movie 43, Margaret, The Cider House Rules, and The Mighty. Recently, Culkin reprised his role as Matty Banks in Father of the Bride, Part 3(ish).
Noah Jupe (Matthew Wertz)
In the role of Matthew Wertz, Matthew and Mary's son, Noah Jupe plays a concerned young character in Steven Soderbergh's No Sudden Move. Most notably, Jupe starred in Honey Boy and Suburbicon. He also played Marcus Abbott in A Quiet Place and this year's A Quiet Place Part II. Jupe's other film credits include Ford v Ferrari, Holmes & Watson, Wonder, The Titan, The Man with the Iron Heart, and That Good Night.
Additionally, on television, Noah Jupe appeared in The Night Manager, Houdini & Doyle, Downton Abbey, and Penny Dreadful. Also, Jupe played Henry Fraser in HBO's The Undoing last year. Furthermore, the child actor appeared in The Last Dragonslayer, A Song for Jenny, Ian Brown's "From Chaos to Harmony" music video, and 2017's short film, My Pretty Pony. Next, Jupe will be heard in Netflix's The Magician's Elephant.
Craig muMs Grant (Jimmy)
Playing the part of Jimmy, Curt's straightforward contact, Craig muMs Grant is posthumously seen in HBO Max's No Sudden Move, which is dedicated in his memory. Also known as muMs the Schemer, Grant was Arnold "Poet" Jackson in HBO's Oz. He also played recurring roles in Boston Legal, She's Gotta Have It, Horace and Pete, and Hightown. Additionally, Grant performed as a poet on Def Comedy Jam. His other TV credits include The Sopranos, Chapelle's Show, Cold Case, Luke Cage, The Last O.G., and Bull. Also, Grant appeared in High Maintenance, City on a Hall, NCIS: New Orleans, Nurse Jackie, Blue Bloods, Law & Order: SVU, and Steven Soderbergh's The Knick.
Outside of television, Craig muMs Grant was seen in Steven Soderbergh's Side Effects. He also appeared in Birdman, Bamboozled, Bringing Out the Dead, Good Time, The Price, The Brooklyn Heist, BlacKkKlansman, and Monsters and Men. Grant is also heard in several video games. Furthermore, he's seen in the 1998 documentary, SlamNation. In March, the actor passed away following complications with diabetes. He was 52.
Julia Fox (Vanessa Capelli)
As Vanessa Capelli, Frank's wife, Julia Fox plays a notable supporting role in Steven Soderbergh's No Sudden Move. Most notably, Fox made her film debut in Benny and Josh Safdie's Uncut Gems. Following this movie's success, the actress starred in last year's PVT CHAT. She also appeared in short films like 2018's The Great American Mud Wrestle and 2020's Paradise. Additionally, Fox could be seen in Puppet, Day by Day, and the music video for "Nothing Good," by Goody Grace ft. G-Eazy and Juicy J. Outside of acting, the standout supporting player was established as a clothing designer, model, painter, and photographer. Also, Fox wrote and directed the short film, Fantasy Girls.
Frankie Shaw (Paula)
In the role of Paula, Forbert's secretary, Frankie Shaw is a notable supporting character in HBO Max's No Sudden Move. Most notably, Shaw created, wrote, directed, produced, and starred in Showtime's SMILF, based on her autobiographical 2015 short film. The TV actress also wrote, directed, produced, and starred in 2015's short film, Too Legit.
Additionally, Frankie Shaw played Shayla Nico in USA Network's Mr. Robot and Mary Jo Cacciatore in Spike TV's Blue Mountain State. She also had a main part in ABC's Mixology and recurring roles in Homecoming, Good Girls Revolt, and Flaked. Her other TV credits include Law & Order, 2 Broke Girls, Drunk History, Hello Ladies, Mulaney, Glory Daze, The Bedford Diaries, and CSI: NY. Furthermore, the actress starred in Kevin Smith's online-only Hollyweed pilot. Away from TV, Shaw reprised her role as Mary Jo Cacciatore in the Kickstarter-funded Blue Mountain State: The Rise of Thadland. Her other film credits include Stronger, The End of Love, Knife Fight, The Pretty One, Always Worthy, Lullaby, and Jay and Silent Bob Reboot.
Ray Liotta (Frank Capelli)
Playing the part of Frank Capelli, a tough-nut mobster, Ray Liotta is a mean-mugging supporting character in Steven Soderbergh's No Sudden Move. Most notably, Liotta starred in Martin Scorsese's Goodfellas. Additionally, the film actor was Golden Globe-nominated for his supporting turn in Something Wild. His other notable film credits include Field of Dreams, Blow, Hannibal, Cop Land, Killing Them Softly, Identity, Unlawful Entry, The Place Beyond the Pines, Narc (which he also produced), Wild Hogs, Smokin' Aces, Wanderlust, and Charlie St. Cloud. He can also be seen in Marriage Story, Revolver, Heartbreakers, Phoenix (which he also produced), Comeback Season, John Q, and Muppets Most Wanted. Additionally, Liotta did voice work in Bee Movie. Most recently, he provided a supporting turn in Netflix's Hubie Halloween.
Away from the big screen, Ray Liotta starred in NBC's Shades of Blue. Additionally, the esteemed actor won an Emmy for his guest star appearance in NBC's ER. He also appeared in Modern Family, Unbreakable Kimmy Schmidt, and Young Sheldon. Next, Liotta will be seen in The Many Saints of Newark, El Tonto, and Broken Soldier.
Bill Duke (Aldrick Watkins)
As Aldrick Watkins, a criminal kingpin, Bill Duke plays a prominent part in No Sudden Move. Most notably, Duke was Sgt. Mac Eliot in Predator. He also appeared in American Gigolo, Commando, Menace II Society, Exit Wounds, X-Men: The Last Stand, Payback, Bird on a Wire, No Man's Land, Get Rich or Die Tryin, Red Dragon, Action Jackson, and Mandy. Previously, Duke was seen in Steven Soderbergh's High Flying Bird and The Limey. Additionally, on TV, Duke has a recurring role in The CW's Black Lightning.
Outside of acting, Bill Duke directed Sister Act 2: Back in the Habit. His other films include Not Easily Broken, The Killing Floor, A Rage in Harlem, Deep Cover, The Cemetery Club, America's Dream, Hoodlum, Cover, Dark Girls, and Created Equal. Additionally, Duke directed episodes of Dallas, Falcon Crest, Cagney & Lacey, Hill Street Blues, The Twilight Zone, Knots Landing, Brewster Place, Miami Vice, and Matlock.
No Sudden Move is available to stream on HBO Max starting July 1st.
Your Daily Blend of Entertainment News
Will is an entertainment writer based in Pittsburgh, PA. His writing can also be found in The Playlist, Cut Print Film, We Got This Covered, The Young Folks, Slate and other outlets. He also co-hosts the weekly film/TV podcast Cinemaholics with Jon Negroni and he likes to think he's a professional Garfield enthusiast.