Space Jam: A New Legacy: What Fans Are Saying About Looney Tunes Team-Up With LeBron James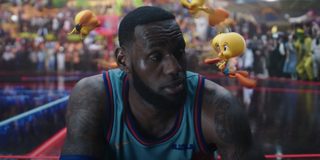 It's game time for the Tune Squad with the recent release of Space Jam: A New Legacy, and the fan consensus is in! After 1996's Space Jam inspired an entire generation to believe they can fly with Michael Jordan's role alongside the Looney Tunes, the sequel is here and it's time to get into what audiences thought about LeBron James entering the Warner Bros ServerVerse to save the world.
Space Jam: A New Legacy was panned by critics, who called it out for being too capitalist as it swayed between branding the Lakers player and referencing Warner Bros properties. That being said, A New Legacy was No. 1 at the box office last weekend and incited some seriously hyped reactions from fans this past week. Here's what those people are saying about the new Space Jam movie:
There Was A Major Divide Between Audiences And Critics
Every once in a while, a movie comes along that creates a complete divide between critics and audiences, and Space Jam: A New Legacy is one of those movies. As a whole, reviewers shared a lot of hate toward the Warner Bros film, with CinemaBlend's own Sean O'Connell calling it "a soulless, two-hour commercial" in his review. Those aren't the thoughts shared in many social media reactions, such as this one:
The Twitter user called the movie "FUCKING AWESOME," citing their love for seeing the different cinematic universes within the Warner Bros ServerVerse. They were really into it! Another fan of the movie boasted that they tuned into the flick four times already, including two trips to the movie theaters within the movie's release day:
Many audiences went into Space Jam: A New Legacy expecting the movie that critics did not enjoy to disappoint them, but instead found themselves defending it. As one fan shared, he felt critics were too tough on a movie aimed a children and a simply good time:
Of course, we'll have to next get into why fans were really loving it specifically too. For one, they really loved the commercial aspect of the film that perhaps critics look down on when grading a movie.
People Loved The Space Jam: A New Legacy Cameos And References
The Space Jam sequel throws out cameo after cameo and reference after reference, and according to many of the movie's fans, they were big dunks to the enjoyment of it. One popular cameo that had them talking on social media was Rick and Morty's appearance in the film when they drop off the Tasmanian Devil:
Another one that had people talking big talk about Space Jam: A New Legacy was the reference to Mad Max, which had Wile E. Coyote dressing up like a War Boy. It was one of many sequences that crossed over the Looney Tunes and LeBron with other Warner Bros movies:
Another person walked out of Space Jam: A New Legacy believing the film had the best cameos of all time, and there certainly was a lot:
One major one involved Michael B. Jordan appearing for a halftime bit that had audiences believing that the basketball Michael Jordan would come and join the Tune Squad. Given that the game took place inside the Warner Bros server, there was a lot to play with as far as references and cameos go. For a lot of people, it delivered.
Fans Of The Original Couldn't Help But Compare Notes
Of course, lots of movie fans were going into Space Jam: A New Legacy with a longtime love for the original film. Oftentimes sequels like this are difficult to pull off due to the nostalgia that comes with a property like Space Jam. Overall, there's been cases made on both sides about how people felt about A New Legacy. This one was jumping for joy:
Whether or not you like Space Jam: A New Legacy might have to do with what the original meant to you. For many fans, it didn't quite score enough points to be better than the 1996 movie starring Michael Jordan:
Others, however, found themselves aboard the New Legacy train, as they found themselves admiring the LeBron version over the movie that started it all. It's high praise:
There you have it! It really might come down to what your opinions are on Michael Jordan vs. LeBron James, or if you're more into 2-D animation or the 3-D big-budget extravaganza that A New Legacy is.
Fans Have A Lot Of Thoughts About LeBron James
Speaking of LeBron James, what did fans think about the Lakers player taking the stage after Michael Jordan for the sequel? Don't worry, there were a lot of thoughts about the basketball player's role in the film too. While the movie gave the star a lot of compliments and marketing as the G.O.A.T, some fans were pleasantly surprised that James' role wasn't without some shots being thrown at his own ego:
There are a few moments in the movie where the dialogue kind of makes fun of the player. For one, during the Warner Bros meeting in the beginning, he calls making a movie that is essentially a Space Jam pitch terrible, and later in the film, Don Cheadle's Al-G makes fun of James' history of moving teams. On the lighter side of things, fans got some laughs in about his performance:
The movie also got people talking about the depiction of LeBron James in some more random ways, such as that bedroom he had in A New Legacy:
There were fans who gave LeBron a hard time for his acting, but others really felt he was an improved presence to the original. Check out what this fan had to say:
As a whole, Space Jam: A New Legacy is a polarizing movie. It's not exactly a slam dunk given many comments, but it also brought a lot of joy to fans since its release. Now it's your turn. Did you like Space Jam: A New Legacy? Vote in our poll below!
This poll is no longer available.
Your Daily Blend of Entertainment News
YA genre tribute. Horror May Queen. Word webslinger. All her writing should be read in Sarah Connor's Terminator 2 voice over.