Jungle Cruise: What To Watch If You Liked The Disney Adventure Movie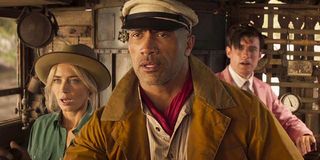 CinemaBlend participates in affiliate programs with various companies. We may earn a commission when you click on or make purchases via links.
If you are like hundreds of thousands, if not millions, of other moviegoers who went to the theater or watched Jungle Cruise streaming upon its release in July 2021 and you want to watch some more adventure or epic tales, then you've come to the right place. The Disney throwback pulp action film starring Emily Blunt and Dwayne Johnson as the most unlikely pair yet one people just can't get enough of is full of twists and turns and spectacular action sequences that leave you wanting more river boats, more mythical quests, and more characters whose very survival depends on a person they cannot stand.
While we cannot provide you with a boat or map that will take you to the heart of the Amazon Rainforest, we can help you find exciting and thrilling movies from yesteryear and today that will certainly hold you over until we find out if there will be a Jungle Cruise 2, (or The Jungle Cruise).
Raiders Of The Lost Ark (Showtime)
Steven Spielberg's 1981 pulpy adventure film Raiders of the Lost Ark follows swashbuckling archeologist Indiana Jones (Harrison Ford) as he is hired by the United States government to track down the mysterious Ark of the Covenant before Adolf Hitler and his fanatic Nazi followers can get to it first and use its powers for world domination.
Why it's worth checking out if you like Jungle Cruise: It is hard to watch Jungle Cruise and not immediately press play on Raiders of the Lost Ark as soon as the credits roll on Dwayne Johnson and Emily Blunt's awesome adventure. With hunts for lost treasure, evil villains, and large-scale action set pieces that feel like a ride at an amusement park, this quintessential '80s movie is full of action, drama, and one remarkable hero in Indiana Jones.
Stream Raiders of the Lost Ark on Showtime.
Rent/Buy Raiders of the Lost Ark on Amazon.
The Mummy (HBO Max)
Released in 1999, Stephen Sommers' throwback adventure film The Mummy follows an Egyptian expedition consisting of bookworm Evelyn Carnahan (Rachel Weisz), her brother Jonathan Carnahan (John Hannah), and the dashing Rick O'Connell (Brendan Fraser) as they come face-to-face with the unspeakable horror of Imhotep (Arnold Vosloo), who has been resurrected thousands of years after he was buried alive and placed under a curse.
Why it's worth checking out if you like Jungle Cruise: As CinemaBlend previously pointed out, there are a lot of times where Jungle Cruise felt like a remake of The Mummy. These comparisons range from the bickering and banter between each film's leads to both movies taking place in the early 20th Century to even the amazing opening narrations in each. Most of all, both are a fun way to spend a couple of hours.
Pirates of the Caribbean: The Curse Of The Black Pearl (Disney+)
Gore Verbinski's Pirates of the Caribbean: The Curse of the Black Pearl, which was released in 2003 and kicked off a massive franchise, introduces audiences to Captain Jack Sparrow (Johnny Depp) as he and blacksmith Will Turner (Orlando Bloom) team up to save Elizabeth Swann (Keira Knightley) from a band of undead buccaneers.
Why it's worth checking out if you like Jungle Cruise: Like Jungle Cruise, Pirates of the Caribbean: The Curse of the Black Pearl is based on a Disney ride and features callbacks to its inspiration while also telling a fun and engaging story where the heroes must vanquish a cursed band of antagonists. Throw in some dynamic leads with electric chemistry and you're all set.
Stream Pirates of the Caribbean: The Curse of the Black Pearl on Disney+.
Rent/Buy Pirates of the Caribbean: The Curse of the Black Pearl on Amazon.
Romancing The Stone (Amazon Rental)
One of the best Robert Zemeckis movies, 1984's Romancing the Stone is a romp of a good time that follows successful yet lonely romance writer Joan Wilder (Kathleen Turner) as she heads into the heart of the Colombian jungle to save her sister from being killed by a group of antiquities smugglers. Together with the brash and dashing Jack T. Colton (Michael Douglas), Joan sets out on a thrilling and memorably journey.
Why it's worth checking out if you like Jungle Cruise: At the heart of Romancing the Stone and Jungle Cruise are stories about two people from completely different backgrounds and temperaments who form an unlikely yet unbreakable bond despite the odds. It doesn't hurt that both of these films have maniacal villains hot on their tails throughout and plenty of swinging from ropes and vines.
Rent/Buy Romancing the Stone on Amazon.
The African Queen (Amazon Prime)
Directed by John Huston, the 1951 romantic adventure film The African Queen follows British missionary Rose Sayer (Katherine Hepburn) and alcoholic boat captain Charlie Allnut (Humphrey Bogart) as they evade capture (or worse) at the hands of German forces at the start of the first World War.
Why it's worth checking out if you like Jungle Cruise: One of the best movies on Amazon Prime, The African Queen is a perfect choice for anyone wanting more movies like Jungle Cruise. While there are no mythical flowers or cursed conquistadors, the movie does hit a lot of the same notes as the new Disney film and has one of the best on-screen pairings with Katherine Hepburn and Humphrey Bogart.
Stream The African Queen on Amazon.
The Fountain (Tubi)
Darren Aronofsky's The Fountain features three intertwined narratives that all center on one central idea: the quest for immortality. Told through the eyes of a 16th Century conquistador, a present-day scientist, and a 26th Century astronaut (all played by Hugh Jackman), this epic love story explores just how far someone will go in order to save someone they love.
Why it's worth checking out if you like Jungle Cruise: There aren't any river boats (or Germans) in The Fountain, but a third of the movie is devoted to the story of a conquistador traveling into the heart of the jungle to find the mythical fountain of youth with hopes of saving his queen. This is quite similar to the backstory of Jungle Cruise's Aguirre (Édgar Ramírez) who became forever trapped in the rainforest when his quest to save his daughter went awry.
Rent/Buy The Fountain on Amazon.
Jumanji: Welcome To The Jungle (Amazon Rental)
Jumanji: Welcome to the Jungle follows a group of four teenagers as they are trapped in a mysterious video game that transports them to a dangerous land where they must survive all sorts of hazards and multiple puzzles if they want to beat the game and make it back home.
Why it's worth checking out if you like Jungle Cruise: Fans of Dwayne Johnson's performance in Jungle Cruise will love his turn in Jumanji: Welcome to the Jungle due to comedic timing and all around badassery. It's silly and campy at times but this movie is a blast and a great way to spend a family movie night.
Rent/Buy Jumanji: Welcome to the Jungle on Amazon.
The Mosquito Coast (Amazon Rental)
The 1986 drama The Mosquito Coast follows the idealistic Allie Fox (Harrison Ford) as he uproots his family and sets out for a Caribbean Island where he plans to create a utopia free of the consumerism and pitfalls of modern life in America. His plan, however, is inherently flawed and puts his life, as well as his family, in grave danger.
Why it's worth checking out if you like Jungle Cruise: The Mosquito Coast isn't as cheery or upbeat as Jungle Cruise but it does touch on some of the same themes, topics, and locales. Both movies center on characters obsessed with achieving their goal, no matter what they stand to lose in the process while also featuring people from completely different walks of life (and civilizations) meeting for the first time.
Rent/Buy The Mosquito Coast on Amazon.
Fitzcarraldo (Tubi)
Werner Herzog's 1982 epic Fitzcarraldo tells the story of ambitious and opera-obsessed European Brian Fitzgerald (Klaus Kinski) as he sets out to make his dream come true of building a music hall in his small Peruvian city. To generate enough money to fund his project, Fitzgerald decides to enter the rubber industry, but there is one catch: the massive boat he wishes to use is on the other side of a mountain. With the help of a local native tribe, the eager man comes one step closer to reality.
Why it's worth checking out if you like Jungle Cruise: If you thought you would never see anything crazier than a German submarine traversing the Amazon River in Jungle Cruise wait until you see the cast of Fitzcarraldo drag a massive ship up and down a mountain range. In his novel Herzog on Herzog, Werner Herzog revealed that he and the production crew built a 320-ton steamboat and moved it over a hill.
Rent/Buy Fitzcarraldo on Amazon.
Aguirre, The Wrath Of God (Tubi)
Also directed by Werner Herzog, the 1972 historical drama Aguirre, the Wrath of God follows ruthless Spanish conquistador Don Lope de Aguirre (Klaus Kinski) as he pushes through the heart of the jungle in search of the mythical city of gold known as El Dorado. As the vicious leader of an expedition travels deeper into the jungle he becomes less and less attached to reality, eventually descending into madness.
Why it's worth checking out if you like Jungle Cruise: This 1972 epic features the first on-screen portrayal of the real-life Don Lope de Aguirre, a figure that would show up again in Jungle Cruise but it's hard to say which version is more insane by the end of the tale. Much darker than the new Disney movie, this Werner Herzog classic is a grim exploration of what obsession and greed can do to a man.
Stream Aguirre, the Wrath Of God on Tubi.
Rent/Buy Aguirre, the Wrath Of God on Amazon.
These are just some of the movies that are perfect for anyone who wants more epic adventures after finishing Jungle Cruise. If you want even more great stories, check out other titles that happen to be the some of the best movies on Netflix.
Philip grew up in Louisiana (not New Orleans) before moving to St. Louis after graduating from Louisiana State University-Shreveport. When he's not writing about movies or television, Philip can be found being chased by his three kids, telling his dogs to stop yelling at the mailman, or yelling about professional wrestling to his wife. If the stars properly align, he will talk about For Love Of The Game being the best baseball movie of all time.
Your Daily Blend of Entertainment News
Thank you for signing up to CinemaBlend. You will receive a verification email shortly.
There was a problem. Please refresh the page and try again.