Who Will Participate In The Macy's Thanksgiving Day Parade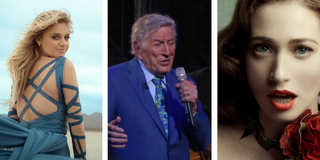 (Image credit: "Peter Pan" video, Late Night with Stephen Colbert, "How" video)
Halloween is over and November has officially begun, but before you start putting up your Christmas lights and blaring Mariah Carey's "All I Want For Christmas Is You" on repeat, let's not forget about the other major holiday that's just around the corner. That's right --- Thanksgiving is on its way, and with it comes Macy's annual Thanksgiving Day Parade. With this being the 90th annual parade, Macy's is pulling out all the stops with the talent that will float down the streets of New York on Thanksgiving Day.
The Macy's Thanksgiving Day Parade (opens in new tab) has announced its lineup of performers for the 2016 show, which includes a nice mix of veterans like Tony Bennett and Sarah McLachlan, along with exciting up-and-comers like country breakout Kelsea Ballerini and Beyoncé's own teen protégé's Chloe x Halle. Check out the full list of performers below.
Tony Bennett's inclusion in the parade's 90th anniversary celebration is actually very fitting, since he is currently planning his own 90th birthday celebration with a televised variety special from Radio City Music Hall. The lineup also features the 12-year-old singing and ukulele phenom Grace VanderWaal, who was dubbed the next Taylor Swift during America's Got Talent this season, and went on to win the competition after becoming a viral sensation. The parade will also give viewers a peek inside the hottest production in New York City, as Christopher Jackson --- George Washington from Hamilton --- performs numbers from the record-smashing musical.
Broadway buffs will get much more than only performances from Christopher Jackson. The Macy's Thanksgiving Day Parade broadcast this year will also performance by stage productions including Cats and Holiday Inn, The New Irving Berlin Musical. The broadcast will also give viewers a special sneak peek at NBC's upcoming televised musical Hairspray Live!, which will star major names like Ariana Grande, Jennifer Hudson, Kristin Chenoweth, Harvey Fierstein, and Martin Short, among others.
This year's lineup continues the parade's impressive array of talent. As a reminder, last year's featured performers included Mariah Carey, Jordin Sparks, Trey Songz, and Shawn Mendes, among others. To catch all of the excitement at the 90th anniversary celebration, be sure to tune into NBC from 9:00 a.m. to noon (in all time zones) on Thursday, November 24.
Your Daily Blend of Entertainment News