See Jennifer Lawrence's Stellar Look While In Paris For Passengers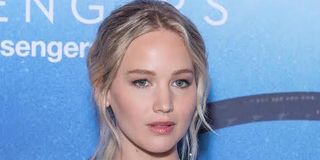 Jennifer Lawrence is giving star power a whole new meaning as she kicked off her press tour for the upcoming sci-fi romance Passengers. The actress hit the red carpet earlier this week in a sweater and skirt combo that was quite literally out of this world.
At the Hotel George V in Paris on Tuesday, Jennifer Lawrence got into the intergalactic theme of her new film by shimmering in a metallic outfit decked out in sparkling stars. True to her trademark relatability, the actress effortlessly mixed cozy comfort with high glam by pairing a cashmere sweater with a sheer tulle skirt. The sweater and skirt served as a grey-ish backdrop for dots of glittering gold and one large star in the middle of her chest.
The star-studded sweater also includes the perfect Parisian nod, as the French word for star "L'Etoile" is stitched right above the hem. The cozy-looking cashmere and Lurex top comes courtesy of Christian Dior, Vogue reports. And Jennifer Lawrence sparkled even more next to costar Chris Pratt's all black look. The actor opted for a more traditional red carpet as he posed next to Lawrence in a black suit and dress shirt, although he added his own bit of casual comfort as well by leaving the top few buttons on his shirt undone.
Don't they just look like the king and queen of the universe? Okay, maybe more like the more approachable and fun-loving aunt and uncle of the universe. Either way, you've got to give them props for managing to infuse a bit of comfort into their looks while still looking breath-takingly glamorous, and all the while incorporating the theme of their sci-fi flick.
After they were done posing for pictures, Jennifer Lawrence and Chris Pratt premiered the movie's new theme song: the dreamy midtempo builder "Levitate" by Imagine Dragons. The song accompanied a teaser for Passenger with new scenes from the upcoming film, which hits theaters on December 21. Check out the song and video below.
PHOTO CREDIT:
(c)2016 CTMG, Inc. All Right Reserved.
Your Daily Blend of Entertainment News
Thank you for signing up to CinemaBlend. You will receive a verification email shortly.
There was a problem. Please refresh the page and try again.