Karlie Kloss Apologizes For Insensitive Japanese Geisha Photo Shoot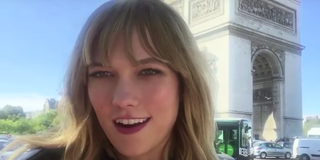 (Image credit: Bill Nye Saves the World promo clip)
Another day, another white celebrity appropriating Asian culture. This time it was supermodel and Taylor Swift BFF Karlie Kloss that crossed a line and incited Internet outrage by having herself done up to look like a Japanese geisha for a Vogue photoshoot. After witnessing the backlash, Kloss has now issued an apology for the spread.
A day after all of this controversy, Karlie Kloss tweeted out an apology for her participation in the shoot, saying that she now understands she was appropriating another culture and that she will work harder in the future to better empower women.
On Tuesday, photos from Vogue's March diversity issue were posted online, and it was Karlie Kloss' photos that caught the public attention, but not for the right reasons. The shots of Kloss, who has a Danish and German ethnic background, made up and dressed up to look like a Japanese geisha immediately caused backlash online, as people pointed out that the photos were a clear instance of yellowface and cultural appropriation.
The controversial photos feature Karlie Kloss in pale white makeup and long black hair, as she poses in front of an ancient Japanese temple and next to a sumo wrestler. You can see them for yourself in the tweet below.
Though it is clear to many people who saw these photos that the art director should not have dressed Karlie Kloss up in clothes and makeup that so clearly show the history of another culture or just used a model who is actually Japanese in the shoot, the baffling thing is that appropriation of Asian culture among white female celebrities in particular has been rampant in the past few years. Online furor similar to that which arose following the Kloss photoshoot also broke loose on social media after Scarlett Johansson was cast to play an Asian character in the upcoming manga adaptation of Ghost in the Shell. When Tilda Swinton was cast to play the Ancient One in Dr. Strange, many people were upset since that character is meant to be of Tibetan origin. And now, we're about to get a movie about the Great Wall of China that stars Matt Damon as a white warrior that saves the Asian country... I mean, come on.
Remember this moving forward, Karlie: cultures are not costumes.
Your Daily Blend of Entertainment News