How Gwen Stefani's Kids Paid Tribute To Blake Shelton's Bad Tattoo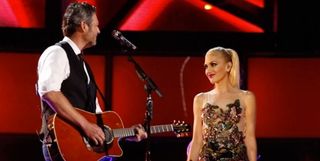 Not everyone who gets a regrettable tattoo can keep a good sense of humor about it years later. But Blake Shelton can. Over the weekend, Gwen Stefani's three sons--Kingston, Zuma, and Apollo--had a laugh with their mom's beau of more than a year by penning temporary copies of his notoriously unappealing tattoo on their arms (perhaps as an April Fools' Day joke). Afterward, Stefani surprised her many followers with a picture of the repeat tattoos. Check it out here:
Gwen Stefani posted the photo to her Twitter account, which she fills with similar lighthearted moments. Stefani and Blake Shelton have been going strong since November 2015. The couple met on the set of The Voice after both of their highly publicized divorces. Since then, they have managed to keep their relationship looking breezy with moments like this one. Stefani and Shelton often take to social media to share silly moments and gently tease each other in romantic ways. Even Stefani's current default picture provides a chuckle, as it's a throwback photo of Shelton with a mullet.
Blake Shelton has explained the meaning of the tattoo and his regrets about it in past interviews. Shelton has said the design was supposed to be deer tracks, but it came out looking much different from what he envisioned before getting inked. Sometimes, Shelton compares the deer tracks to Sugar Smacks. Other times, he says the footprints look like coffee beans. Shelton has said he was drinking on the day that he got the tattoo, and when the country music singer went to the tattoo parlor, he tried to show the tattoo artist what deer tracks look like by drawing a sketch himself. The tattoo artist then took Shelton's hand-drawn design to the copy machine, made a copy of it, and put that original sketch directly on Shelton's arm, which in hindsight may not have been the best option.
About six months later, Blake Shelton and Miranda Lambert, now his ex-wife, visited a tattoo parlor so that she could get her arm tatted with her signature logo. While the pair were there, Shelton asked the tattoo artist to make the deer-tracks tattoo look better by adding to it. The solution was to add barbed wire to the design. More recently, Shelton has had a good sense of humor about the tattoo and has even joked that it's clearly barbed wire fencing coffee beans.
You win some; you lose some. Blake Shelton is excellent as a coach on The Voice, and he gives winning advice when it comes to music. However, he might not be the first person we would ask for tips about tattoos. At the same time, we love Shelton's attitude toward the tattoo. His self-deprecation is charming. Plus, it adds to his sense of down-to-earth humility, which is important now that Gwen Stefani's three sons look up to him.
Your Daily Blend of Entertainment News
Thank you for signing up to CinemaBlend. You will receive a verification email shortly.
There was a problem. Please refresh the page and try again.