This Photo Of Khloe Kardashian And Her Niece Dream Is Too Adorable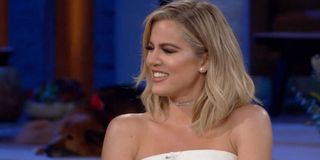 Khloe Kardashian is clearly crushing it as an aunt to newborn Dream Kardashian --- just look at that huge smile! The youngest Kardashian sister went full Auntie KoKo in an adorable new picture with her newborn niece.
In the picture, Khloe Kardashian is holding Dream up as the newborn, who is nearly two and a half months old now, giggles. Khloe and her half sister Kylie Jenner are just as transfixed by the adorableness as we are. Khloe simply captioned the shot "Dream," appropriately adding the heart eyes emoji.
The reason for the cute little photoshoot was apparently a family meeting with the whole Kardashian-Jenner clan on Tuesday. Though he isn't in any of Khloe Kardashian's photos, a peek at Kylie Jenner's SnapChat story does show that Dream's dad Rob Kardashian was there with his sisters. In a video that Jenner uploaded of some of her lipstick line, Khloe and Rob can be heard playfully bantering with one another in the background. Khloe asks Rob if he doesn't care that he hasn't seen her since before Christmas, and ever the jokester, Rob replies that he's seen her on Snapchat.
Clearly, Dream Kardashian had an awesome time hanging out with her famous aunts, but there was another little cutie that caught Khloe Kardashian's eye too. After uploading her sweet photo with Dream, Khloe turned her attention to Kim Kardashian's oldest kid North West, taking a video of the three-and-a-half year old girl jumping excitedly running around in a tutu showing off a giant foam finger that reads "Good American." Before you start thinking about anything political, Good American is the name of the denim line that Khloe Kardashian released a few months ago.
It's clear that Khloe Kardashian loves hanging out with her nieces and nephews, but it might be a little while before Khloe has kids of her own, if she chooses to that is. Kardashian chronicled her struggle to try to have her own child in previous seasons of Keeping Up With the Kardashians, and it had appeared that she might have finally gotten her wish when rumors that the reality star was pregnant began to arise last week. However, Kardashian coyly shut those rumors down by uploading some Snapchat videos of herself downing a huge glass of wine while on a date with her boyfriend Tristan Thompson on Friday, Us Weekly reported.
No worries --- Khloe's always got little Dream to count on when she needs some baby snuggles.
Your Daily Blend of Entertainment News
Your Daily Blend of Entertainment News
Thank you for signing up to CinemaBlend. You will receive a verification email shortly.
There was a problem. Please refresh the page and try again.