No, Kim Kardashian West Was Not Using Cocaine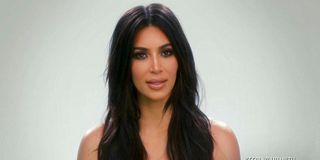 Kim Kardashian faced yet another social media controversy this week when a follower alleged she had been doing drugs. What had initially happened was that the 36-year-old reality television personality posted a picture of herself in her hotel room. At first glance, the photo appeared harmless. However, a fan on Twitter looked closer and saw some suspicious white stripes on the table behind the Selfish star. The follower then suggested they were lines of cocaine.
The Keeping Up with the Kardashians celebrity wasted no time in shutting down the suggestion that she was doing coke. First, Kim Kardashian tweeted that the blurry white lines on the table were piles of sugar from candy her children played with there. The mother of North West and Saint West tweeted,
Upon further inspection, Kim Kardashian figured out the blurry white lines were not sugar, but they certainly were not cocaine. The blurry white lines were simply part of the design in the marble of the tabletop. She hopped on Snapchat and Twitter to clarify everything. With a filter on her face, Kardashian explained that they had left the room for a while and returned to find the lines in the same spot. She then showed a bag from Dylan's Candy Shop to prove why she first jumped to the assumption that the lines were sugar. However, Kardashian then walked over to the table and brought the camera in for a close-up to reveal that the lines were nothing more than the natural shine of the design in the marble. Check out the video:
Meanwhile, Kim Kardashian's gal pal, Chrissy Teigen, also chimed in on the subject to defend her friend. Teigen has been known to respond to social media controversies a time or two. So, she did not keep quiet when people started coming for Kardashian, noting that most people who do drugs tend to take them rather than leave them sitting out.
Kim Kardashian has long talked about how she does not do drugs. In fact, she and Andy Cohen talked about it a little bit when he interviewed her on Watch What Happens Live earlier this year. Cohen indicated it was refreshing to see such a famous person who had never dabbled in drugs. They both agreed her career could have gone in a much different direction if she had. In that interview, Kim Kardashian suggested her sister, Kourtney Kardashian, had a brief rowdy streak during her university years, and she opted not to follow the same path.
This isn't the first time Kim Kardashian has taken heat for her social media presence. For example, last month she had explaining to do about some photos for her new line of beauty products. Moments after posting the promotional images to social media, followers flooded to Kardashian's page to question whether or not she was attempting blackface by darkening her skin. But, as with this marble-table incident, the problem was nothing more than a lighting issue. She took down those photos, adjusted the color settings on the files, and reposted them.
With 54.1 million followers on Twitter alone, Kim Kardashian reaches a broad audience with her anti-drug stance. So, it is good that Kim Kardashian responds quickly to these kinds of accusations.