No One Owns A Wardrobe Malfunction Better Than Chrissy Teigen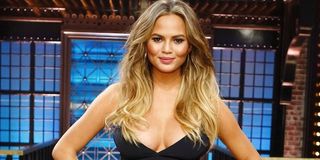 Oops! Chrissy Teigen recently had a wardrobe malfunction. The 31-year-old television personality showed some extra skin while dancing on stage at her Grammy Award-winning husband, John Legend's performance in New York. When Teigen did a twirl, the strap of her dress fell. She revealed more of herself than she had planned, but she took the accident in stride and continued having a great time. Check out the video below. Warning: The video is suitable only for adult audiences.
Way to bounce back and laugh it off. Chrissy Teigen was dancing to John Legend's hit song "Slow Dance." She was wearing a gorgeous, flowy black maxi dress when she accidentally had a nipple slip and flashed the crowd. Legend quickly helped his wife adjust the strap of her dress. Then Legend continued gracing the audience with his silky-smooth voice, while Teigen kept on dancing the night away.
After the performance, John Legend took to Twitter to thank his wife for joining him on stage. Legend did not mention the wardrobe malfunction. Instead, he focused on how touched he was to have had his wife dance with him on stage. Apparently, it was the first time she had done so in their 11-year relationship. Legend tweeted,
This wardrobe malfunction marks the second time this year that Chrissy Teigen has had an accidental nipple slip. At Super Bowl LI back in February, the Lip Sync Battle host ended up having a mild Janet Jackson moment. The camera panned over to Teigen sitting with John Legend, and it caught her with her jacket open enough that viewers (who looked closely) could see her nipple through her dress.
But do you think the extra exposure upset Chrissy Teigen? Not at all! She reacted to the Super Bowl incident in much the same way she treated this most recent nipple slip. She kept a smile on her face and carried on. When somebody on Twitter posted a video of the moment, Teigen retweeted the video to her 5.95 million followers on Twitter. In other words, you cannot laugh at Teigen because she is already laughing with you. She often applies this witty sense of self-deprecating humor when she engages with fans and followers on social media.
Currently, John Legend is on his Darkness and Light World Tour. He and Chrissy Teigen married in 2013 after dating for several years, and they have one daughter, Luna. It seems like Legend and Teigen have a beautiful relationship. Earlier this year, for example, they posted a bunch of gorgeous photos of their time in Morocco. It is refreshing to see these two so in love with each other, and it is inspiring to see a star as confident as Chrissy Teigen.
Your Daily Blend of Entertainment News
Your Daily Blend of Entertainment News
Thank you for signing up to CinemaBlend. You will receive a verification email shortly.
There was a problem. Please refresh the page and try again.