Shia LaBeouf Has Apologized For His Rant Against Cops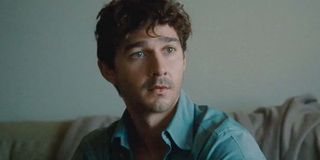 Shia LaBeouf made headlines this week when an explicit video surfaced showing his arrest at a hotel in Savannah, Georgia, where he and Dakota Johnson had been filming The Peanut Butter Falcon. In the video, the 31-year-old actor could be heard ranting about senseless matters unrelated to his arrest while dropping a series of obscenities to tell off the arresting officer from the Chatham County Sheriff's office. Now LaBeouf has taken to social media to release an apology for his behavior and words. He wrote,
Apologizing for his actions was a good start. In the Twitter statement, Shia LaBeouf also recommitted himself to working on his sobriety. This part was, perhaps, the most important piece of the message, as his most recent blunder hinged upon alcohol... as did many of his past mistakes.
For instance, Shia LaBeouf was intoxicated when he got arrested a few years ago after getting kicked out of a Broadway performance of Cabaret for heckling Alan Cumming and Michelle Williams. He was drunk when he got arrested for causing a scene at a Walgreens in Chicago. Then last year, LaBeouf spoke about trying to recover from his addiction to alcohol and said he had been sober for a year at that time. However, he reportedly was three sheets to the wind again when he got kicked out of Pinz, a bowling alley in Los Angeles, this past spring. So, it was significant that he wrote,
If Shia LaBeouf plans to work on his sobriety and recover, he has plenty of people to whom he can turn in Tinseltown. Rumer Willis, for example, recently marked her sixth month of sobriety, and some of her famous family members have worked on sobriety over the years. Former Dallas Cowboys football player Thomas Henderson, who helped John Daly in recovery and reached out to Tiger Woods after his DUI this year, could be another good person to call. Celebrities like Mike Sorrentino from Jersey Shore and Lamar Odom of Keeping Up with the Kardashians fame might have some helpful words about recovery as well. Even Miley Cyrus has talked about how being sober improved her life.
Just because Shia LaBeouf is down on his luck right now does not mean it is the end of the road. Is it time to take him seriously again? Perhaps not yet. But hopefully, this apology and recommitment to sobriety mark a change for the actor. He has a lot of talent, so who knows what the future holds? Look at how far stars like Robert Downey, Jr., Drew Barrymore, and Britney Spears have come since their troubled days. Hopefully, the Fury actor can surround himself with support from the right people so that he can bounce back healthier than ever.