Aaron Carter Blasts Brother Nick Carter Over Reaction To DUI Arrest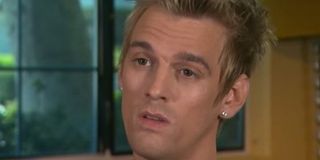 Over the weekend in Cornelia, Georgia, police arrested Aaron Carter on charges of driving under the influence, possession of marijuana, and possession of drug-related objects. The police stopped the 29-year-old former child star at about 9:00 p.m. on Saturday night, and Carter's older brother, Nick Carter of Backstreet Boys fame, took to social media the next day and tweeted messages of support for his brother. However, the tweets did not sit well with Aaron Carter, who saw them as an example of his brother exploiting the situation in a public forum. Here's how the elder Carter started the would-be social-media showdown.
Nick Carter, who has a history of battling addiction to alcohol, continued sending love in his tweets, likely without any idea that he would get slammed soon after.
Unfortunately, Aaron Carter did not appreciate the messages, not so much for their specific content, but because of the public way in which Nick Carter sent them. The younger sibling and musician released a message through his representative, saying this:
But after Aaron Carter posted the message to his Twitter account, his sister-in-law, Lauren Kitt-Carter, clapped back on Twitter about half an hour later, tweeting,
In other words, her husband, Nick Carter, did not know how else to reach his younger brother after hearing about the arrest. So Twitter was his only recourse?
The statement from Aaron Carter's representative included an explanation of what happened from the former child star's perspective. According to Aaron Carter, the police arrested him while he was fixing a tire in the parking lot of an Auto Zone, and he also reportedly has a medical license for medical marijuana to relieve his anxiety. The statement said the car was not moving, and that surveillance footage showed Carter wasn't in the car at the time of arrest. Carter states the police targeted him because of his celebrity status.
According to the Habersham County Sheriff's Office, Aaron Carter refused a breathalyzer test to determine whether or not he was operating the vehicle while under the influence. His girlfriend, Madison Parker, was a passenger in the car, and police also arrested her on charges similar to Carter's. The singer's representative also stated Parker and Carter would continue traveling for tour dates. You can read the entire statement here:
Over the years, Aaron Carter has opened up about his battles with addiction. For example, he got arrested in 2008 on a marijuana possession charge, and he later talked about how he developed an addiction to Xanax around the time he was on Dancing with the Stars in 2009. His sister, Leslie Carter, passed away from the same addiction, but managed to step in and urge him to get sober. He checked in to the Betty Ford clinic in 2011, and claimed to be sober in subsequent interviews.
It sounds like there are complicated feelings in the Carter family. Hopefully, the brothers can resolve the matter and move past their grievances.
Your Daily Blend of Entertainment News
Thank you for signing up to CinemaBlend. You will receive a verification email shortly.
There was a problem. Please refresh the page and try again.