Why Halle Berry Is Taking A Break From Dating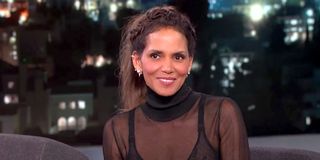 Halle Berry wrapped up her third divorce last year. Apparently, the 50-year-old movie star has been taking some time to live as a single person since then instead of diving back into dating. In a recent interview, Berry opened up about how her life looks different now that she is comfortable being solo. Regarding the single life, Berry said,
From the sounds of it, Halle Berry's two children have been an integral part of her newfound confidence. The way Berry spoke in this recent People interview made it sound like she feels "on her own" as opposed to "alone" or, worse, "lonely." It is a welcome change to see the Oscar winner, who often plays strong and independent characters onscreen, add a bit of her onscreen persona into her real life.
Halle Berry said taking time off from dating has helped her learn she can be alone. She indicated learning to be by herself was a hard lesson. Now that she is navigating life as a single mom in Hollywood, she feels like she is "fearless." Berry described her third divorce as a time when she felt the fear she would end up unhappy. But since the divorce, she has conquered that particular fear and learned to stand on her own two feet. She explained,
Amen! Over the years, Halle Berry has had a string of highs and lows in the romance department, so she deserves a break. Most recently, the X-Men actress filed for divorce from Olivier Martinez in October 2015. Berry and Martinez had been married for two years. They had one child together, three-year-old Maceo Martinez. Their divorce went through last December.
Previously, Halle Berry dated Gabriel Aubry for a significant time. She and Aubry share an eight-year-old daughter, Nahla Aubry. Before Berry and Aubry became an item, the movie star was married to Eric Benét between 2001 and 2005, and she was married to David Justice before then, from 1992 to 1997.
As a side note, the fallout of Halle Berry's relationship with Eric Benét was one of the topics Jay-Z recently broached on his 4:44 album, which covers the subject of infidelity. Berry and Benét's relationship came to a dramatic halt when she learned he was cheating on her around 2004. Unfortunately, that breakup was but one in a series of heartaches for the Kidnap actress.
So, it is no wonder Halle Berry is ready for some time alone. Hopefully, she can continue working on her personal growth while finding comfort in being a great mom.
Your Daily Blend of Entertainment News