Halle Berry's Response To Bogus Pregnancy Rumors Was Perfect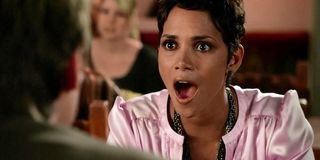 Academy Award-winning actress Halle Berry wore a gorgeous silver sequined dress from Gosia Baczynska's Spring 2017 collection to attend the Chrysalis Butterfly Ball on Saturday, June 3. The 50-year-old movie star looked spectacular, topping off her look with a fresh-faced makeup look that received positive reviews from people on the Internet. However, some critics were quick to judge Berry's posture in images on the red carpet. In fact, there were even individuals who wondered if Berry might be showing a baby bump, as her stomach was not as flat as a board in the pictures. Well, there was no baby bump. Berry took to social media after the event to deny the tummy talk in the best way. She wrote,
Halle Berry eats and has a stomach? How dare she! But seriously, good on her for broaching the subject head-on. The actress known for playing Storm in the X-Men franchise--as well as many other roles--added the hilarious caption to a selfie she shared with her 1.6 million followers on Instagram. Berry added a face-with-rolling-eyes emoji and a winking-face emoji to emphasize how ridiculous she found the rumors. A representative for Berry later denied the pregnancy rumors.
The comments for Halle Berry's steak and fries response photo were mostly positive. Some followers pointed out how nobody in his or her right mind would ever in a million years put a woman on blast like that offline. Although the comments were moderately offensive, the way Berry handled the rumors was a reminder of why she is wonderful. She always keeps it real with people. For example, remember when she won a Razzie for Catwoman and not only showed up to receive the "award" but also gave a speech?
In real life, Halle Berry is the mom of a nine-year-old daughter, Nahla, whom she shares with her ex-boyfriend Gabriel Aubry, and a three-year-old son, Maceo, whom she shares with her ex-husband Olivier Martinez.
It is a shame people focused on Halle Berry's supposedly slouchy stomach rather than, say, the fabulous dress she wore--or, you know, the important cause of the evening. The Chrysalis Butterfly Ball is an annual event that raises money to assist people stricken by homelessness and poverty. Since 2003, the ball has raised more than $13 million, which has funded programs to help people find jobs and get a fresh start in the world.
This year, the honorees at the Chrysalis Butterfly Ball were Academy Award-winning actress and singer Queen Latifah, network CEO Brian Robbins, and television producer Hank Steinberg. Halle Berry joined the many other celebrities in attendance, including fellow Oscar winner Patricia Arquette, model Molly Sims, and rapper Common (who serenaded Halle Berry at one point during the evening). So, despite the negative comments by Internet trolls, it sounds like Berry probably had a blast.
Your Daily Blend of Entertainment News