How Brad Pitt Caused Shania Twain To Write That Don't Impress Me Much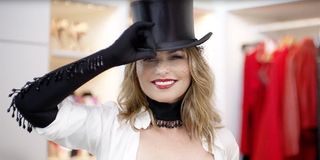 After a 15-year career hiatus, Shania Twain is promoting new music and doing rounds of interviews. The 51-year-old country-music superstar has her eyes on the future but seems happy to talk about her past as the queen of country and crossover music back when Taylor Swift was still a tween. For example, in a recent interview, the questions turned to Twain's reference to Brad Pitt in her hit 1997 single "That Don't Impress Me Much." Pitt worked well as an example of the ideal man for the song's lyrics, but Twain said there was more to the reference, noting:
Okay, so you're Brad Pitt, and you have a body. That don't impress Shania Twain much. Pitt was a great celebrity to reference to describe a man who looks good and knows it. He is still super handsome, but back then he was an 11 out of 10 on the sexy meter. (If you need a refresher, check Interview with the Vampire and Fight Club and come on back.) The reference fit. But that was not entirely why Twain picked him.
The Brad Pitt and Gwyneth Paltrow pictures were a big scandal. Pitt sued Playgirl magazine for inflicting distress and invasion of privacy. The War Machine actor claimed a paparazzo trespassed at a hotel in St. Barts and secretly took nude pictures of him and Paltrow, and Pitt ended up winning the case. It was an enormous scandal---even bigger than the recent court case Prince William won when photographers snapped topless photos of Princess Catherine.
Still, the fact that Shania Twain heard about the nude pictures of Brad Pitt and thought them NBD says a lot about her integrity. Plus, it's interesting that Brad Pitt essentially was the inspiration for the entire song, not just that one part. Twain continued talking to Billboard and said,
It seems Shania Twain was on to something. These days, many celebrities are comfortable baring skin. For example, John Stamos recently posted nude photos of himself on social. Paris Jackson posts topless photos from time to time, and she has explained how much she enjoys walking around in the buff.
Similarly, Miley Cyrus is nearly naked in the cover art for David LaChapelle's new coffee table book. Jessica Simpson went topless on social for her birthday. Plus, Jennifer Aniston recently indicated she believes people need to adjust the way they feel about beauty and the body.
In other words, societal views might be shifting as people become comfortable with the fact that all human beings have a body. (What a novel concept.) So, Shania Twain had the right idea, and that is pretty impressive.
Your Daily Blend of Entertainment News