One Of The Reasons Anna Faris Felt Insecure In Her Relationship With Chris Pratt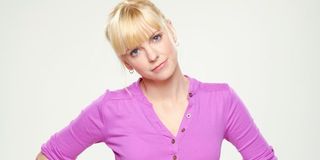 In Anna Faris and Chris Pratt's announcement about their pending divorce, the power couple said the end was amicable but disappointing. The reasons were not cut and dried, so many of Faris' and Pratt's fans found themselves scratching their heads. Now, in a new book, the 40-year-old comedic actress has shed light on intimate details, including the insecurities she battled when her husband of eight years found success working with other women in Hollywood, like Jennifer Lawrence. According to Faris, the rumor mill led her down a dark rabbit hole of jealousy as it promoted the notion that real romantic feelings developed between Lawrence and Pratt when they played lovers during the filming of Passengers in 2015. Faris explained in her new book, Unqualified,
The rumors seem to have been nothing more than background noise. Sure, Jennifer Lawrence and Chris Pratt had great onscreen chemistry, but they both denied foul play. Still, their denials did not stop the media from picking apart situations like an interaction Anna Faris and Lawrence shared at the Passengers premiere. Some people zoomed in on the body language of the two actresses during that moment and said Faris' teeth looked clenched, Lawrence's fists look closed, and neither of them appeared to give the other actress a full, proper hug.
What now is interesting is that Anna Faris' admissions in her memoir, Unqualified (opens in new tab), show that there might have been some small truth to the notion that she felt uncomfortable around Jennifer Lawrence in situations like that red-carpet meetup. In fact, the Mom star writes that her publicist warned her how intense things might get once Pratt's career took off in Jurassic World, Guardians of the Galaxy, and Passengers. In the book (via Radar), Faris points out,
But having information and believing it can sometimes be easier said than done. Anna Faris had the information that the media might run stories about her husband getting too close with stars like Jennifer Lawrence. Still, the rumors sometimes got the best of her.
However, jealousy is an emotion, not a fact. Feeling it cannot confirm or deny whether one's spouse is taking a stroll down Shady Lane. Besides, Jennifer Lawrence was pretty great whenever she talked about Anna Faris and Chris Pratt's relationship. For example, when Lawrence and Pratt visited The Ellen Show, J. Law told Ellen DeGeneres that Pratt's family was "so cute." She said,
Some reports say the deciding factor in the breakup was a disagreement Anna Faris and Chris Pratt had about wanting more children in addition to their five-year-old son, Jack Pratt. Other rumors have indicated that Faris and Pratt's work schedules kept them apart too much and made it hard to work on the relationship. Whatever the real factors were, it is incredible to see Faris wearing her heart on her sleeve about her insecurities. Her honesty is inspiring.
Your Daily Blend of Entertainment News
Thank you for signing up to CinemaBlend. You will receive a verification email shortly.
There was a problem. Please refresh the page and try again.