Kristen Bell And Dax Shepard Got Caught Having Sex By Their Kids, Here's What He Says Happened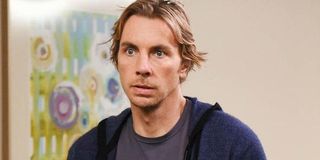 Kristen Bell recently dished about an awkward time when her daughters, four-year-old Lincoln and two-year-old Delta, walked in on her and her actor husband, Dax Shepard, in the middle of Mommy and Daddy's private time in the bedroom. The actress disclosed the "life with kids" anecdote to the co-hosts of The Talk, and it made us all laugh. But now we know both sides of that comical story. To somewhat clear the air, Bell's famous hubby has revealed his hilarious take on the embarrassing moment. Shepard explained,
Dax Shepard shared the story during a chat on Jimmy Kimmel Live, and before diving into the talk, the 42-year-old actor prefaced the story by joking how it sometimes feels difficult to be married to such a free-spirited talker as Kristen Bell. Shepard emphasized that he knows Bell occasionally divulges shocking details about their marriage because she has little left to give after the many interviews and press junkets she does.
This explanation makes sense, because Bell is one of the busiest women in Hollywood. She seems to be working all the time on one job or another, whether it is a professional venture like The Good Place or a personal project like work for one of the many charities she sponsors. Plus, people genuinely just love seeing her give interviews, because she has such a bright personality and often tells comedic stories like this one about her kids walking in during grownup time.
Still, poor Dax Shepard! He told Jimmy Kimmel a stranger approached him and brought up the headline that their kids walked in on the couple during sex. The The Buddy Games actor said he had been entirely unaware Bell even shared the story with anyone, let alone how she told it or what she said. Watch the interview here:
But Kristen Bell and Dax Shepard are the best. Judging by times like their viral video of an African vacation set to Toto's "Africa," their Game of Thrones musical tribute, or Bell's dramatic Ellen Show retelling of how Shepard once got her an afternoon with a sloth, we imagine they are fantastic people. An interview with one or both of them must be a talk-show host's dream.
Your Daily Blend of Entertainment News
Your Daily Blend of Entertainment News
Thank you for signing up to CinemaBlend. You will receive a verification email shortly.
There was a problem. Please refresh the page and try again.